Submitted by

MKeegan

on Fri, 08/25/2023 - 12:42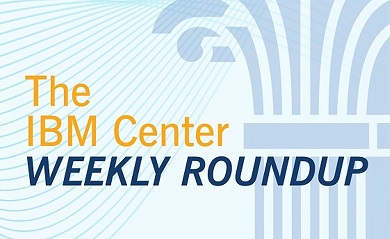 Articles & insights in public management & leadership that we found of interest for the week ending August 25, 2023
Long, long overdue': An oral history of the Government Performance and Results Act. GPRA was a cornerstone of the Clinton administration's Reinventing Government initiative, led by Vice President Al Gore. But over the years, it became part of not only the structure but also the culture of the federal government. As GPRA reaches its 30th anniversary, Professor Don Kettl recognized it's a great time to look back at how it evolved. Here, in the words of the people who were involved in the process, is the story of the birth and growth of results-oriented government.
For 21st Century IDEA Act, EIS, it's just a matter of time. Time is a funny concept when it comes to federal technology initiatives. There's never enough time to fix everything. The initiative needs more time to bake. The law, policy or regulation will take time to implement and show results. When it comes to cybersecurity, time isn't on our side. The recent updates from the General Services Administration on the Enterprise Infrastructure Solutions (EIS) program and the Office of Management and Budget around the 21st Century IDEA Act underscore the trials and tribulations of time in the federal IT community.
'Eye-watering kind of fraud': Improper payments account for third of pandemic unemployment program's funds.  Federal agencies and their watchdogs are still getting to the bottom of the total amount of fraud across more than $5 trillion in COVID-19 emergency spending, but the Labor Department is uncovering a major source of those misspent funds. The Labor Department, in a report released this week, estimates improper payments made up nearly 36% of spending on the Pandemic Unemployment Assistance (PUA) program between March 2020 and September 2021.
Navy says it's achieved big UX improvements amid DoD effort to 'fix our computers'. Up until this summer, it wasn't uncommon for Navy IT users to plan part of their mornings around the 10 minutes it took for their computers to boot. But as part of a concerted effort to improve user experience, the service has shown it's possible to cut those maddening daily waits to only about 30 seconds. The dramatic improvements are part of a broader push across the Defense Department to improve user experience— a Defense Business Board study that found 80% of employees are deeply dissatisfied with government IT, and direction from the deputy Defense secretary to start solving the problem.
Army's new CIO prioritizes software policy.  The speed of software innovation in industry has the Defense Department struggling to keep its policies on pace with what the commercial sector can provide. To address the problem, the Army's new chief information officer said he is prioritizing new policy for cybersecurity, software and data to try and keep up with technological advances. His first effort — developing interim policies that address immediate challenges while working on bigger, all-encompassing guidelines.
USDA CDO Keys on Agency Progress in Data Accessibility.  The U.S. Department of Agriculture (USDA) has undertaken several widely-scoped efforts to ensure its data is accessible and shareable across the department to help make informed decisions, according to a leading data expert at the agency. Christopher Alvarez, the chief data officer at USDA, said that data-driven tools have improved service delivery and advanced mission goals across the agency, ensuring positive customer experiences for USDA's many constituents.
Q&A: CMS Chief Digital Strategy Officer Talks Modernization, Challenges in Service Delivery. Andrea Fletcher, who is director of the CMS Digital Service – and earlier this summer took on the additional role of Chief Digital Strategy Officer at CMS – walked us through her group's mission, its recent work on creating better public-facing websites, progress on the open-source front, efforts to improve hiring processes, and the benefits of her prior experience at the U.S. Digital Service.
For lots of federal jobs, apprenticeship is the way to go.  You might have noticed; the government has been moving steadily away from requiring college degrees for many jobs. Instead, agencies should hire according to skills people have. Since the Middle Ages, apprenticeships have long brought unskilled people to acquire useful and career-grade skills. Why not more apprenticeships in government itself?
How one city is looking to future-proof its budgeting process.  Nationwide, cities are attempting to improve their budgeting. None appear to be taking more dramatic steps than fast-growing Fort Worth, Texas. Budgeting is essentially a planning process, and the need for superior long-term planning is abundant in Fort Worth. Its population grew by about 19,000 people between 2021 and 2022 to 957,000, making it the fastest growing city in the nation.
Using ChatGPT to Make Better Decisions. A successful decision-making process has three steps: Framing the decision, generating alternatives, and deciding between them. Large language models can help at each stage of the process. But while it may be tempting to merely ask ChatGPT for answers, the real power of LLMs is how they can assist at each stage. Ask for help thinking of considerations you might be missing, or alternatives you might not have considered. LLMs can be a de-biasing tool, helping you frame and make the decision yourself.
Investing in an Organization's Physical Risk Resilience. Extreme weather events, infrastructure and technology failures, and transportation accidents are on the rise globally. These physical threats often have cascading effects that reach all areas of a business. Organizational resilience, or the ability to anticipate, absorb, and recover from hazardous events, is now table stakes. When the C-suite prioritizes resilience, they set the business up for recovery in the face of these physical threats, saving time, resources, and revenue and making the organization more competitive. But the C-suite has historically prioritized the risks that have a direct financial impact on the bottom line. A financially sound business strategy requires a focus on return on resilience investment (RORI), which shows in monetary terms what damage was avoided, not what income was gained.