Submitted by

MKeegan

on Fri, 08/19/2022 - 15:16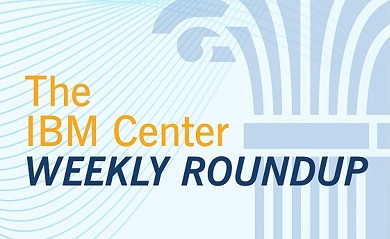 Articles and insights in public management and leadership that we have found of interest for the week ending August 19, 2022.
GovExec Daily: Don't Ignore Government Performance Metrics. Shelley Metzenbaum joins the podcast to discuss why more people should pay attention to performance reports. Everyone wants better performance out of the federal government, but few pay enough attention to metrics like those found on Performance.gov. In fact, the federal government released quarterly performance updates for agency priority goals just this past July, but it was largely ignored. Why don't more people pay attention to government performance metrics? Shelley Metzenbaum was the founding president of the Volcker Alliance. She discusses her GovExec post headlined A Missed Opportunity: The Problem With Ignoring Government Performance Information.
Mission, Money, and Process Makeover: How Federal Procurement Can Catalyze Clean Energy Investment and Innovation. Using federal procurement to advance sustainable energy goals has had only limited success in the past. To break the pattern, the White House needs a plan that aligns with agency missions, is adequately funded, and fixes perverse budget and procurement rules.  This report analyzes the federal government's decades-long experience with sustainable procurement to help inform the Biden Administration's effort to catalyze clean energy investment and innovation.
Three reasons why organizational conflict of interest is back in the spotlight. Concerns about organizational conflicts of interest among vendors providing, for instance, technology planning services and technology implementation services, is as old as federal acquisition itself. But over the last few weeks, OCI has received more attention and consideration among agencies, and it should be seen as a warning sign to batten down those OCI hatches.
CISA's cyber info sharing program didn't always deliver, watchdog says. The agency did not always provide the participants of a public-private cyber threat partnership with actionable information to address potential vulnerabilities, according to an oversight report.
GSA adds $25 billion to ceiling value of Alliant 2, sketches out timeline for Alliant 3. The General Services Administration is not ready just yet to give companies even an initial glimpse into its plans for the next iteration of the Alliant IT solutions and services contract vehicle. But at least GSA is giving a general idea of when it will start to preview the key governmentwide acquisition contract. It has now added another $25 billion to the ceiling, pushing it to $75 billion, given both the continued high demand from agencies to buy through Alliant 2 and the need on all sides for a smooth transition to the future third version.
The Defense Department's current "checklist" approach can't keep its networks safe. Two years ago, a pair of Navy information leaders decided to attack their own networks—and not just once or twice a year during scheduled exercises, but far more frequently, and unannounced. Now they're trying to get the rest of the Navy—and the Pentagon—to follow suit. Their experiment showed that frequent, automated red-teaming reveals which vulnerabilities are the most dangerous, the easiest for an attacker to exploit with the highest impact—information they wouldn't have otherwise, said Aaron Weis, the Navy's chief information officer, or CIO, and Scott Bischoff, the command information officer at the Naval Postgraduate School.
State Dept's top HR official outlines vision to rebuild diplomatic workforce. The State Department is looking to transform the way it carries out its diplomatic mission, starting with its workforce. The department is looking to develop a more STEM-literate workforce to stay ahead of emerging challenges and is giving its Civil Service and Foreign Service more opportunities to continuously train throughout their careers. It's also looking at what telework opportunities exist for a hybrid workforce in the long-term, as well as how the department can reverse a decades-long challenge of hiring and retaining a diverse next generation of State Department employees.
Inspiring and empowering through audacious leadership. Audacious leaders are those who can act boldly and inspire and empower others without allowing their ego to get in the way, writes Steve Farber. "By transferring your audacious energy to your team, your organization could achieve success greater than you ever dreamed of," Farber writes. Extreme Leadership
4 strategies to make fact-based decisions. Decision-making can be flawed if leaders fall prey to "the illusory truth effect" -- believing something is true just because it has been repeated often, write Jonas De keersmaecker and Katharina Schmid from Ramon Llull University, Nadia Brashier from Purdue University and Christian Unkelbach from the University of Cologne. They offer four strategies to verify the veracity of information, including checking biases and questioning assumptions. MIT Sloan Management Review (tiered subscription model)
Are these 3 management practices delivering results? It's important to review the effectiveness of exit interviews, status meetings and performance reviews and consider whether they are delivering the necessary results or if they should be replaced with other approaches, writes Kevin Eikenberry. "Leaders need to have a sense of how people are doing, how they are feeling, and what they need," Eikenberry writes. Leadership & Learning with Kevin Eikenberry
Is your leadership style focused on connection? Leaders who make a sustained effort to connect with their team will build better relationships with employees, know about upcoming challenges and see and value their unique contributions, writes Lolly Daskal. "When you focus your leadership on connection, you create an environment that fosters loyalty and encourages retention," Daskal writes. Lolly Daskal
How improvisation skills can improve your leadership. Saying "yes" to the moment and being open to improvising different solutions when things go awry are key to breaking old habits and opening yourself up to new ways of thinking and engaging with employees and other stakeholders, writes organizational development expert Joyce Wilson-Sanford. "The art of flow, not a strategy of resistance, is needed to maneuver through the obstacles and the possibilities to keep your business moving," Wilson-Sanford writes. SmartBrief/Leadership
5 ways to draw out your team's hidden talents. Some of your most productive and creative employees are hiding in plain sight, waiting for you to recognize their talent and nurture it, says Joel Garfinkle in this video. Garfinkle offers five tips for leaders, including giving talented team members new opportunities and rewarding different leadership styles to draw out more introverted employees. SmartBrief/Leadership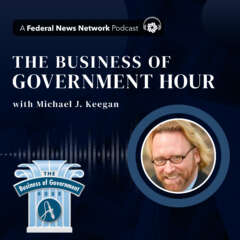 Next Week on The Business of Government Hour: Leadership for the 21st Century: A Conversation with Jacqueline Carter. What does it mean to be a wise and compassionate leader? How can leaders transform how they lead? What tools and methods can help leaders be more effective? Join Host Michael Keegan as he explores these questions and more with Jacqueline Carter, co-author of Compassionate Leadership: How to Do Hard Things in Human Ways.
Broadcast Schedule: The show airs Monday at 11 a.m., and Friday at 1 p.m. on Federal News Network 1500AM WFED
Anytime, Anywhere on...