Submitted by

MKeegan

on Fri, 08/05/2022 - 11:55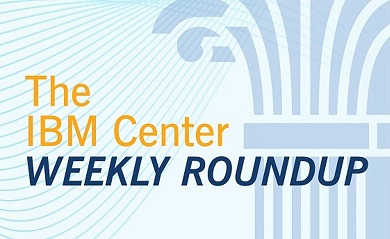 Articles and insights in public management and leadership that we have found of interest for the week ending August 5, 2022.
Agencies Are Struggling to Hire and Spend Money Due to Incessant Stopgap Funding Bills. GAO issues a warning as Congress struggles to reach fiscal 2023 spending agreement. With the potential need for a stopgap funding bill to avoid a shutdown in October, the government's top watchdog has issued a warning of its own on the damage caused by those short-term measures. Continuing resolutions, the temporary spending bills Congress has passed in all but three of the last 46 years, have wide-ranging impacts on agency operations, including their ability to bring in new employees. Agencies often limit or pause entirely hiring while CRs are in effect, as they have been in 47 different instances since 2010.
GAO: Feds Must Promote Stronger Research Practices. The federal government must take action to promote stronger research practices that will help ensure the reliability of its scientific research, the Government Accountability Office (GAO) said in a new report. According to the report, the U.S. government funded more than $42 billion in science research in 2019. With such a heavy investment into that research, GAO said it's vital for the government to ensure reliability of the research.
A Missed Opportunity: The Problem with Ignoring Government Performance Information. Federal agencies' quarterly performance updates, short- and long-term strategic plans, and annual performance reports deserve more attention. More attention to this information has the potential to increase public return on government spending if goal allies pay attention to the information and come forward to contribute relevant expertise, effort and resources. This information can also be helpful to learning and collaborative efforts to discover ways to boost results.
TMF Awards $26M to DoL, AmeriCorps, USAID. The Technology Modernization Fund (TMF) announced over $26 million of new project funding to the Department of Labor (DoL), AmeriCorps, and the U.S. Agency for International Development (USAID). The latest round of funding will help the three agencies to modernize outdated systems and reduce cybersecurity risks through investments of $7.2 million for DoL, $14 million for AmeriCorps, and $5.6 million for USAID. "The TMF provides critical funding to address urgent IT modernization and cybersecurity challenges across the federal government," said TMF Board Chair and Federal CIO Clare Martorana
Senate Panel Approves Bill to Help Feds' IT Procurement Processes. The Senate Homeland Security and Governmental Affairs Committee approved by voice vote on August 3 the Advancing Government Innovation with Leading-Edge (AGILE) Procurement Act of 2022, which aims to make simpler Federal government processes for buying technology products and services. The legislation would task the Office of Management and Budget's Office of Federal Procurement Policy and the General Services Administration with streamlining the ability of the Federal government to purchase commercial technology and provide specific training to improve IT-related acquisition.
VA Names 'Functional Champion' for EHRM Program. The Department of Veterans Affairs (VA) has named Dr. David Massaro as the "functional champion" and acting senior medical advisor for the agency's Electronic Health Record Modernization (EHRM) program. Dr. Massaro began his new role on August 1, where he serves as the clinical executive representing the Veterans Health Administration (VHA). He works with the VA offices to coordinate the development and implementation of the new EHRM program.
Six-month update on CX EO. The EO focuses on delivering simple, seamless, and secure access to the federal services. At the half-year mark, there are  key updates that this release from Performance.gov shares.
How Regulators Should Supervise Software. The crypto firm FTX recently applied to the Commodity Futures Trading Commission (CFTC) for authorization to clear margined products for retail investors in a "non-intermediated" fashion. The proposal is complicated and raises many concerns about investor protection and financial stability, but FTX's proposal also raises a more fundamental question that has increasing relevance to regulators everywhere. How should regulators supervise the software that run automated systems? According to this article. the CFTC and other regulators should evaluate with caution proposals to automate financial transactions.
Congratulations to IBM Center author Prof. Jim Perry for receiving 2022 Best Book Award for Managing Organizations to Sustain Passion for Public Service from the Public and Nonprofit (PNP) Division of the Academy of Management (AOM).  @JLPerrySPEA of @ONeill_Indy
3 leadership lessons from a winning Olympic team. The unexpected gold medal success of the 1984 US men's Olympic volleyball team holds many lessons for modern leaders, writes Sean Murray, founder and president of RealTime Performance, including how to attract the best talent and create a culture that emphasizes teamwork over star performers. The greatest lesson from the team's experience, Murray writes, is that "it's not how well the individuals on the court play, it's how well they play together." SmartBrief/Leadership
Foster a sense of belonging to make change succeed. Change initiatives can feel like a threat to employees' identities, but leaders can ease those fears by creating a sense of belonging, learning what needs to be preserved, having difficult conversations and handling their own emotions, write researchers Deborah Rowland, Nicole Brauckmann and Michael Thorley. "Look beyond what seems like resistance to or an inability to change and perceive what people treasure and protect," they write. Harvard Business Review (tiered subscription model)
Reasons why leaders should -- and should not -- speak. Leaders should speak when they are persuading, energizing, comforting, connecting with and learning from others and have a clear goal in mind, writes Dan Rockwell. Conversely, leaders must learn to be quiet when they find themselves bloviating, talking at those around them and don't have a clear reason for speaking, Rockwell writes. Leadership Freak
Why asking "why" can empower your leadership. "Why" is a crucial word in leadership, writes Steve McKee, because it can reveal motivation and help teams understand decisions that may affect them. "Helping people understand why you're cutting that product line, why the organization is going remote (or not) or why the company won't take a position on a controversial political issue may not satisfy everyone, but a logical explanation goes a long way in rationalizing even the most potentially unpopular opinion," McKee writes. SmartBrief/Leadership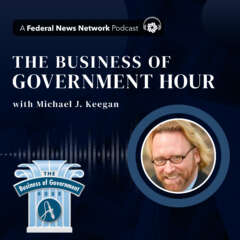 Next Week on The Business of Government Hour: Delivering hosting and compute services to warfighters: A Conversation with Sharon Woods, director, Hosting and Compute Center (HaCC) at the Defense Information Systems Agency (DISA). What is the mission of the Defense Information Systems Agency DISA's Hosting and Compute Center? How is the HaCC transforming the way DISA does business? What does the future hold for DISA's Hosting and Compute Center? Join host Michael Keegan as he explores these questions and more with Sharon Woods, Director, Hosting and Compute Center at the Defense Information Systems Agency (DISA).
Broadcast Schedule: The show airs Monday at 11 a.m., and Friday at 1 p.m. on Federal News Network 1500AM WFED
Anytime, Anywhere on...
https://www.podcastone.com/the-business-of-government-hour
https://itunes.apple.com/us/podcast/the-business-of-government-radio-