Submitted by

MKeegan

on Fri, 04/28/2023 - 15:52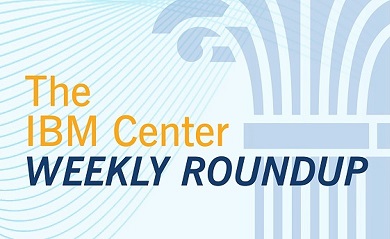 Articles & insights in public management & leadership that we found of interest for the week ending April 28, 2023
How Local Governments Can Rise to the Infrastructure Complexity Challenge. To take advantage of the federal government's $2 trillion in investments, municipalities must think big, start small and scale fast.  By recognizing some of these challenges in advance, county and municipal leaders can adopt strategies to help them realize the ambitious goals of these programs.
VA Using Digital Manufacturing to Deliver Better Healthcare to Veterans.  The Department of Veterans Affairs (VA) is turning to emerging technologies like digital manufacturing to deliver better and faster healthcare to veterans, according to Dr. Beth Ripley, acting chief officer of the VA's Office of Healthcare Innovation and Learning. Dr. Ripley explained how the VA serves over nine million veterans across 50 states and territories, and how technology is helping the agency to overcome the challenges of location and time through a diverse network.
Hybrid Work Model Taking Hold in Air Force Tech Ops. With the COVID-19 pandemic having subsided to an ominous simmer, the U.S. Air Force is finding that hybrid work policies are proving their value, and sometimes grade out as more effective than the pre-pandemic traditional work model.
Fed IT Experts Share Zero Trust Progress. With the migration to zero trust security architectures is in full swing in the Federal government, top agency technology executives shared their experience with effective strategies and technologies they have implemented thus far during an webinar organized by Federal News Network.
Fed CISO DeRusha Flags Release of Software Attestation Form. Federal Chief Information Security Officer Chris DeRusha said this week that the Office of Management and Budget (OMB) is preparing to publicly release a common attestation form for software makers as part of the Federal government's larger push to create a more secure software supply chain as mandated by President Biden's cybersecurity executive order issued in May 2021.
Federal CIO 'Super Optimistic' About AI's Citizen Service Potential. Federal Chief Information Officer Clare Martorana said this week she is very optimistic about the potential of artificial intelligence (AI) technologies to help in the government's ongoing mission to improve citizen services.
Is AI Coming for Your Job? In a post-AI world, where an algorithm can draft marketing copy—or even pop songs and movie scripts—anything seems possible. Harvard Business School faculty members discuss how artificial intelligence could reshape how work gets done.
NSF Seeking Partners for Advanced Networking Systems Effort. The National Science Foundation (NSF) is looking for Federal government agencies and U.S.-based industry partners to help create one or more public-private partnerships to help develop some new advances in advanced networking systems.
Relax! 3 vital steps to take before giving a speech. Relaxing before public speaking is easier said than done for some, but it's a mistake to prepare your speech and not yourself, Jim Anderson of Blue Elephant Consulting writes. Your body and mind will be delivering a message too and taking a few minutes to adjust will make for a better presentation, Anderson notes. The Accidental Communicator. Breathing exercises can help you prepare your voice, and paying attention to cadence and enunciation will help those who don't hear as well. Anderson also explains how to release tension and move so your body doesn't look like a mannequin and how to mentally prepare to overcome obstacles.