Submitted by

MKeegan

on Fri, 04/23/2021 - 13:26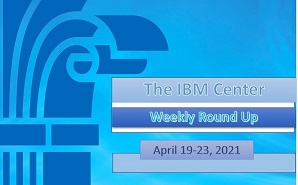 Highlighting articles and insights that we have found interesting for the week ending April 23, 2021
Agencies gain 'momentum' appointing Evidence Act leadership. Government has seen "momentum" around evidence-based policymaking at agencies, the majority having placed senior officials in charge of advancing data-driven decision making, according to the Evidence Team lead at the Office of Management and Budget. All agencies submitted their interim learning agendas, first annual evaluation plans and interim capacity assessments in September, as mandated by OMB guidance stemming from the Foundations for Evidence-Based Policymaking Act, said Diana Epstein.
Appointments Signal Major Changes In Digital Operations and Acquisition. Over the last 25 years, each successive administration has taken "e-government" and technology to the next logical level beyond that achieved by its predecessor. The progress has been consistent and almost entirely non-partisan. But it has never moved fast enough to keep pace with the world in which government must operate, let alone the marketplace on which it so depends. While it is too soon to say for certain, early signs suggest that we may be on the cusp of a significant leap forward.
How the Government's Multibillion-Dollar Plan to Modernize Its Tech Could Go Horribly Wrong. The amount of money that is about to be thrown at modernizing government legacy systems is staggering. The rescue package alone allocates several billion dollars to it, and that's on top of what's been spent over the past year trying to make systems at the federal, state, and local levels rise to the pandemic occasion. It is only a problem if the people in charge of spending it conflate bold with big. Bold would be different from what has come before. Bold would be clear goals and empowering cross-disciplinary teams to make decisions that drive toward those goals quickly, building momentum through wins that show actual value. Bold would be iterating on policy and technology together. Bold would be building long-term capacity.
The Defense Information Systems Agency: Overview. The Defense Information Systems Agency, the bedrock of the Defense Department's IT, has more than 19,000 employees and a nearly $10 billion annual budget. The agency's role is especially consequential in 2021 as it pushes forward with plans to consolidate all the defense agencies and field activities, which DOD refers to as the Fourth Estate, onto a single IT network.
IVAS and the future of defense acquisition. The Army's Integrated Visual Augmentation System has been in the works for years, but the potentially multibillion deal could mark a paradigm shift in how the Defense Department buys and leverages technology.
Sunsetting CVR but keeping the collaboration. Commercial Virtual Remote, spun up last year to support pandemic telework, goes away this summer. DISA's Global Directory is the key to ensuring the cloud collaboration continues.
OPM nominee plans focus on telework, IT, retirement. Kiran Ahuja nominated to lead the Office of Personnel Management, talked IT modernization and retirement processing backlogs during her nomination hearing April 22 before the Senate Homeland Security and Government Affairs Committee. She also spoke to OPM's role in the effort to improve the morale of the federal workforce and to take the lead on governmentwide human capital management and addressing critical skills gaps.
Simplicity can be a trap. Employees should be able to quickly grasp organizational mission, values, policies, strategies, culture and performance ratings, but resist making these things so simplistic that they lose their meaning, writes TalentTelligent co-founder Bob Eichinger. "Consider being parsimonious -- meaning, to be as short and simple as needed to get the intention of the message across," he writes. SmartBrief/Leadership
Prepare today for the urgency of tomorrow. Urgency and patience overlap in that being patient creates the preparation and skills that are necessary when urgent action is needed, writes Scott Eblin, who relates the concepts to the yin and yang of yoga, a dance floor and a team's playbook. "You can't just keep urgently running the old pre-pandemic plays and expect them to work in a late-stage and post-pandemic world," he writes. Eblin Group
Analyze your decision-making progress, not the outcomes. Process matters more than outcome if you want to learn from your decisions and create sustained success, writes Wally Bock. "Once you know how something came out, it's human nature to rearrange your memory so that you look better than you were," he writes. Three Star Leadership
Next Week on The Business of Government Hour: A Conversation on Cybersecurity with Jim Sheire (CISA) and Margie Graves (IBM Center). What is the mission of the Cybersecurity and Infrastructure Security Agency and its Quality Services Management Office? How can the concept of shared services be used to tackle cyber threats? What are some of the key cyber threats facing federal agencies? Join host Michael Keegan as he explores these and questions and more with Jim Sheire, Branch Chief of Quality Services Management Office (QSMO) at Cybersecurity and Infrastructure Security Agency (CISA) and Margie Graves, Visiting Fellow at the IBM Center.
Broadcast Schedule: The show airs Monday at 11 a.m., and Friday at 1 p.m. on Federal News Network 1500AM WFED
Anytime, Anywhere on...
 https://www.podcastone.com/the-business-of-government-hour
https://itunes.apple.com/us/podcast/the-business-of-government-radio-hou