Submitted by

MKeegan

on Fri, 04/21/2023 - 15:10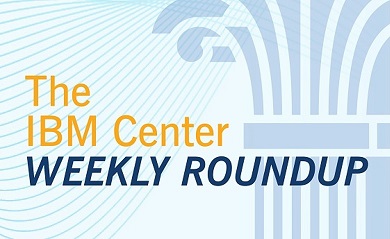 Articles & insights in public management & leadership that we found of interest for the week ending April 21, 2023
The 2023 Federal 100. Meet those recognized by their peers as exceptional contributors to federal IT in 2022.  Hundreds of nominations were submitted, and a panel of government and industry judges deliberated for hours. The result? A list of 100 men and women who personify what's possible in federal IT. 
IRS Chief Aiming for Individual Master File Update by 2028. IRS Commissioner Danny Werfel told members of the Senate Finance Committee at an April 19 committee hearing that he the agency is aiming to complete an overhaul of its key Individual Master File by 2028.
NEW GAO Report: High Risk List GAO's list. This report is updated at the start of each new Congress, of programs and operations that are vulnerable to waste, fraud, abuse, or mismanagement, or in need of transformation.  The latest High Risk List  includes 37 areas across the federal government vulnerable to waste, fraud, abuse, and mismanagement or in need of transformation.
GAO wants Air Force, Navy plans for directed energy weapons to transition the 'valley of death'. A new report calls for the armed services to detail how they plan to shift directed energy weapons from prototypes to programs of record.  The Navy and Air have not documented transition agreements or, in some cases, identified transition partners to help them move from prototype to full acquisition programs.
AI/ML advancements outpacing federal policies, cyber experts warn. National security, emerging technology and cybersecurity experts told lawmakers Wednesday that the federal government must implement new guardrails to cope with recent advancements in artificial intelligence and machine learning. Recent reports have suggested an urgent need for government agencies to develop comprehensive plans and improved coordination around AI, including a Government Accountability Office report published in April 2022, that tasked the DOD with establishing collaboration guidance, enhancing its AI strategies and refining the inventory process. 
USDA aims to build in-house tech talent, CX expertise with new digital services team. The department's own digital services team will be modeled after other "tour-of-duty" style models in government like the USDS.  At USDA, the expectation is that the new, multi-disciplinary team can work at the intersection of policy and service delivery. 
VA pauses all future deployments of its new EHR in latest 'reset' of troubled rollout. The Department of Veterans Affairs is putting all future deployments of its new Electronic Health Record on hold, until it addresses problems at sites already using the system, as part of a "larger program reset." VA Secretary Denis McDonough said in a statement that the Oracle-Cerner EHR is not yet meeting expectations, and that "we're holding Oracle Cerner and ourselves accountable to get this right."
NIST Launching Project to Mitigate Smart Tech Cyber Risks in Telehealth. The National Cybersecurity Center of Excellence (NCCoE) – part of NIST – is launching the "Mitigating Cybersecurity Risk in Telehealth Smart Home Integration" project to better understand the privacy challenges smart devices pose within the telehealth ecosystem. The project goal is to identify and mitigate cybersecurity and privacy risks associated with smart device telehealth ecosystems.
Mendes Shares Advice for CIOs in an Evolving IT Landscape. The IT landscape is rapidly evolving and can often present new and unknown challenges to chief information officers (CIOs). André Mendes, CIO at the Department of Commerce (DoC), joined the General Services Administration's (GSA) High-Performance Computing Summit today to offer advice for CIOs as they navigate the new landscape.
CISA's Hartman Talks the Birth of CADS, Evolution of EINSTEIN. The Cybersecurity and Infrastructure Security Agency (CISA) is seeking $425 million of fiscal year 2024 funding to put into motion a giant technology leap forward in how the agency analyzes the ever-growing volume of cybersecurity data that it needs to sift through to identify threats and vulnerabilities.
Want to get your boss' ear? Find out who they listen to. Increase your influence up the chain of your company's command by tailoring your communication to your boss' style, seeing your solutions from their point of view and studying the habits of those who do have their ear, writes Suzi McAlpine. "Think about what these people deem as reliable sources of information and consider how you could leverage these to make your case," McAlpine writes. Suzi McAlpine
Strengthen your humility to improve connections. Many employees today "want leaders to be their partners in growth," and these truly authentic connections require humility, for which leaders dismantle walls, build trust, and focus less on themselves and more on their colleagues, writes business coach McKinlee Covey, the co-author with Stephen Covey of "Trust & Inspire." To get there, Covey advises listening, eradicating your ego and getting to know yourself. Conant Leadership
How to wake up if you're just going through the motions. If you find yourself unenthusiastic about your work, putting off doing things that bring joy or feeling out of alignment with your values and beliefs, you could be, as Gregg Vanourek writes, "sleepwalking" through life. You can wake up, Vanourek notes, by focusing on what matters, practicing mindfulness and taking action on things you're procrastinating over, all while realizing it may take time to snap out of it, but once you begin, momentum will build. Gregg Vanourek
How to confront a problem with a positive mindset. Leaders needn't be either Pollyanna optimists or pessimists if they work on being positive thinkers who don't "expect their circumstances to change [but instead] change themselves to overcome their circumstances," business consultant LaRae Quy writes. Positive thinkers have "the ability to look at every situation, both good and bad, without losing hope," Quy explains.  Recognize humans' inherent, life-preserving negativity bias and determine if each issue is worth the attention. Quy also suggests replaying your positive moments each day, developing a positive vocabulary and other tips. SmartBrief/Leadership