Submitted by

cmasingo

on Thu, 12/21/2017 - 09:29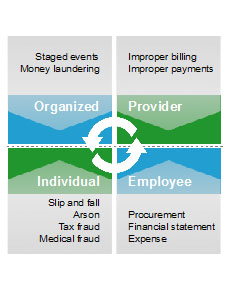 Monday, September 11, 2017
Large federal agencies have focused on FWA as a means to significantly reduce improper payments resulting in significant agency/department mission and tax payer value.
Greg Greben, Vice President and Client Group Leader, Federal Civilian & Healthcare Agencies, IBM Global Business Services, authored this article.
Last week's blog defined fraud, waste, and abuse (FWA), described many successful FWA federal programs, and outlined some of the costs associated with FWA. This continuation will address government challenges; define cognitive counter-fraud, waste, abuse; and discuss next steps.
Federal Government Challenges
Budget constraints and limited availability of skilled technical resources render the default approach to combating FWA unsustainable. In addition, the variety, volume, and velocity of fraud schemes is ever increasing, requiring new combat methods simply to keep pace. And traditional tools and approaches cannot be adapted at the pace of change. Finally, political considerations oftentimes determine where and how resources are allocated. Some FWA is viewed as more egregious than others, both politically and in public perception.
Some of the key challenges include:
Data Access and Integration
Access to data across federal agency channels and/or across commercial private sector channels is addressable and the benefits of enhanced data and information sharing will dramatically improve results and findings.
Data Privacy Concerns
Commercially available identity and transaction data will greatly improve findings; however, data use, security, and privacy concerns must be addressed. Governance of private, personal, or confidential information used for appropriate purposes can be achieved but may require changes in existing policy.
Data Sharing
Sharing fraud schemes across federal agencies and commercial private sector companies presents a challenge. Employing the fusion center concept could help promote a commercial/federal public-private partnership model.
Cognitive Counter-Fraud, Waste and Abuse
Federal agencies looking to combat sophisticated fraud schemes and preserve program integrity might consider adopting a CCFWA platform; essentially, a shared servicerepresenting a single fusion point for data collection and detecting and detailing FWA. Existing methods are minimally effective and outdated. Many are not integrated. There's an opportunity to incorporate cognitive capabilities while enhancing cross-agency collaboration and fusing federal practices with commercial best practices. This approach has proved successful in law enforcement and counter-terrorism, where state or regional fusion centers enable data sharing and cognitive analysis at a state level that can then be pushed to the federal level. The results are reduced costs and improved outcomes.
Cognitive counter-fraud fusion centers would integrate the detection of, scoring, detailing, investigating, managing, optimizing, and reporting on complex fraud scenarios. CCFWA allows for:
Faster detection through automation of fraud schemes, such as identify theft and misrepresentation; non-obvious relationships between fraudsters and trusted users; and multi-channel cross-agency schemes, such as using fraudulent tax status to qualify for other social benefits.
Higher dollar impact of FWA findings through layered multi-level cognitive analytics, including: predictive analytics, business rules, anomaly detection, entity analytics, global name recognition, link analysis, social network analytics, and geospatial analytics.
Resource optimization and enhanced use of analysts' investigative time through complete automation of the fraud lifecycle, integrating case management into the analytics framework. The analyst receives complete details, eliminating the need to access stove-piped systems and load data manually.
Cognitive machine learning to automatically feed results that refine the analytics, improving results over time. Also referred to as artificial intelligence or, more accurately, augmented intelligence, it enables systems to continually enhance and refine their models to drive accuracy.
Reduction in recovery costs by ending the "pay-and-chase" approach and moving exclusively to a real-time analysis and adjudication in which no payments are made prior to validation.
Staying ahead of fraudsters by sharing of best practices across agencies and channels that include tax, healthcare, contracting, and social benefit programs. Fusion with private sector data and commercial best practices would further enhance program integrity efforts.
Rapid start-up through cloud enablement...CCFWA technologies can be initiated instantly on a secure cloud platform. Also, pre-integration of the analytics and case management components would dramatically reduce implementation costs by limiting time to value. Through configuration, technology tools can easily adopt agency-specific terminology, data models, and user interface preferences.
In addition to enhanced analytics and cognitive capabilities inherent in the tools, further gains can be achieved by adopting a public-private partnership model. By incorporating organizations such as financial services and commercial healthcare companies, both sides can glean additional insights and benefits. The fusion center concept would facilitate sharing fraudster identities and schemes between commercial entities and federal agencies and create a continuous feedback loop to foster ongoing sharing of best practices and experience. A centralized CCFWA capability also would quickly and nimbly address emerging fraud schemes while simultaneously evolving detection, investigative, and deterrence approaches.
Effective program integrity requires significant investment in both human capital and information technology at the agency level to support development and maintenance of program integrity systems and analytics. The fusion center concept addresses this challenge by allowing agencies to pool resources and talent, thereby reducing duplicative systems and costs.
What's Next?
CCFA is a powerful capability that both the federal government and private sector employ to prevent improper payments and preserve mission integrity. The adoption of more sophisticated technology, such as cognitive capabilities, can rapidly accelerate and maximize the outcomes of federal programs. By avoiding improper payments, federal funds would remain allocated to their intended purposes, such as paying medical bills, providing disaster relief or purchasing goods and services for U.S. citizens. Responsible government officials have directed agencies to strengthen controls to prevent improper payments before they occur. Transparent, accountable governments should view CCFA as indispensable.
Adopting CCFWA would expand agency-specific initiatives by addressing gaps in people, processes, and technology through enhanced cross-agency collaboration and through the fusion of private sector capabilities with those of government. The federal government has established a solid framework for reducing fraud and improper payments; incorporating advanced cognitive tools, cross-agency collaboration, and fusion with private industry could accelerate FWA strategies and drive higher value. A cloud-based, cognitive analytics platform that captures and interprets structured and unstructured data from all agencies would increase analysts' ability to detect and/or stop FWA, saving the U.S. government and tax payers tens of millions of dollars annually.