Submitted by

rthomas

on Thu, 12/21/2017 - 14:17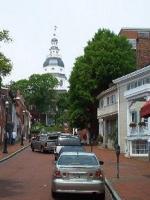 The Senate Government Performance Taskforce held a field hearing on Performance-Stat systems in Annapolis, MD, with Governor Martin O'Malley as the lead witness. They explored how these systems might be applied in the federal government.
 Harvard professor Bob Behn calls the various "-stat" systems used across the country "Performance-Stat." This includes the New York City CompStat, Baltimore's CitiStat, and Maryland's State-Stat, as well as Montgomery County's County-Stat system.
Senator Mark Warner took his taskforce to Annapolis to hear first hand from Governor O'Malley, as well as Montgomery County Executive Ike Leggett, and Baltimore deputy mayor Chris Thomascutty. They explained how they operated their performance systems and the kinds of results they've been able to achieve. But Senator Warner expressed interest in how their experiences might be adapted at the federal level.
Sen. Warner observed that whoever frames the questions or the performance measures has to get it right if the conversation in a Performance-Stat meeting is to be productive. A conversation on park cleanliness would be different that a conversation on having a "child ready to start school" because the influencing factors could be nutrition, housing, health, etc. Leggett says he involves program managers in helping frame the issues and measures since they are on the front lines.
Warner also noted that in each case, the chief executive was personally involved in standing up the various Performance-Stat systems, and invested substantial personal time and effort to initially get them operational. He did not suggest that President Obama would have to do so, if adopted at the federal level, but did note that Obama did designate a federal Chief Performance Officer.