Successful Adoption of Intelligent Automation in Government: Lessons from Disaster Management and Response Efforts at the Departments of Defense and Energy
Submitted by

rgordon

on Mon, 02/22/2021 - 11:03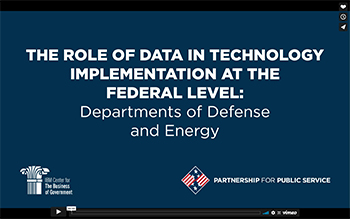 Monday, February 22, 2021
The IBM Center for the Business of Government and Partnership for Public Service are hosting a webinar on Feb 24 at 9:30 AM with government innovators, who will provide practical advice how to get started on the road to intelligent automation, developing data strategies that leverage AI and other emerging technologies
Pressure to do more with less, improve efficiency and reduce cost while meeting citizen needs is challenging government agencies. Intelligent Automation (IA) meets this challenge by transforming work while enabling the workforce to perform more effectively and efficiently.   Powered by artificial intelligence (AI) as part of an integrated platform -- which also includes Robotics Process Automation (RPA), analytics, process management, and digital strategy – IA can improve how federal agencies operate internally and serve customers externally. Agencies are beginning to make IA fundamental to transforming workflows and achieving the mission.
As government agencies strive to improve service by implementing advanced technologies, how that data informs strategy and business decisions represents a critical element of success.  The IBM Center for The Business of Government and the Partnership for Public Service recently hosted five virtual panels on this subject, focused on readying agency data by using artificial intelligence and other technology solutions.  These sessions focused on detecting and addressing agency data quality issues that might stem from bias or inaccuracy, and on addressing barriers to data sharing within and across agencies to promote better access through technology.  The insights and lessons learned from these discussions will help government to advance data strategies within and between agencies.
The last in our series of reports from the five panel discussions summarizes insights and lessons learned from the Department of Defense and Department of Energy, comparing and contrasting strategies across the two agencies regarding how best to leverage intelligent automation in addressing disaster preparedness and response.  The full video of the discussion with Nirav Patel, Defense Innovation Unit, Department of Defense, and Pete Langlois, Program Manager U.S. Department of Energy, can be found here.
A short summary of key takeaways from the session follows.
General
Intelligent automation, and especially artificial intelligence and machine learning, can be used to improve disaster prediction models and disaster response mechanisms across the country.
Addressing disaster response and management through AI involves data integration and coordination, as well as focusing on rapid response times.
One of the most critical elements in developing AI solutions for disaster response is real-time applicability of AI models for understanding how to approach disaster response, including data on the needs and workflows of first responders.
When addressing the challenge of convincing agency leaders to support the data literacy necessary to leverage analytics that results from AI and intelligent automation, progress can be made by tying that effort to the agency's mission – such as tying to scientific goals and objectives.
Data governance
DOE created the Artificial Intelligence and Technology Office to fulfill this role.
DOD's Defense Innovation Unit focused on access to critical data sets, such as remotely sensed satellite imagery.
Unstructured data can be addressed via machine learning -- DIU has trained models and labeled data with subject matter experts to produce reliable data.
In transmitting the data, agencies should focus on moving data to the right decisionmakers.Subject matter experts who know how to process these images need proper access and to develop appropriate algorithms and a damage assessment rubric.
DOE's approach to wildfire response reflects the importance of building new models based on recent data, and then integrating that data to a very specific geography.
Stakeholder engagement
DOE has moved forward with an initiative around getting data to first responders, which involves 14 partners across both government, industry and academia.  This cross-sector effort seeks to reduce the time it takes to move key information assets, such as satellite imagery, into the hands of decision-makers working during or after a disaster.
DOD partnered with academia to run online prize challenges with hundreds of contributors who have access to open source algorithms relevant to disaster relief, which has presented important opportunities. DOD found that was important to look for overarching agreements between government agencies that might help with cooperation between branches.
Collaboration with officials in the field is critical, including provision of real time data that can be used as part of the workflow of first responders—such as providing rapid access to relevant satellite and overflight imagery.
In coordinating across the public and private sectors, it is important to identify the appropriate legal framework that enables access to data while working within the rules for proprietary and classified content.
To predict future disasters such as the next set of wildfires, agencies would benefit by working with a coalition of actors -- such as utility companies, which have important data sources that can be used to refine AI algorithms.