Submitted by

rgordon

on Mon, 05/04/2020 - 10:13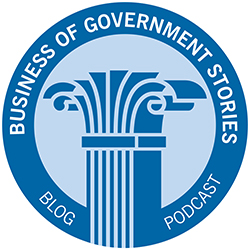 Demonstrating the Importance of Leadership, Collaboration, and Aligned Vision
"Shared Services" -- cross-agency approaches for delivering mission support services like human resources (HR) and financial management (FM) more effectively and efficiently, remains a key initiative for agencies.  In today's environment, government programs must shift almost daily in response to unprecedented public health and economic stimulus priorities.  Shared services have become even more imperative as a means of enhancing reliability and outcomes in support operations and enabling agencies to focus on mission priorities.
The landscape for shared services rests on an evolution over several decades that resulted in today's "lines of business (LOB)" focused on HR, FM, Grant Management, cybersecurity, and other support functions critical to agency operations.  Much has been accomplished, but much work remains.  The story of this evolution carries lessons for implementation today, and demonstrates the importance of committed leaders who have come together around an aligned vision across agencies and with the private sector.
---
How did human resources and financial management become a part of shared services? - Dan Chenok explains!
---
Beginnings
The US Federal Government, like many governments at the state and local level and internationally, has long provided services centrally that benefit multiple agencies.  The General Services Administration (GSA) provides common platforms to manage agency real property, travel, and procurement support and the Office of Personnel Management (OPM) provides a full range of human resource services.  These agencies remain at the forefront of the shared services landscape. The way in which they and other agencies provide shared services has advanced due to the policies and strategies from the Office of Management and Budget (OMB) and the White House over multiple Administrations.
One of the early steps involved the 1993 National Performance Review (NPR) expansion of "franchise funds." This enabled agencies to spend and manage dollars across fiscal years to provide services across the government, an initiative spurred on by NPR Deputy and now Center Senior Fellow John Kamensky and authorized by the 1994 Government Management Reform Act.  The growth and use of franchise funds and similar working capital funds provided a financial pathway for agencies to operate in a manner closer to a commercial business. Their early evolution was documented in this Center report by John Callahan, formerly the assistant secretary for management and budget at the Department of Health and Human Services.
The "lines of business" as currently framed originated in the summer of 2001. New OMB E-Government Administrator Mark Forman moved forward with a three-part E-Gov Strategy for reforming how IT supported agency operations functioned.  Forman asked the IT Policy office that I led to analyze which IT programs were most alike across agencies, suggesting potential redundancies, inconsistencies, or opportunities for leverage.  OMB Capital Planning leader Bill McVay conducted a careful and thorough review of such common investment areas, and after a thorough vetting across OMB, the first lines of business as well as lead agencies were announced in the 2003 Budget proposal.   These included financial management, human resources, and grants management – and all three remain core parts of the shared services landscape today.
The vetting that we conducted as a part of this process surfaced several challenges to shared services implementation.  These challenges continue to face government today and include needs to:
agree on a common vision and set of agreed-upon standards and technology models across agencies,
develop a collaborative leadership and governance framework that guides strategy and implementation, and
arrange for shared funding models that incentivize collective action among stakeholders.
In the face of these and similar challenges, progress over the last two decades to advance lines of business in government has resulted largely from actions by leaders who have stepped forward to drive an aligned vision that brings key stakeholders to the table.
The early growth of shared services for government across the US and around the world is well-documented in a 2009 article by John Marshall, now CEO of the Shared Services Leadership Coalition (see more on this organization below).
Expansion
Karen Evans succeeded Forman as OMB IT leader and significantly increased the focus on lines of business, with a special focus on strengthening capacity for cybersecurity and coordination with the intelligence community in the aftermath of 9/11.  The LOBs then remained in steady state until the second term of the Obama Administration, when OMB's Office of Federal Financial Management (OFFM) – led principally by OFFM Controller David Mader – set forth a strategy to ramp up shared services activity and develop a governance framework across agencies.  This effort was bolstered by a government-industry shared services roundtable that I was privileged to serve on, led by the Partnership for Public Service.  This initiative brought together key leaders in both sectors to develop a set of recommendations or shared services expansion in an influential 2014 report published by the Partnership.
OMB worked with GSA to take these and other recommendations and established a new enterprise, the "Unified Shared Services Management Office," which would be led by Beth Angerman who had run the Treasury Financial Innovation and Transformation office that oversaw the FM-LOB.  Mader and Angerman worked to raise the profile of shared services as a Cross-Agency Priority Goal and via policy through this OMB memorandum -- a status that continues today in the CAP Goal "Sharing Quality Services."
Strengthening the Public-Private Partnership
Angerman led the work to shape the current shared services strategy designates and gives new responsibilities to lead agencies as "Quality Service Management Offices" (QSMOs), operating as part of a larger governance framework in OMB Memorandum 19-16 (as a footnote to the story, this is one of the few OMB Memoranda that cites an IBM Center report!).   Part of the charge of QSMOs is to work with industry in understanding current standards and technologies that can support effective shared services operations, and developing implementation roadmaps over the next several years.  This effort is now led by Earl Pinto, Deputy Associate Administrator of the GSA Office of Shared Solutions and Performance Improvement (OSSPI), which now houses USSM.  OSPPI has incorporated this cross-sector work and built on lessons learned from three different models of private sector engagement:
some shared services, like financial management, had been largely implemented through agency centers of excellence supported by contractors in a traditional procurement arrangement (authorized by a 2013 OMB memorandum);
others, like HR, evolved to implement an acquisition strategy under which private sector providers competed with agencies to deliver services (implemented through this GSA contract vehicle);
a third model involved a set of qualified providers but not organized in a formal contract sense, as with cyber security.
The current approach to the industry engagement strategy will vary based on the overall plan for each QSMO.
Given the importance of collaboration across the public and private sectors for implementation, the Shared Services Leadership Coalition (SSLC) has emerged as a major voice for companies, nonprofit partners, and academic experts, and as a center of gravity for discussions across industry and with government.  SSLC is leading a number of initiatives with industry and government, including forums for agency shared services leaders and for defining a future vision for HR shared services that also includes intelligence community leaders. Both of these efforts have expanded their reach by partnering with the National Academy of Public Administration and the Senior Executives Association, and are informed by former government leaders who serve as strategic advisors (I am part of this group).  SSLC also recently partnered with our Center to release a recent report that assessed how government can access private sector capital for modernization across a range of functions, which can be a key driver for shared services.
The need to promote common strategies and solutions for common problems has become more paramount than ever, as agencies need to focus their resources on delivering needed services in  response to COVID-19 and for a future in which government will continue to play a key role in the national recovery and ensuing transformation.  The government's shared services story, and the lessons that its implementation carries, provide both a reflection and lessons learned in moving forward.