Submitted by

evalery

on Fri, 12/29/2017 - 12:50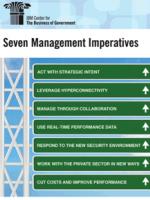 Successful agencies are using innovative acquisition methods to shorten the lifecycle of a contract, forging partnerships with the private sector through challenges and prizes, and finding innovative solutions.
Successful agencies are using innovative acquisition methods to shorten the lifecycle of a contract, forging partnerships with the private sector through challenges and prizes, and finding innovative solutions .
Government leaders and managers are increasingly doing business using methods and approaches that differ from the traditional contracts and grants process. Today, government leaders and managers need to know how to use innovative acquisition methods that shorten the lifecycle of a contract, as well as how to leverage new ways of tapping into the private sector that include challenges and prizes—where the government poses a challenge and unleashes private sector innovation to develop a solution without going through a formal contracting process. 
Background
Government has traditionally leveraged the private sector (including industry, non-profits, and academia) through the formal contracts and grants process. A variety of circumstances have accelerated the need to change the traditional engagement model:
Agencies lack resources (both money and people) to meet their needs adequately through formal contracts
Grant funds have been limited by discretionary spending cutbacks
The contract process itself has become laden with many requirements and conditions that make it more difficult for government to issue a Request for Proposal, for industry to respond, and for government to make a decision
Traditional, multi-year contracts have been increasingly criticized for going over budget, being behind schedule, and missing performance milestones
Leaders and managers will now be able to conduct business more effectively. Managers who continue to rely on old-school approaches and do not use innovative business channels will not serve their organizations nearly as well.
Fostering a New Culture of Acquisition
Traditionally, government contracting officials and managers have been risk-averse. This is a counterweight to innovation, as agency contract, program, IG, legal, and political staff seek ways to add controls in response to oversight. At the same time, the seeds of a new culture are emerging, fueled by the following three major drivers. 
New partnerships. Agencies are actively encouraged to look outside the government contractor orbit for sources of value. The Office of Management and Budget (OMB) oversees the Partnership Fund for Program Integrity Innovation that supports pilot projects to bring cost savings and efficiencies to the delivery of federal benefits by state and local governments. OMB issued a 25-point improvement plan in February 2011, which actively encourages federal departments and agencies to explore alternatives to the traditional grants and contracts process. 
More open communications. The pendulum is swinging back toward more openness in how agencies and industry communicate. OMB has recently issued a memorandum on "myth busting" designed to improve communication and address misconceptions about the acquisition process. Industry needs to operate differently as well. Building trust on all sides will take time and will rely on government leaders and managers to model openness in their interactions with the public and private spheres.
Need for increased skill sets in the acquisition workforce. The capacity of the existing acquisition workforce to meet these challenges continues to lag—both in terms of number of workers and skill sets. OMB is working to increase the skill sets of the acquisition workforce to be more agile in terms of rolling out contracts, better able to work with new processes like challenges, and more adept at helping new firms who bring innovation and value into the federal space.
Introducing New Tools for Engaging with the Private Sector
A flexible culture will be necessary for managers to adapt to new private sector engagement channels. Traditional contracting will continue to retain its core place in agency 
acquisition. However, in a resource-constrained environment emerging tools can also be obtained at a fraction of the cost of many contracts. The Obama administration has expanded the number of tools available to federal government managers, including:
Challenges, as discussed above
Prizes, which offer a specific financial or similar incentive for rewarding good ideas—as Luciano Kay writes, prizes have the potential "to induce technological innovation and accomplish broader economic and societal goals"
Fly-offs, where agencies narrow down the set of bidders and then make a final selection under a second "mini-competition"
ExpertNet, through which agencies will be able to seek advice from leading thinkers or convene a discussion among knowledgeable actors on particular subjects onlineThese initiatives are just the start of what is likely to be a wave of innovation in how government works with the private sector
Moving to Shorter Phases and Better Measures
OMB's current policies employ a longstanding tenet of best practices in contracting: achieve functionality in manageable phases to reduce risk and achieve tangible benefits, rather than wait for large "big bang" modernizations to take hold. OMB intends to propose changes in the budget process that promote faster turnaround for spending money as technology and business requirements change, instead of the current 18–24 month budgeting cycle. Shorter cycles are likely to expand beyond IT to reduce risk and increase value in other areas of government acquisition.
An equally important piece of the technical puzzle involves measuring outcomes. Assessing whether a program is on track is essential for any decision to move to the next phase. This is an emerging but critically important success factor for modular contracting to work. Gerald Blasi writes that in assessing contract outcomes, "more work needs to be done in order to establish what constitutes accountability, what performance should be measured and how that performance is measured." 
Conclusion
As the business of government becomes more flexible and operates in shorter spans of time, the success of public sector leaders and managers in this environment may be characterized by "think big, act small." In other words, they must first set a broad vision that implements the agency mission; and then implement that vision with a flexible culture, wise operational use of both traditional contracts and an array of new tools, and a plan of action that is funded and executed in measurable, manageable chunks.