Submitted by

rthomas

on Wed, 12/20/2017 - 12:22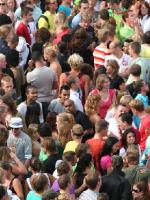 What does it mean to be a citizen in a Gov 2.0 world? President Obama's FY 2011 budget is being dissected for its shift in the size and scope of government. But several initiatives in the budget, and things happening at the state and local levels, point
What does it mean to be a citizen in a Gov 2.0 world? President Obama's FY 2011 budget is being dissected for its shift in the size and scope of government. But several initiatives in the budget, and things happening at the state and local levels, point to subtle -- but significant --shifts in the role of citizens in their government.
A prominent role these days is engaging citizens in oversight and accountability. A CNNTech article by John Sutter, "Cities embrace mobile apps, 'Gov 2.0'" describes how Craig Newmark, founder of Craigslist, sends an electronic note to San Francisco City Hall via an application called SeeClickFix to report an overheated train car. Sutter says this gives citizens "more of a say in how their local tax money is spent." Cities all over the country are releasing public data to the web and mobile application developers are creating "mash up" applications to make it easy to use. Some say it "could usher in a new era of grsssroots democracy."
In DC the DC 311 iPhone app allows users to take photos of graffiti, potholes, etc., and send them to a city database that catalogs work requests. The photos are linked to a GPS location so officials can see the problem, and other citizens can, as well. Other examples of "citizen posses" include the "Coalition for an Accountable Recovery" which tracks the implementation of the Recovery Act.
But these examples do not offer the only vision of how citizens' roles have changed. After all, we can't become a nation of fault finders. There has to be a more positive view of the role of citizens than just conducting oversight. Although, the Obama Administration encouraged this new role when it put in place Recovery.Gov, which posts all the spending of the $787 billion stimulus bill.
I can see a series of new or expanded roles for citizens, other than oversight. These include:
Increased involvement in dialogue. This is where conversations are back and forth, and where both sides learn. One example is the new on-line town hall format described in a new report by the Congressional Management Foundation. There, members of Congress are beginning to engage citizens in far more meaningful discussions of issues. The Obama Open Government initiative is encouraging agencies to use approaches like this. On February 6th, a wide range of agencies will be simultaneously launching public dialogue efforts, to run over a five-week period, to engage citizens around issues such as transparency and collaboration. The General Services Administration has already launched its dialogue site to allow people to comment and vote on ideas.
Being better informed about issues. This is where citizens can gain a broader understanding of the implications and tradeoffs in making big decisions, or even local decisions. An example of becoming better informed about the larger context is understanding the progress and position of the US, or your community, in areas such as health care, environment, or the economy. The stateoftheusa.org tries to provide such a perspective. Another "big picture" forum examines the fiscal future of the country. At the other end of the spectrum, there are sites that provide information about your neighborhood and encourage interactions and awareness at that level, like Neighbors-for-Neighbors in Boston, EveryBlock.com, or CrimeReports.com.
Providing ideas and solutions. Sometimes people with different perspectives can solve problems that the experts have a hard time with. A prominent example is the increased use of "crowdsourcing.' This is where an organization sends a problem out to a group of people asking for contributions or solutions to a problem. One example is Apps for America, where a nonprofit group sponsored a contest to find the best uses of government-provided information. The Obama budget for FY 2011 commits to expanding the use of contests and awards for innovations.
Being empowered by information to solving their own problems. Too often, complexity creates a need for "middle men" such as tax advisors, lobbyists, and attorneys. Reducing complexity, or providing information more openly or using "plain language" to describe things can make a huge difference. The Open Data efforts by the Obama Administration are one step in this direction. Ongoing efforts to create Plain Language in government writing is another. Streamlining application processes to be more citizen-centered is also another approach, which seems to be a stronger trend in other countries.
Becoming involved in co-delivering public services. This is more common at local levels, but a high-profile example at the federal level is called "peer-to-patent" where citizens could help determine whether an idea was new and worth being granted a patent. Another is by helping the elderly complete their tax forms via a volunteer program called VITA. And another is "citizen responders" in the case of emergencies. This not only saves money, but involves citizens in a direct way in government.
Becoming engaged in framing public decisions. In some communities, such as Des Moines, IA, citizens became engaged in measuring the performance of city services and then involved in helping set city budgeting priorities. Similarly, citizens in Washington, DC, did the same when Tony Williams was mayor, in his citywide Citizen Summits. At the federal level, several years ago Congress created a Citizens Health Care Working Group to engage citizens in developing recommendations for reforming health care. Some advocacy groups want opportunities for citizens to actually make decisions, but this step may require some careful thought, especially given experiences such as California's referenda being driven by special interest groups. This has resulted in the legislature not being able to make needed trade-offs and the state now faces fiscal challenges that may be difficult to address.
The more traditional roles, of citizen participation via hearings or a spectrum of other forms of engagement, including innovative forums such as President Obama on YouTube answering questions about his new budget, will continue. But the opportunities to actively engage citizens is still evolving.
If you have other ideas, please feel free to contribute!