Submitted by

rgordon

on Wed, 07/13/2022 - 14:26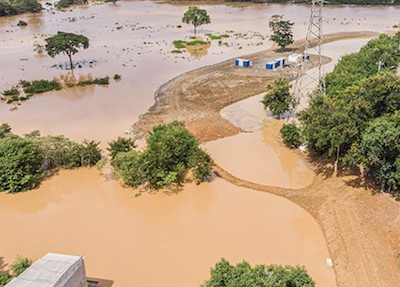 The COVID-19 pandemic exposed governments to a host of mostly unexpected challenges. And while leaders have captured many lessons, it is questionable if they have fully embraced them.
Co-Author:  Cristina Caballé, Executive Director, IBM Global Public Sector
Over the past two years, governments around the world have navigated and responded to the impacts of the pandemic. Throughout this journey, governments have captured valuable lessons and gained an understanding of critical areas of focus. But government leaders are now telling us they fear what were previously viewed as rare Black Swan events are now becoming more frequent—and more destabilizing.
One event follows closely on the heels of another, or even multiple events are occurring at the same time. For example, the COVID-19 pandemic was still ongoing when the unthinkable happened—the Russian invasion of Ukraine leading to deteriorating internal relations. Various climatic/environmental challenges are occurring around the world, such as severe flooding in France, both drought and bushfires in Australia, and water shortages in California. And we are experiencing the economic fallout from the pandemic and the war, which has even the World Bank concerned about a period of stagflation. Governments must develop the agility and resiliency to protect against and respond to this plethora of challenges.
Recognizing recent successes
While many stories detail the troubles the world has faced, it is important to remember where governments have successfully delivered extremely valuable solutions and services for their constituents (albeit after some delay) over the past few years. For example:
The Italian Ministry of Health and the Red Cross built a predictive platform for ambulance transport times, fully integrated with the national healthcare system allowing for multiple layers of analytics. As a result, data collection, driver shift management, invoicing of completed trips, and much more were greatly improved.
In the United States, New York State launched the nation's first state-run vaccine passport, allowing easier verification of vaccine status and test results.
In Rhode Island, the state built a cloud-based data lake and automated processes to enable faster, more sophisticated, and more reliable analysis. Within three weeks, the data team was disseminating deeper COVID-19 insights needed to guide policy and operational decisions and keep the public informed.
The US Department of Defense (DoD) ordered the creation of the Joint Artificial Intelligence Center (JAIC) with the goal of enabling teams across DoD to swiftly deliver innovative AI-enabled capabilities and effectively experiment with new operating concepts in support of US DoD's disaster and humanitarian response to the pandemic.
Governments have had two years to learn from grappling with the pandemic. They have improved stability to the point where they are no longer forced to think minute-to-minute but can look into the future and imagine what "shocks" may come next.
What do we mean by "shocks"
Shocks are events with severely disruptive consequences. They could be rapid- or slow-onset, or regional or global. While the scope and nature of a particular shock can vary, each requires governments to be prepared to coordinate a response (see figure).
Shock events typically begin locally, and their impacts spread rapidly through contamination or contagion to societies and economies. Regional shocks are limited to a specific geographic area or sovereign state(s) and include events such as climate-related or other natural disasters and cyber events/attacks on economies or critical infrastructure.
Rapid-onset shocks, such as wildfires, have immediate impacts requiring urgent action. However, not all shocks are immediate and come as a surprise. Slow-onset shocks, including environmental risks resulting from climate change, provide more time for impacted governments and societies to adjust, react, and mitigate impact.
The bottom line is that future shocks of all kinds are likely to happen more and more frequently, and governments can't afford to assume a reactive posture. The time to act—the time to prepare—is now. If the pandemic taught us anything, it is that governments have a responsibility to anticipate and be ready for the worst.
Preparation priorities
In our conversations with government leaders, we have distilled the lessons captured from pandemic-era experiences—both positive and negative—into four core themes that are fundamental to continuing and accelerating government transformation and to preparing for the future:
Rapid innovation and agility—Many governments, even those caught off-guard by the pandemic, quickly shifted to rapid innovation and modernization.
Trust and transparency—Providing essential services and averting economic collapse are further complicated by demands from citizens for protection, personal liberty, and equity.
Security—The stress of the pandemic exposed existing gaps in cybersecurity and critical infrastructure security and created new ones.
Talent and transformation—The workers of today need to become the workers of tomorrow by learning the new skills and technologies that are expected to become ubiquitous among government workforces.
Within each of these areas, governments need to develop insights as to what is required to continue to build resiliency and anticipate future shocks. Readiness requires governments at all levels to prioritize leadership attention and investments as well as define and orchestrate strategies to address challenges in several key domains. Governments need to build a set of core capabilities to be better prepared for the future. Those capabilities can be organized within the following six strategic domains:
Emergency preparedness
Supply chain
Cybersecurity
Sustainability
Workforce development
Cross-border coordination
Let's look at each domain in more detail.
Renewed investment in emergency preparedness is required to cope with the increased frequency of regional and global rapid-onset events. Nations need to be ready to cope with a serial outage in the Critical National Infrastructure (for example, power supply, gas). Potential vulnerabilities touch all parts of government and society, including the 16 sectors whose "assets, systems, and networks, whether physical or virtual are considered so vital to the United States that their incapacitation or destruction would have a debilitating effect on security, national economic security, national public health or safety" as identified by the Cybersecurity and Infrastructure Security Agency. Emergency and preparedness response can— and must—be improved to withstand the threats of the today's world.
Another key focus area is modernizing supply chains. Supply chain leaders have struggled with how to maintain supply chain continuity in the face of current disruptions. While many agencies felt that they had diversity in their supplier base, they realized that most of those suppliers were actually going to the same source—companies with distribution centers located in China. Our research shows that 93% of organizations have faced challenges associated with demand volatility. Leaders are expressing new urgency in redesigning supply chains for control, integrity, and dynamic agility while identifying new models that can avoid breakdowns better than the traditional "just-in-time" approach.To mitigate the risks of future disruptions, supply chains must be reimagined to allow for real-time visibility and auditability as well as dynamic, AI-enabled responsiveness, all while helping to manage the integrity and security of the supply chain ecosystem. Opportunities for modernization exist from the front end to the back end of the supply chain and everywhere in between.
Reinforcing the security imperative and cybersecurity for Critical National Infrastructure is another critical domain. 2021 was a record year for cyberattacks. Data breaches jumped 23% over the previous all-time high set in 2017, and ransomware attacks doubled the past two years in a row. High-profile attacks through SolarWinds and Microsoft Exchange Server, and on the Colonial Pipeline infrastructure, to name just a few, demonstrated how closely cybersecurity is tied to business continuity and operational resilience. A recent report found that "70% of organizations are unable to secure data that moves across multiple cloud and on-premises environments" and "92% of organizations lack the ability to securely enable and extend new cloud-native capabilities to their internal and external partners." Governments must act to bolster security capabilities that protect both public- and private- sector institutions' assets within the Critical National Infrastructure.
Over the next decade, eight of the top 10 global risks identified by the World Economic Forum (WEF) are environmental or societal, with climate action failure, extreme weather, and biodiversity loss topping the list. In a recent study, 57% of government CEOs identified increasing sustainability as a top priority in the next 2-3 years compared to just 48% of CEOs from all industries. Government leaders clearly see that it is vital to accelerate the green agenda for sustainability, energy transition, and climate change. Nations and regions need to be prepared to address an increased frequency of rapid-onset climate/environmental catastrophes (such as, flooding and wildfires) and take actions to address slow-onset climaterelated events.
Rapid technological advances, increased globalization, and unprecedented industry disruption are destabilizing traditional job roles and fueling a global skills crisis. In a recent study, a third of government leaders identified inadequate skills and resources as one of the greatest challenges facing their organization. To avoid negative repercussions within their organizations as well as for individuals and economies worldwide, government leaders must work to deepen the talent pool and build the workforce of the future by upskilling and reskilling talent. They must build and maintain a workforce with the skills necessary to meet organizational responsibilities in the face of rapid technological advances and increased competition for top talent in local and regional labor markets.
Globalization and the level of interconnectedness between countries has grown for decades. Just as the COVID-19 pandemic ignored borders and boundaries, so must the response systems that governments put in place to prepare for future shocks. They must strengthen cross-border coordination. It is vital that governments work with allies, trading partners, and neighboring sovereign states to help ensure cross-border response systems are constantly ready for fast, rigorous, and efficient responses to global events.
Building on momentum to strenghthen readiness
Governments should prepare for future shocks. IBM, working through the IBM Center for The Business of Government and the IBM Institute for Business Value, and in partnership with the National Academy of Public Administration (NAPA) and other major nonprofit partners, expects that these six domains will be most critical to building resilience. Further, we envision governments carrying the momentum they created from rapid pandemic-driven innovation into their preparation for future shocks.
Collaborative action to address anticipated threats requires focus and cooperation across a broad ecosystem of partners and stakeholders, but every step forward helps build progress toward addressing the Grand Challenges in Public Administration put forth by NAPA. Over the coming months, we plan to convene a series of roundtable discussions with global experts from across the public and private sectors to curate and share lessons learned in each of these domains and to identify strategies and solutions for governments to address the challenges that lie ahead.
>> Listen to the podcast interview with Tim Paydos and Mike Stone, "Emerge Stronger and More Resilient: Responding to COVID-19 and Preparing for Future Shocks."