Submitted by

evalery

on Fri, 12/29/2017 - 16:31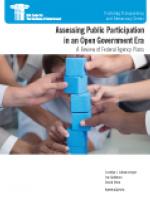 In recent weeks, the main stream media has questioned whether the Obama administration's Open Government initiative has lost its steam. But is it really dead?
In recent weeks, the main stream media has questioned whether the Obama administration's Open Government initiative has lost its steam. But is it really dead?
For example, Washington Post columnist Vivek Wadhwa's article "The Death of Open Government" followed the resignation announcement of the federal government's chief information officer – and Open Government champion -- Vivek Kundra.  But President Obama's signature Open Government initiative does live.  It is just that there may be a shift in emphasis from a focus on transparency to a focus on citizen engagement.
A new IBM Center report, "Assessing Public Participation in a Open Government Era:  A Review of Federal Agency Plans" by Carolyn J. Lukensmeyer, Joe Goldman, and David Stern, provides a useful recap of what's going on in the US Government, along with lessons learned and possible next steps by the White House and agencies.
The authors "explore standards for what good participation looks like and consider the overall strength of agency plans relative to those standards."  The authors say that good participation "provides citizens with a voice in government.  It improves the quality of government plans, policies, and programs by giving people a chance to share their ideas, opinions, and knowledge with government in order to inform decision-making." 
These standards were first outlined in a 2006 study outlining the spectrum of possible ways citizens can engage with agencies and programs.  For example, the spectrum extends from simply informing the public so they can understand an issue, all the way to actually empowering the public to make a final decision on an issue.
The authors also describe four types of participatory activities commonly reflected in the various agency Open Government plans:
Engaging the public online.  This is being done to generate new ideas, provide direct citizen access to agency leaders, and to educate the public.  For example, the Department of Labor solicited input from 16,000 people to create a database of job-search websites.  The Department of Agriculture helps organize a contest to engage web developers to use nutritional data in new ways to encourage kids to eat better.  The Environmental Protection Agency (EPA) hosts a wiki so watershed managers and communities can share best practices.
Engaging the public face-to-face.  Agencies have historically engaged citizens face-to-face as a part of listening sessions, stakeholder forums, and citizen forums.  For example, in the past year, Secretary of Education Arne Duncan visited all 50 states on a listening and learning tour to hear from parents, teachers, students and the general public about education reform.  And in 2010 the Social Security Administration expanded the list of conditions meeting disability standards for receiving benefits based on extensive public outreach hearings around the country.  Previously, it had relied on expert medical advice.
Engaging the public through formal mechanisms. Many federal laws require agencies to use formal mechanisms to solicit public input.  These traditional approaches, such as federal advisory committees and public hearings regarding rulemaking, are incorporated into all agency Open Government plans.   For example, the Department of Homeland says it sponsors 27 advisory committees with more than 700 members representing diverse stakeholders who have issued nearly 2,500 recommendations, more than half of which has been implemented by the department.  And more broadly, a governmentwide online clearinghouse for rulemaking is making it easier for citizens to engage the more than 300 agencies involved in rulemaking efforts.
Changing agencies' cultures to support greater participation. A small but significant number of agencies are undertaking activities to change their internal culture to foster greater public participation.  For example, EPA rewards employees who undertake civic engagement efforts in their work and it offers skill-building training in negotiation and situation assessments to help staff manage difficult situations.  The Departments of Transportation and Health and Human Services both offer training to employees and are including segments on how to use social media to support greater participation.
Next Steps for Open Government.  In addition to surveying what is in the Open Government plans for each agency, the authors offer a series of recommended next steps for both the White House and the agencies:
Define what constitutes "high-quality public participation" and how to best measure it.
Be willing to experiment with new tools and techniques to involve citizens in agency decision-making processes.
More explicitly link agency participation processes for citizens to their actual planning, policy, and program development efforts.
Identify and share best practices to increase the number and diversity of citizens engaging in agency outreach efforts.
Identify and share best practices in developing educational resources within agencies, such as training, that will support efforts to better engage the public in their mission activities.
Expand the use of deliberative processes where citizens and government officials jointly learn, express points of view, and have a chance to find common ground.
Recognize best practices where agencies are embedding a culture that encourages agency officials to engage the public in their work in meaningful ways.