Submitted by

MKeegan

on Tue, 02/08/2022 - 13:15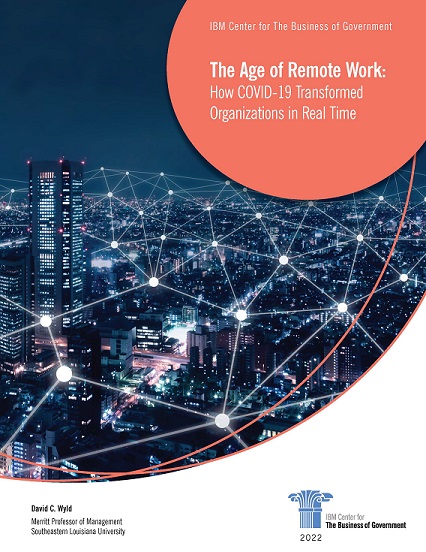 Tuesday, February 8, 2022
Exploring the Age of Remote Work
The COVID-19 pandemic has transformed how Americans live. In almost the blink of an eye, the pandemic changed shopping, dining, socializing, travel, and most assuredly the world of work.
Before the pandemic, there had been a slow but steady growth in the number of workers who performed their jobs remotely. Such work arrangements went by various labels, from remote work to distance work to telecommuting or telework. While predictions that much work could be done anywhere arose, the COVID-19 pandemic took remote work to a whole new level as a necessity.
Professor David Wyld's IBM Center report, The Age of Remote Work: How COVID-19 Transformed Organizations in Real Time, chronicles changes in modern office work arrangements across government agencies and private sector companies in response to the pandemic. The report identifies challenges facing both workers and their organizations related to the shift to remote work, which include the impact it has on productivity, IT security issues, performance assessment issues, and employee safety and health concerns. The report also outlines the recognized and surprising benefits from this massive and rapid transition to remote and hybrid work arrangements. After describing the impact of COVID-19 on the nature of work, the report recommends core tools to help government executives manage a changing workforce and a transformed work environment.
Gartner recently captured the magnitude of the challenge—and opportunity—before us today: "The way we have adapted to working during the pandemic has shattered antiquated assumptions about work design. Executive leaders now have a unique opportunity to break from a location-centric model of work designed around industrial-era constraints, and to redesign work around a human-centric model to secure digital-era talent and deliver business outcomes. To accomplish this, Harvard professor Tsedal Neeley recently called for nothing short of a "mindset shift" when it comes to managing. Indeed, the move to a different way of working will mean that we will need to develop a new way of not just thinking about managing, but actually doing it.  Professor Wyld as one of his core tools offers 8 essential building blocks to a managerial mindset better suited to a post-pandemic work environment. In an effort to guide readers in their journey to a new mindset, Wyld poses important questions under each building block that need to be asked and answered—both today and into the future—by executives, managers, and administrators as they seek to lead and to navigate their organizations and agencies in the fast-changing work environment.
As noted in the IBM Center report, Managing The Next Crisis: Twelve Principles For Dealing With Viral Uncertainty, the nation continues struggling toward an era that historians may dub "the transition to a new reality." An opportunity presents itself to go beyond initial steps and reach the next crucial level: actionable steps that any organization and any federal, state, and local government agency can take in responding and recovering to future, if likely less widespread, traumas. Recognizing this new managerial mindset as a foundation,  Professor Wyld then turns to developing a plan of action composed this 8 steps that can guide managers and leaders be successful with their efforts to thrive with any combination of work arrangements tailored to the needs of their workforce and at the best interest of their organizations.
It is hoped that this practical 8-step guide can help spur thinking as to how to best employ remote and hybrid working arrangements, with the goal being to foster better organizational and personal outcomes. Following from that insight, this section offers 8 steps managers and leaders can take to manage an increasingly remote and hybrid work environment more effectively:
Determine the purpose and timeline for remote work
Conduct initial assessments about remote work
Develop necessary remote work policies
Lay the groundwork for remote work
Implement remote work arrangements
Monitor and manage organizational culture
Support your workers
Assess and communicate the results of remote work
For Wyld, this action plan serves as a roadmap for an organization or a government agency looking to formalize its remote working arrangements with its employees and looking to maximize the value of such an effort, both for the organization and for its employees. It can be instituted both as a transition from the ad hoc remote work arrangements many organizations and government agencies have had during the COVID-19 pandemic period and as a guide to starting up remote work arrangements in the types of work and industries where off-site work was previously not practical—for whatever the case.
Wyld describes how the pandemic presents an opportunity to rethink the way work gets done, and to develop a new understanding of opportunities and challenges in working remotely and in managing remote work. Federal agencies have used telework and remote work to deliver mission-critical services safely and efficiently during this national emergency. Agencies now have an opportunity to leverage lessons learned and fully integrate telework and remote work arrangements into their strategic workforce plans. We hope this report can assist federal agency leaders, managers, and the entire government workforce to leverage telework and remote work in the federal government to better meet human capital needs and improve mission delivery.
It is important to remember that the current pandemic will likely not be the last major shock to this system. Given the pace of change on many fronts today, coupled with constant uncertainty, it is only a matter of time until we experience yet another shock to the system. This could be a natural disaster, terrorism, financial collapse, climate change, cyberattacks, political turmoil, another pandemic, or something completely unforeseen and off the "experts'" radars. The lessons learned from managing the contingencies brought about by COVID-19 will however prove helpful in adapting to whatever the future holds. Though we may indeed have "COVID fatigue," it is vitally important that we document what we have learned from the response to this pandemic, so that we can be better prepared for the next disruptive event and ready for any contingency.
We are fast moving toward new ways of working and new ways of managing work. In many ways, the COVID-19 pandemic ushered in a quantum level of change in a relatively short time shifting how things get done brought about by massive technological changes. The pandemic experience has indeed positioned us to be better prepared for whatever lies ahead, both in terms of the advancement of technology and for the unexpected events that will inevitably occur.