Submitted by

TFryer

on Wed, 01/24/2018 - 21:32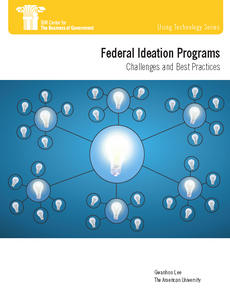 Tuesday, November 4, 2014
Announcing the release of the Center report Federal Ideation Programs: Challenges and Best Practices.
The IBM Center for The Business of Government, is pleased to present a new report, Federal Ideation Programs: Challenges and Best Practices, by Professor Gwanhoo Lee, of the Kogod School of Business at American University.
The focus of this report, "ideation platforms," are modern tools predicated on an ancient axiom: "none of us as smart as all of us."  Though that proverb has been widely accepted, collecting and synthesizing the knowledge of "all of us" into an actionable format has been a daunting task for organizations of any great size in both the private and public sector.  In the past few years, however, software developers have created numerous kinds of "ideation" tools that allow large organizations, like government agencies, to harness the collective knowledge-sharing and –generating potential of crowds.
In a basic sense, "ideation platforms" can be understood as a niche within the crowdsourcing universe—one explored in a prior Center report, "Using Crowdsourcing In Government."  But where crowdsourcing can refer to any task divided up and distributed to a large group, ideation refers specifically to posing questions or concerns for collecting, synthesizing, analyzing, or prioritizing ideas.
Many ideation tools have been approved for use by federal government agencies, and more than a few agencies have created their own ideation tools that serve their specific needs.   Included in this report are examples of how federal agencies are using off-the-shelf tools and proprietary applications to harness the (brain)power of crowds to help them fulfill their mission.
Professor Lee offers not only case studies, but both strategies and tactics to help agencies develop and implement successful ideation programs.  To help readers understand ideation programs, the report demonstrates how most efforts will have three distinct phases: Idea Generation, Evaluation and Selection, and Implementation.  For each phase, there are numerous recommendations, including:
Generation
Allow anonymous posting
Do not delay posting ideas due to censorship
Evaluation and Selection
Focus more on user engagement than on selecting best ideas
Provide users with powerful search tools and analytical capability
Implementation
Do not trivialize ideas and do implement them as new programs or initiatives
Encourage communication between idea owner and idea submitter
All phases
Identify key users and get help from them
Create incentives and mandates for participation
We hope that this report will help public managers and federal agency leaders in understanding how to best use ideation tools both for internal and external projects.  Further, we think that readers may find greater value by seeing this report as part of a conversation The Center is having on innovation topics more generally, including reports such as: