Submitted by

rgordon

on Wed, 09/06/2023 - 11:37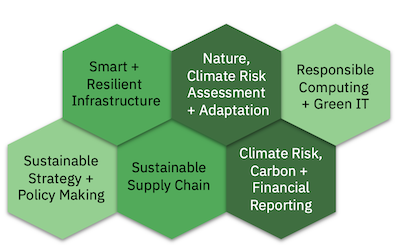 Wednesday, September 6, 2023
The Federal Government plays an important role in catalyzing the clean energy industry.
Guest Bloggers: Troy Edgar, Partner - US Federal Finance and Supply Chain Transformation, IBM and Travis Edwards, Senior Managing Consultant, Federal Finance and Supply Chain Transformation
Executive Summary
With agencies now challenged from an executive level to achieve ambitious sustainability goals, it is critical to understand what the sustainability mandate means for your agency. All agencies have a critical role to play to contribute to our nation's efforts to reduce greenhouse gas (GHG) emissions by 2030 and limiting global warming by 1.5 degrees Celsius to avoid the worst impacts of climate change forecasted by scientists[1]. The stakes have never been higher for government entities to act and improve the management, resiliency, and adaptation of their assets, installations, and operations, as well as procurement processes. Climate informed decisions are needed to enhance mission assurance capabilities, and to support the Federal Government's goal of achieving net-zero emissions by 2050[2].
Agencies can accelerate change by implementing technologies that increase resiliency, adaptation, and market acceptance of clean technologies and energy sources. Creating more sustainable operations is good for society and it's also quickly becoming a mission imperative to optimize spending of taxpayer dollars through process refinement and reduction in energy demand, especially in an increasingly uncertain social, political, and economic environment. Federal agencies have a unique opportunity to drive innovation and influence the nation's sustainability efforts and GHG emissions reductions.
Implementing an ambitious new agenda like sustainability can be daunting, but federal agencies are further along than they think. Leveraging significant investments that have already been made in areas like digital transformation and cloud, provide the basis to drive enterprise sustainability initiatives at scale.
There is a defined process to help government achieve its sustainability goals. This journey is driven by any number of federal sustainability imperatives including Sustainable Strategy and Policy Making; Smart and Resilient Infrastructure; Nature, Climate Risk Assessment and Adaptation; Sustainable Supply Chain; Responsible Computing and Green IT; and Climate Risk, Carbon, and Financial Reporting. Using industry leading technology and maximizing ecosystem partners can enable agencies to operationalize sustainability efforts across government agency functions and procedures.
What is Driving Change?
Increased Momentum from Executive Orders (EOs)
EO 14008: "Tackling the Climate Crisis at Home and Abroad"
EO 14030: "Climate Relate Financial Risk"
EO 14057: "Catalyzing Clean Energy Industries and Jobs Through Federal Sustainability"
Adaptation to Climate Risks and Climate Resilience
Assess climate risks on agency-managed infrastructure, embassies, etc.
Incorporate climate risk analysis into programming and budgeting
Improve climate forecast capabilities and information products for the public
Mitigation of Climate Pollution
Reduce energy and water consumption
Facilitate transition to a clean and zero emission vehicles for federal fleets
Transition to a Clean Energy Sector
100 percent carbon pollution-free electricity on a net annual basis by 2030, including 50 percent 24/7 carbon pollution-free electricity
100 percent zero-emission vehicle acquisitions by 2035, including 100 percent zero-emission light-duty vehicle acquisitions by 2027
A net-zero emissions building portfolio by 2045, including a 50 percent emissions reduction by 2032
A 65 percent reduction in scope 1 and 2 greenhouse gas emissions from federal operations by 2030 from 2008 levels
International Assistance to Mitigate Climate Change
Assist developing countries in implementing ambitious emissions reductions
Disclosure of Climate Related Financial Risk
Enhance climate-related disclosures by regulated entities to mitigate climate-related financial risk to the financial system or asset
Getting Started on the Sustainability Journey
To help establish where an agency is today versus how an agency might operate in the future, consider a "Journey to Becoming a Sustainable Enterprise"[3]. These steps help identify what is driving an agency's commitment to sustainability, whether it be executive order directed or agency directed. Agencies can identify industry standard metrics that serve as a baseline for progress to be able to measure success towards these changes. Then, government can work to develop opportunities for improvement and the strategy for implementing these changes to becoming a more sustainable enterprise. Lastly, agencies can track the progress towards these goals and allow the opportunity to adapt as business processes and market trends change to drive the best outcome for an agency.
Review. Federal Agencies are subject to a variety of executive and legislative mandates as well as their internal sustainability goals and targets. The first step is mapping both federal requirements and the agency's sustainability agenda to identify the full scope of what needs to be achieved and to prioritize a time-bound roadmap based on known targets, opportunities, and constraints.
Measure. The sustainability maturity model can identify what level agencies are at today and inform their strategy to reinvention. These initial findings can create a baseline for where an organization is today and help track the progress through the journey. Top organizations lead with a sustainability strategy, including mission adaptation and culture change necessary to embed sustainability into key lines of effort. They drive change as a transformation agent via multiple levers, mobilizing and engaging businesses, research institutions, citizens, and other federal agencies.
As agencies are at different levels of sustainability and climate action maturity, agencies should first conduct an analysis to quantify  the organization's current state. Leveraging thought leadership can identify applicable industry metrics and benchmarks, then help to establish a baseline and quantify progress.
Develop
Agencies can focus on implementing six steps for action that include technologies that accelerate the organizational and cultural change required to enact a shift and embed sustainability into decision-making. Further, government can refine metrics and capture data insights to evaluate programs, assess mission impact and readiness, and document and communicate progress and success.

Build
In a 2022 research study, 1,958 executives across 32 countries were surveyed. These executives classified IoT, Cloud and advance analytics, as top technologies helping to execute and advance a sustainability agenda.[4] It will be important to focus on a partnership ecosystem that will allow an agency to bring a wide range of technologies to meet even the most niche needs to address unique sustainability needs.
Track
Throughout the sustainability journey, agencies can leverage a partnership ecosystem's experience in digital transformation to start, scale, and sustain organizational change. Team should commit to human-centered design and design assets from other sustainability initiatives and across public and private sectors. Agencies can work with peers to bring best of breed approaches to implementing people-centric, mission-appropriate, and iterative solutions to drive adoption and buy-in from key stakeholder groups. And government can focus on understanding operational performance and how best to adapt to on-going market dynamics in sustainability to drive the best outcomes.
Federal Sustainability Imperatives
Driven forward by the latest executive orders, federal agencies have begun publishing climate adaptation plans, resilience plans, and/or broader sustainability plans, and are now looking to implement initiatives to address plan objectives. Agencies can have differing sustainability needs and are on different parts of their journey towards more sustainable practices. The Federal Government is also in the unique position both to enforce polices within agencies and to execute missions that affect citizens, various commercial industries, and matters of national security.
The government should focus on six Sustainability Imperatives to support agency its sustainability journeys: Sustainable Strategy and Policy Making; Smart and Resilient Infrastructure; Nature, Climate Risk Assessment and Adaptation; Sustainable Supply Chain; Responsible Computing and Green IT; and Climate Risk, Carbon, and Financial Reporting.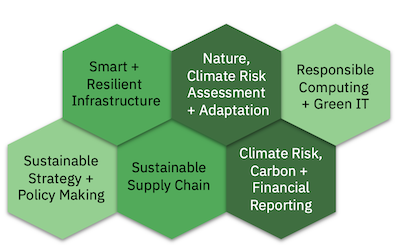 Agency and ecosystem partner experts can help develop and implement the processes, tools, and technologies that are required to achieve sustainability goals and address key pain points for federal agencies such as efficient sustainability and energy data acquisition, integration, analysis, and reporting.
What's Next?
Sustainability is the new priority for agencies: it is no longer a nice to have, but a strategic lever in civic engagement, innovation, and resiliency.  Agencies should position strategic partners to empower the team in developing impactful sustainability initiatives; and should design a comprehensive data architecture, integration, and analytics that enable sustainability and resiliency considerations into decision-making. Most federal agencies have started the sustainability and mission resiliency journey in some capacity and are ready to pull disparate initiatives into a cohesive strategy and action plan. This can be done by architecting change for government, industry, and society with the promise of sustainable technology, differentiated services, ethical innovation, deep research, and an ecosystem of partners.
Agencies can employ the same entrepreneurial spirit that inventors, engineers, and creators have used to incubate big-rock ideas and bring to bear world changing innovation. Agencies can collaborate  with a mission-centric, outcome-first mindset to apply design thinking, agile development, and industry leading implementation practices to co-create value. Through such a strategy, agencies can transform ideas to practical, tangible solutions for sustainability in an accelerated fashion.
Our next blog on sustainability in this series will summarize a roundtable, "Preparing for Future Shocks: Climate Resilience," we held with the National Academy of Public Administration. The Climate Resilience roundtable focused on three major topics: the Energy Transition, Sustainable Development (including land management), and Water Management. Roundtable participants helped to develop insights and content to share with governments and key stakeholders to strengthen climate resilience and prepare for the inevitable impact of future shocks to our communities and societies.
[1] https://www.whitehouse.gov/climate/
[2]https://www.sustainability.gov/federalsustainabilityplan/emissions.html
[3] see prior IBM Center report on this topic: https://www.businessofgovernment.org/report/rise-sustainable-enterprise
[4] https://www.ibm.com/thought-leadership/institute-business-value/c-suite-study/ceo