Submitted by

rgordon

on Mon, 02/21/2022 - 11:35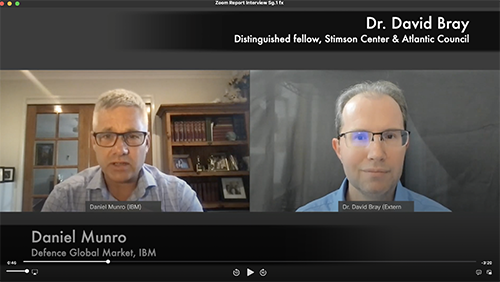 Monday, February 21, 2022
Release of Third Video on Multi-Domain Command and Control
We released a report, "Delivering on the Vision of Multi-Domain Command and Control" by author Dr. David Bray of The Stimson Center on Multi-Domain Command and Control (MDC2).  MDC2 is the strategy for integrating and coordinating command and control operations simultaneously across air, land, sea, space, cyber, and electromagnetic domains. Dr. Bray expertly gathered the thoughts and insights of a diverse range of leaders from defence, industry, and academia on how well that strategy is being implemented.
In our latest video, Dr. Bray and Daniel Munro, Defence Global Markets, IBM Australia, discuss how hybrid-cloud is a smarter architecture that allows for portability of workloads, orchestration, and management across multiple environments as well as other action-oriented recommendations.  Our first video describes the MDC2 strategy and its implementation.  Our second video educates the viewer of the importance of good decision support, professional judgment, and how technology won't always work. 
The report coupled with the three-part video series offers action-oriented recommendations and how to work across the board with end-users, engineers, and warfighters to bring it all together.