Submitted by

rgordon

on Tue, 09/24/2019 - 10:41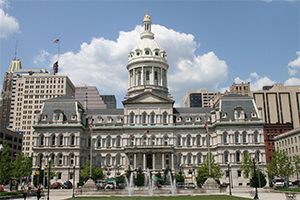 Tuesday, September 24, 2019
Data-driven performance improvement initiatives have achieved progress on some of the most sensitive public sector human capital challenges facing state and local government. What accounts for the mixed results emerging from similar initiatives at the federal level, like HRStat?
In a recent article, IBM Center senior fellow John Kamensky checked in on Baltimore CitiStat, one of the nation's pioneering data-driven performance improvement reviews and a model for mayors and governors eager to deliver visible results that earn the confidence of voters.  CitiStat is an integrated leadership strategy that blends data driven decision-making with problem solving meetings.
The article describes how, even after two decades and multiple changes in city hall, Baltimore's use of CitiStat continues to have a central role in delivering results for the people of Baltimore.  For example, in 2018, the mayor leveraged CitiStat to address one of the toughest challenges in the community's history, restoring the police department's ability to recruit new hires following the death of Freddie Gray.  CitiStat achieved in a few months what some thought impossible, devising a community engagement solution that attracted enough new officers to stop the steady decline in police rolls.
John's article got me thinking about my own experience with data-driven human resource programs.  A specific example involves HR Stat, the federal workforce quarterly review process that was inspired by CitiStat and other state and local performance models. In design, HR Stat used human capital data to identify and collaboratively solve HR issues contributing to each agency's mission performance. In practice, however, I believe that at the time I was in government HR Stat focused too much on assessing compliance rather than solving problems.
Could improvements to the HR Stat process, based on success factors from CitiStat, help solve HR problems and deliver better results? If so, which of those success factors that distinguish CitiStat would be most applicable to HR Stat?
In the end, there are four principles – tailored to the human capital community -- that seem critical to running an effective human capital review process:
Focus on human capital challenges that matter to the public,
Leverage existing government-wide data sources,
Include in problem-solving meetings all leaders with responsibility for addressing HR problems, such as hiring, and
Test incremental solutions in the field.
What if Federal HR Stat embraced these principles?  Could a shift of focus in the direction of collaborative problem solving deliver better results?
Exploring Alternatives to the Current Approach
There are federal examples of successful HR problem-solving that could serve as a model for HR Stat and similar programs.  For example,  In 2015, there was a national campaign, Find Your Park, that promoted increased diversity of visitors to national parks. However, the recruitment trend for new Park Service employees was moving in the opposite direction; the park ranger cohort was on track to becoming less representative.
In working with the National Park Service's human capital office, and using previously untapped government-wide data sources on hiring, OPM analysts found other challenges. For example, compared to the majority of federal hiring, the Park Service was posting more vacancy announcements but hiring fewer people from those announcements. Literally the number of postings exceeded the number of openings for certain jobs.
With this data in hand, staff-level analysts brought together leaders from the Park Service and OPM who shared responsibility for hiring -- executives, field managers, policy experts, human resource managers, diversity advocates, administrative staff — to understand the reasons behind the numbers.
The assembled experts quickly identified the root cause: a well-intentioned initiative to centralize back-office hiring operations had the unintended consequence of increasing the number of vacancy postings.  This, in turn, reduced the size of hiring pools, a known factor in reducing hiring diversity.  Before the day was over, the team developed a solution. It determined that consolidating certain vacancy announcements would address the root cause of the problem.  This simple data-informed change helped reverse the negative trend in hiring diversity.
The following table shows the rapid improvement in hiring trends after the changes were implemented:
Source: Based on data retrieved by the author from http://fedscope.opm.gov on August 13, 2018.  All statistics have an effective date of March 30 for the calendar year shown.
In this example, the HR staff at the Park Service applied all four of the above principles for a successful data-driven performance initiative.  Could its more collaborative, problem-solving approach be a model for broader federal workforce management performance improvement?  But what could be the catalyst to expand the use of this approach more broadly?
The Evidence Act Could Serve as a Catalyst to Reform Data-Driven HR Programs
In July 2019, the Office of Management and Budget (OMB) released final guidance for agencies to roll-out the implementation of the recently enacted Foundations for Evidence-Based Policymaking Act.  Within the guidance were two points of specific relevance to federal workforce management:
First, the guidance calls for each agency to document "multi-year learning agendas that provide an evidence-building roadmap to support effective and efficient agency functioning."
Second, the guidance specifically identifies human capital operations as an example of an agency function that could be the focus of a learning agenda.
OMB's guidance on the Evidence Act offers an opportunity for agencies to replace the current FedStat model, which emphasizes compliance, with learning agendas based on the four principles described above.
Such an approach would meet the requirements and spirit of the Evidence Act.  It is also the most likely to provide results that matter.
------------------------
Bernie Kluger served as a senior leader at the US Office of Personnel Management and the General Services Administration where his responsibilities included overseeing the implementation of strategic initiatives within the President's Management Agenda. As Deputy Performance Improvement Officer at OPM, Kluger coordinated $2 billion in human capital and IT services government-wide and managed the Presidential Executive Fellows program.
Graphic Credit: Courtesy of Wikimedia Commons