Submitted by

cmasingo

on Fri, 12/22/2017 - 13:47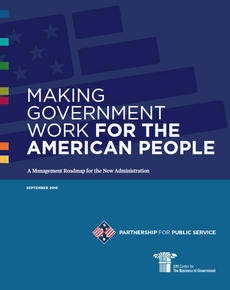 Tuesday, September 13, 2016
Focusing on management as a key enabler to achieving policy and program priorities will allow our next President to lead fast, effective, and sustained outcomes by government on behalf of the American people.
On November 8, the President-elect will begin the next phase of the transition to power that culminates with Inauguration Day on January 20, 2017.  The next Administration will have a tremendous opportunity to drive change that improves mission performance across government, in ways that can positively impact millions of lives across the Nation across a broad range of mission areas – including health care for citizens, stewardship of natural resources, and delivery of benefits with financial integrity. To achieve outcomes quickly and effectively, new leaders will need to understand how to manage vast complexities in and across the agencies that implement policies and programs.  Embedding management success at the highest levels of government should start during the Presidential Transition, and build through the first days of the Administration and beyond. 
To help inform new leaders about this key link from sound management to positive outcomes, the IBM Center for The Business of Government and the Partnership for Public Service collaborated over the past year to develop a "Management Roadmap."  Released today, the Roadmap  offers a set of imperatives that the next President can leverage to boost successful implementation of key policy and program priorities, while removing obstacles and reducing risks that inevitably arise as leaders take office.  The Roadmap will help to inform the new Administration about critical management issues and actions that can strengthen government's capacity to address important national challenges.
Drawing on successes and lessons learned across previous Administrations, and inspired by original thinking from outside experts, the Roadmap identifies four essential actions to help drive success in delivering government services:
Leverage Executive Talent – Strong leadership of major programs in government can result in strong performance from government employees and their partners in the private and non-profit sectors, but progress depends on alignment among new political appointees and career government leaders.  Creating a cadre of career and political leaders in key program areas can inspire a transformation of the workforce in driving mission accomplishment.  Specific recommendations include:

Designate a team of key management leaders working on the Transition for the White House, OMB, and other central management agencies, who develop early management capacity and create an initial set of management initiatives.
Ensure that top appointees build joint political-career leadership teams, where each leader shares ownership in the success of key goals.
Manage Government as an Integrated Enterprise – Americans experience government in ways that cross agency boundaries, whether they operate a small business, apply for benefits that provide citizen services, or work with law enforcement or homeland security in responding to a threat in the physical or cyber world. Agencies can collaborate in an enterprise fashion to integrate service delivery while also reducing bureaucracy.  Specific recommendations include:

Establish transition teams focused on cross-cutting issues, whose members align with policy, agency, and appointment teams.
Designate a senior White House official to drive mission-oriented cross-agency initiatives, working with OMB and the President's Management Council on mission-support activities.
Build Sustained Innovation Across Agencies – Governments in the US and around the world have made great strides in bringing in private sector experts who drive new ideas and commercial best practices into government operations, such as agile techniques to streamline acquisition and information technology.  The next Administration can build on this progress to integrate and embed innovation into agency activities that generate order of magnitude improvements in productivity. Specific recommendations include:

Include technologists and data scientists on Transition teams.
Designate a White House champion for integrating innovation across agencies, including a focus on improved customer experience via citizen-centered design and active response to citizen feedback.
Strengthen Decision Making to Achieve Results – During the Presidential Transition and into the first weeks and months in office, new leaders must sift through a vast amount of data and options in order to make effective choices.  These leaders can leverage analytics, risk management, and other tools to make informed decisions that improve mission outcomes in alignment with near term opportunities.  Specific recommendations include:

Draft proposals during the Transition for the March 2017 Budget.
Develop a shared governance framework for decisionmaking across the President's leadership team, based on sound data and evidence on the progress of strategic priorities.
The Roadmap was developed following a set of Roundtable discussions with a broad cross-section of current and former government leaders and stakeholders, drawing on a series of reports with key findings and recommendations that arose from those discussions.  The IBM Center and the Partnership look forward to continued dialogue throughout the Transition process and with the next Administration as a "call to action" -- through which engaged leaders integrate management excellence as a key enabler for implementing mission and policy priorities that serve the American people.