Submitted by

rgordon

on Tue, 07/14/2020 - 16:49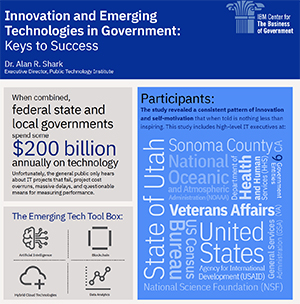 A recent panel and forthcoming Center report highlight key findings from the stories of successful government innovators.
The obstacles to implementing technological innovation in government often have less to do with hardware and software than people and processes. How can leaders recognize the need for new technology? How can innovators find funding and put the pieces in place to test a new idea? How does an agency define and measure success?
These and other questions were the topic of discussion in a panel session (press "register" to watch) at ThinkGov on July 1, which previewed a forthcoming report on the same topic.  The discussion and report describe federal, state, and local innovations in action that address these practical questions.  The report's author, Dr. Alan Shark, Executive Director of the Public Technology Institute, moderated the panel discussion with David Shive, Chief Information Officer of the U.S. General Services Administration, and Barbie Robinson, Director of Health Services for Sonoma County, CA. 
In the panel discussion, these two leaders in government innovation offered inspiring examples of how they are adapting emerging intelligent automation technologies, including blockchain, artificial intelligence, and cloud computing.  Shive described GSA's enterprise transformation, focusing on working collaboratively to bring in new innovation in ways that support the agency's mission.  Robinson shared how emerging technologies are helping the county improve services to populations in need, especially important in the response and recovery to COVID-19. 
The forthcoming report from Dr. Shark distills interviews with Shive, Robinson, and numerous other government leaders to identify key qualities that drive successful innovation. Dr. Shark observes: "People don't often think of government as a place for innovation and risk, but the opportunities are there."  See summary of key findings from the report.
The interviewees' stories about using technology in their organizations to improve the lives of Americans provide a useful blueprint, which will help innovators and their teams across government to learn about and apply emerging technologies in ways that drive mission success.