Submitted by

rgordon

on Tue, 01/04/2022 - 14:28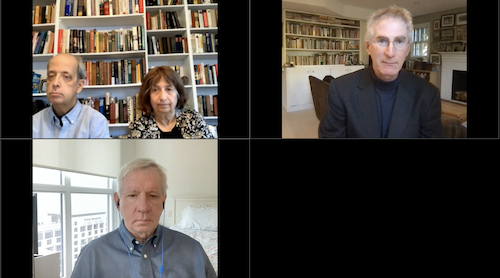 Center authors provide highlights on their report, "Managing The Next Crisis: Twelve Principles For Dealing With Viral Uncertainty."
The American Society for Public Administration hosted Center authors Katherine Barrett and Richard Greene, Visiting Fellows at the IBM Center for the Business of Government and Senior Advisors, Columnists, and co-chairs of the Advisory Board for Route Fifty as well as Don Kettl, Professor Emeritus and Former Dean of the University of Maryland School of Public Policy to speak on their latest report, "Managing The Next Crisis: Twelve Principles For Dealing With Viral Uncertainty." Center Director Dan Chenok facilitated the event.
The authors highlighted their twelve principles for government to follow in addressing future crises. These principles and actions can enable government officials to help their constituencies advance through the current stages of COVID response and recovery, and to emerge stronger and more resilient.  The principles and associated actions identified in the report address three critical imperatives for managing through the pandemic and preparing for the future:   
Building partnerships with key organizations in the public, private, and nonprofit sectors.,
Managing networks needed to drive such partnerships to overcome challenges, through improving operations and service delivery.,
Steering outcomes across networks that lead to well-understood and measurable improvements in the health and well-being of the public.