Submitted by

MKeegan

on Wed, 09/09/2020 - 18:02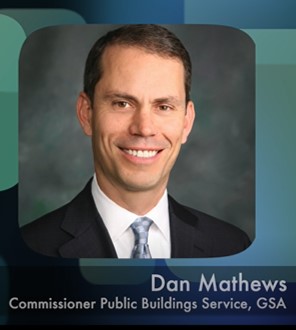 Wednesday, September 9, 2020
Insights from Dan Mathews, Commissioner, GSA's Public Buildings Service
As the largest public real estate organization in the United States, the General Services Administration's Public Buildings Service owns or leases 8,700 assets and maintains an inventory of 371 million square feet of rentable workspace. Within this inventory, PBS has more than 500 owned and leased historic properties.
PBS activities fall into two broad areas: workspace acquisition and property management. PBS acquires space on behalf of the federal government through new construction and leasing, and acts as a caretaker for federal properties across the country. PBS provides high-quality facility and workspace solutions to more than 55 federal agencies, disposes of excess or unneeded federal properties, and promotes the adoption of innovative workplace solutions and technologies.
PBS Commission Dan Mathews joined me on The Business of Government Hour to discuss the mission and priorities of PBS, the challenges and surprises being faced, and the impact of COVID-19 on the work done by PBS.  Here are highlights and insights from of our conversation. 
On Mission and Priorities
The easiest way to think of the mission of GSA's Public Buildings Service is mission and money. We help federal agencies achieve their missions by providing them real estate they need and doing it more effectively and achieving a better value for agencies and the taxpayers. We have a fiduciary responsibility and the centralization of our expertise saves money, which allows federal agencies to use their resources and time and focus on their core missions.
Our three core priorities are:
Lease cost avoidance. We are trying to restructure the PBS lease portfolio. Our costs are pretty much defined by how much real estate we control. If we want to lower the cost of real estate for our agencies, lower their rent bill effectively, we need to squeeze the excess capacity out of that real estate portfolio. We were really focused initially on the leasing side of that portfolio. Every lease has an expiration date on it. When that expiration date nears then negotiation begins. Do you really need this much square footage? Our occupancy data is telling us that you are sitting at 350 square feet per person well above the industry standard which is about 180 square feet per person. We can reduce this by a fair amount and that starts with a conversation. You create competition, pricing drops, we lock tenants I n for fifteen years at a much smaller footprint, newer space, better quality, more flexible, and away you go.
Footprint optimization. The footprint side is more difficult. We have laws that govern our ability to gain full access to our revenues which I mentioned has been a challenge. If we do not properly renovate or maintain our properties, the quality drops. It is harder to charge full market rents. Our revenues drop, then our net operating income is more challenging because older, less efficient buildings tend to be more expensive to operate than the new, efficient buildings. We are focused on transforming our own portfolio into a smaller, better quality, and more cost-effective portfolio.
Productivity. For our efforts to be successful, we must invest in our people and technologies, providing the necessary tools so that our people have what they need to deliver literally billions of dollars of construction projects every year, renovation projects, and billions of dollars of new lease transactions every year. 
On Managing a Large Real Estate Portfolio
PBS spans the continental United States, including the territories. PBS is building a courthouse in Mariana Islands in Saipan. It is also building an addition to and renovating a courthouse in the in the U.S. Virgin Islands in St. Croix.
The PBS portfolio consists of roughly 370 million square feet of rentable square feet with over 8,800 assets. We have eleven regional offices and much of our work is done at the regional level. PBS headquarters' primary purpose is for policy development, to create the conditions where our regions can be successful, and to help enable them to create the tools, the training, and personnel they need to deliver on that mission.
PBS is primarily funded through rent. We charge our tenant agencies rent. We are authorized to use that money for upkeep, maintenance, and to renovate of the assets in our very large real estate portfolio as well as for salaries and overhead.  Given our funding stream, we have an incentive to be a lean, effective, and productive organization. Similarly, our tenant agencies because they pay us rent have an incentive to keep their real estate expenditures under control.  
I stay focused on the big picture. What are we trying to accomplish? What is our purpose? What is our mission? When I was interviewed, I was asked what my key goal we be. My goal would be to save $5 billion over the life of the transactions that we execute.
Our real estate portfolio has an excess capacity issue. This creates an opportunity to restructure the portfolio reducing the quantity while enhancing quality. We can then provide real value to the agencies and to the taxpayer.
On Challenges
Access to the the Federal Buildings Fund (FBF). Our number one challenge is getting the resources we need to effectively do our job. For the last nine years, Congress has constrained our ability to fully access our revenues. [Congress established the Federal Buildings Fund (FBF). This income funds the activities of PBS, including minor and major repairs and alterations, new construction activities, all building operations, and the administrative costs associated with these programs. As a quasi-revolving fund, the FBF is subject to annual Congressional enactment of NOA, a limitation on the use of revenues collected.] Congress has essentially taken about a billion dollars out of our capital reinvestment fund. This presents a serious challenge in trying to operate PBS the way it was established in law.
Accurate and timely data. The second significant challenge is making sure we have accurate and timely data. We need good data to manage our portfolio properly and effectively; this is necessary to sustain our daily operations as well and to shape longer term strategies: what should our portfolio look like in the future? What is the, occupancy demand for our facility? We have excess capacity in our portfolio, which drives excess costs. We need to eliminate that excess capacity and return that value to the agency. Doing this right rests on having good data.
Balancing tenant needs and protecting taxpayers. Another inherent challenge to managing the federal real estate portfolio is ensuring we balance the needs of our tenants and protect the taxpayer. Doing this is a bit of a tightrope. Real estate is a cost that can consume significant resources. Real estate is not a core competency of most federal agencies. We work with them to meet their real estate needs in the most cost-effective manner. Often doing this can be challenging. It requires aligning incentives in the right way and doing the right thing for both the taxpayer and the agencies.
On Surprises
We had about 370 million square feet under our control. About half of that is owned by the federal government. The other half of that we lease from private sector building owners for our tenants. All the private sector leases have firm terms. They will expire and will need to be renewed, replaced, or eliminated.  Over 50% of those expiring leases would typically replaced with short-term extensions. When you replace long-term leases with a short-term extension a couple of things happen. You usually pay a price premium. You lose leverage in negotiation. You do not reduce your physical footprint and most likely don't have a handle on whether you need all the space you are paying for.
Since taking over at PBS, we have made a real concerted effort to address this unnecessarily costly situation. We replaced expiring leases with long-term solutions, right size that footprint. Usually that means reducing it 20%, 30%, sometimes even 40%, 50% depending on agencies' needs, and go out there with a 10, 15, or maybe even a 20-year firm term deal. When you do that, there's massive competition for that GSA lease.
Three years later, we are now replacing 80% of the expiring leases with a long-term solution. Historically, PBS might have come in about 3% below the mid-point of the market on pricing, meaning instead of paying $10 per foot PBS would come in 3% below that. Now, last fiscal year, we came in almost 17% below the mid-point in the market.  Our strategy is working. It is driving competition resulting better pricing from the private sector.
On the impact of the COVID-19 pandemic
As an organization and because of GSA investment on mobile technology over the years, PBS was able to transition to mandatory telework and remote work quite seamlessly.  As we are in real estate and have critical facilities in the federal inventory, we need people on site to operate these vital locations.
About 10% of our workforce is on site supporting these facilities. Given these facilities must remain open, we have enhanced our cleaning processes per CDC guidance.  
We have also developed enhanced entry screening tools such as taking temperatures before entering a building for agencies. We have occupancy sensors in many of the facilities so agencies can track the number of occupants in the facility at a given period.  
Tracking occupancy data can help ensure on a daily basis that the facility can adhere to proper social distancing requirements or if they need to adjust the process for entering a facility.
Commercial real estate industry is struggling.
Short-term, our focus in on managing occupancy so we can keep the density down and ensure we are maintaining proper social distancing at a given facility.  
Longer term, I think this giant experiment in telework is showing a agencies and businesses what is possible. Many places are operating with pretty limited impacts on their productivity. It is safe to say looking out 2 to 5 years into the future organizations are going to encounter cost pressure. Budgets are going to be tight. Agencies are going to have to make tough choices and prioritize their resources. We want to help them make these choices. 
Flexibility will be key to accommodate the workspace needs of the future. Perhaps agencies will need less square footage but require more innovative layouts and designs within that space. The pandemic has underscored the need to be nimble and responsive to ever changing demands of our customers.