Leaders Speak on Leadership and Public Service: Amb. Patrick Kennedy, Adm. Thad Allen, and Dave Wennergren
Submitted by

rthomas

on Fri, 12/22/2017 - 15:04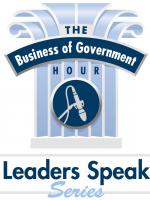 Wednesday, February 9, 2011
In this first installment of the Leaders Speak Series, I will bring you a sampling of past and current government leaders and their advice on leadership and public service. What makes an effective leader? Why pursue a career in public service? Our guests
For a decade, The Business of Government Hour has brought you leading government executives who are changing the way government does business. Each week, our guests join us for an informative, insightful, and in-depth conversation about their careers, their agencies, agency accomplishments, as well as their vision of government in the 21st century.  Over last five years, we have interviewed more than 250 government executives. It is from this rich library that we have culled together their insights on important public management issues.
In this first installment of the Leaders Speak Series, I will bring you a sampling of past and current government leaders and their advice on leadership and public service. What makes an effective leader?  Why pursue a career in public service? Our guests offer their extended reflecti
ons on such questions.
Ambassador Patrick Kennedy, Undersecretary for Management, at the U.S. Department of State explains what his long and varied career has taught him about leadership:  
My long and varied career I think has taught me a couple of things.
The first is the importance of people. You get things done if you have a good team. I think what I've learned is people will respond to a mission, they'll respond to tough and difficult assignments if you sit them down and explain this is our goal, this is why that goal is so important, this is your individual mission in supporting that goal, this is how you fit into the big picture. Give them that assignment and then let them do their job.
The second thing I learned is that operations overseas are different than they are in Washington. It's not that it's better. It's just different. And having served overseas, it gives you the context that you're now trying to manage something in Washington in support of the field, you have to keep always in mind that things are different. 
The third thing is that there are always problems that arise, and that you have to be creative and flexible. Events happen overseas, some good, some bad, but you have to be always prepared to surge resources, to operate almost instantaneously to either protect the lives of American citizens, to working to protect American embassies when they come under attack.                                                         
Semper Paratus" (Always Ready) is the motto of the U.S. Coast Guard -- as in always ready to serve. Recently retired, Admiral Thad Allen, 23rd Commandant of the U.S. Coast Guard, offers his path to public service and living the core values of honor, respect, and devotion to duty:
Whether it's a career in public service or the Coast Guard, you need to understand that when you're involved in public service, in addition to the compensation that you get, you're also being compensated psychologically by doing something for your country. It's important to serve something that's bigger than yourself. I think that's embodied in public service and it's particularly embodied in service in the Coast Guard. The advice I usually give folks is:
Number one, you need to understand that you're serving the country.
Number two, you need to get up every day and go to work and enjoy it, and if you're not, then you should do something else.
Number three, if you're coming home from work and you're not enjoying it, then you need to look at yourself and what's going on in your life.
I think the Coast Guard has got it right in our core values of honor, respect, and devotion to duty. I think of them as concentric circles when I'm talking to young folks.
The first one is honor -- that's a compact you make with yourself on how you're going to conduct your life and the principles you're going to live by.
Respect, which is the next one, is how you're going to conduct your life in relation to those around you -- the compact you make with your teammates, your officemates, and the people in your own organization.
A devotion to duty is a compact you make with your country. So honor, respect, and devotion to duty I see as concentric circles that build the individual from their self out to that larger sense of duty.                                  
"Great leaders see opportunities where others see challenges or problems…" explains Dave Wennergren, Assistant Chief Management Officer at the U.S. Department of Defense:
That really is the key, are you going to be a cynical voice for change or a positive voice for change? I think people fail to recognize that. 
It's no surprise that if you drew a bell curve of an organization, the majority of people are not like early adopters of change; they're change-neutral or change-averse, so if you want to get an organization to move from where it is to where it will be, you have to help the organization have courage and be willing to accept change. It is at the heart of everything that we do. Organizations are often the last thing to change, but the challenges span organizational boundaries.Getting people to function as a team is hugely important.
When I was the Deputy CIO for the Navy, we cared enough about this, we actually wrote a book called The Power of Team, and it was geared to help organizations create effective CIO organizations. The only way to have an effective CIO organization is to have an effective team.
This idea about being a positive force for change and being able to work with rather than work against others is hugely important. It doesn't have to be a case of my victories at the expense of your defeat, right? We really can find ways if we work together that it will be better than if we went our own individual ways.
Execution by Larry Bossidy and Ram Charan offers another fabulous quote that, "leaders get the behaviors that they exhibit and tolerate." It is so true. If you're going to be a positive force for change, if you're going to be a leader of teams that are empowered to do great things, wonderful things will happen. If you're not, then you'll fret and fear and things won't get done. A leader helps others find their gifts and talents.
If you empower smart people to get the job done, amazing things will happen. If you feed their creativity, and don't be an impediment, but support them as they go, fabulous results will happen.