Submitted by

rgordon

on Wed, 07/08/2020 - 08:21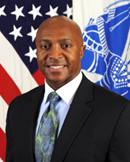 Given the ever-increasing demand for health care services and health technology innovations that have only gained in import in addressing COVID-19, government plays a critical role in delivering services to a diverse population through a wide range of health-related programs. To develop and operate these programs effectively and efficiently requires the use of best practices and  solutions from across the private and public sectors, tailored to the unique nature of a national health enterprise in which government works with providers, insurers, and others around programs that touch nearly every American.  Accordingly, we are pleased to announce that Mark Newsome will address these and related issues as a new Fellow with the IBM Center for The Business of Government.
In his role with the Center, Mark will apply scholarship to real world government issues driving new approaches to government effectiveness, focused especially on health care and veterans issues.  Mark is a retired Army Medical Service Corps Chief Financial Officer with over 25 years of active duty service culminating in the role of Army Medical Congressional Budget Liaison with the Office of the Assistant Secretary of the Army for Financial Management and Comptroller, Pentagon. As the primary point of interface to House and Senate Defense and Military Construction (MILCON) Appropriations Committees, Mark developed and executed comprehensive legislative strategies for over $12B in appropriated funding for Army Health Care, Medical Research, Medical Procurement, Wounded Warrior care, and Medical MILCON.
Mark currently serves as IBM Services' Lead Account Partner for Veterans Affairs & Military Health, and as an Adjunct Professor of Healthcare Administration & Management at The George Washington University.  He also sits on the Board of Directors for numerous Industry Councils, Boards, Committees and Workgroups.   Mark will draw on all of these experiences to develop thought leadership that can help government to improve.
Please join us in welcoming Mark to the Center!