Submitted by

rgordon

on Thu, 07/11/2019 - 10:52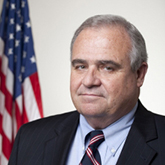 The Center is pleased to announce our new Visiting Fellow G. Edward "Ed" DeSeve, who will lead research and develop content in support of agile government.
Agile software development features small, cross-functional, self-organizing teams that include customers working quickly to deliver solutions in increments that immediately provide value. Agile delivery approaches support government goals of doing more with less and improving agency capacity to manage their budgets and delivery dates. 
Our Center has had a longstanding focus on how agile techniques can help improve government – prior studies on this topic include Agile Problem Solving in Government: A Case Study of The Opportunity Project and A Guide to Critical Success Factors in Agile Delivery.  Expanding on these efforts, the Center is very pleased to announce that G. Edward "Ed" DeSeve – whose long career in government led most recently to his role as Special Advisor to the President for implementing of the American Recovery and Reinvestment Act, and who is currently an Executive in Residence at the Brookings Institution – will join us as a Visiting Fellow for agile government.
As Ed will detail in his first post tomorrow, he will lead work on infusing agile thinking throughout government agencies, drawing on lessons from agile software development but expanding the scope of these lessons across other key government functions and mission areas.  Ed will collaborate with the National Academy of Public Administration and other key stakeholder groups to build a broad coalition that can leverage agile principles to drive government improvement.
Ed's career has included work in finance, academia and government.  He was the founder and president of Public Financial Management- the United States' largest independent financial advisor to governments.  At Merrill Lynch Capital Markets, he was a managing director in charge of public finance in a 20-state region.
In government, Ed served as Controller and Deputy Director for Management of the U.S. Office of Management and Budget, as well as the Chief Financial Officer of the Department of Housing and Urban Development. He was the Director of Finance for the City of Philadelphia and served as a Special Assistant to the Governor of the Commonwealth of Pennsylvania.
Ed has held a tenured professorship of Public Management and Finance at the University of Maryland and was a Senior Lecturer at the University of Pennsylvania.  He was Executive Director of the Pennsylvania State Budget Crisis Task force founded by Richard Ravitch and Paul Volcker to examine the financial condition of states following the global financial crisis.
Ed has authored numerous publications including, The Presidential Appointees' Handbook (Brookings 2009).  In addition, at the National Academy of Public Administration, he served as Board Vice Chair and co-authored the Academy's first Fiscal Future Report in 2005 that warned of coming federal deficits.  He was awarded the Kenneth Howard Award for career public service in financial management by the American Society of Public Administration, and he serves as a member of the selection committee of the Harvard University Ash Center Innovations in American Government Award.
Ed is a graduate of Cornell University's School of Industrial and Labor Relations and has a Master's in Public Finance from the Wharton School of the University of Pennsylvania.
We welcome Ed to the Center and look forward to sharing his insights with government leaders!