Submitted by

cmasingo

on Thu, 12/21/2017 - 11:41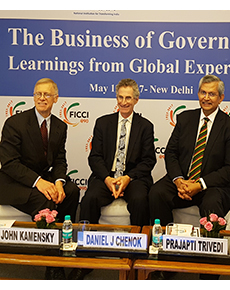 I can't remember the last time I was in 115 degrees outdoors. Fortunately, it wasn't for long, and the air conditioning in New Delhi, India, feels just as cool as it does here in Washington, DC.
I was in India recently, along with IBM Center Executive Director Dan Chenok, to participate in a forum entitled "The Business of Government: Learnings from Global Experiences," which was co-sponsored by the IBM Center for The Business of Government along with the National Institution for Transforming India, the Federation of Indian Chambers of Commerce & Industry, and the Indian School of Business. The goal was to discuss best practices in effective service delivery and governance, and how thought leadership from academia and business might support the Indian government going forward. This was a first visit to India for us, and it turns out May is the hottest month of the year in New Delhi. But the visit was worthwhile and inspirational! Highlights from our trip are summarized in Dan Chenok's companion post; below is a summary of major focus areas that we learned about during our visit.
* * * * * * *
Indian Prime Minister Narendra Modi has launched a major government reform initiative that is a couple years ahead of recent reform efforts introduced by the US Government. These Indian efforts point to potential insights that can inform the US initiatives.
Snapshot of Indian Government. The India government is based on the British Westminster parliamentary system and its career civil servants staff are the heads of departments reporting to ministers. For example, there are around 80 major departments and agencies, and each has a political minister but the day-to-day operations are in the hands of a career executive with the title of "Secretary to Government of India."
Its government is more centralized in some respects and has greater challenges than the U.S., in that it serves a population nearly four times the size of ours, with greater economic disparities. Its 29 states (and 7 Union Territories) are largely sub-units of the national government with civil servants moving back and forth.
Reform Initiatives in India. After taking office in 2014, the prime minister set out to abolish the large, 65-year-old National Planning Commission, which crafted five-year national plans and decided funding for projects reflected in those plans, and replaced it in 2015 with a small policy think tank, the National Institution for Transforming India (commonly called "NITI Aayog"), currently headed by a charismatic CEO, Amitabh Kant, a distinguished civil servant. This new agency sees itself as a resource center that engages the states and serves as a knowledge hub for policy and implementation.
The new government dismantled what was considered by many as a cutting-edge government-wide performance management system put in place by the previous prime minister, and shifted emphasis to greater interagency collaboration and dashboards on joint progress – a step the US government undertook several years ago, as well.
Organizing Action by Sector. To guide the reform effort, Prime Minister Modi laid out a set of eight reform principles that he campaigned on, such as: "Prosperity not Poverty," "Equality not Discrimination," "Cleanliness not Impurity," "Employment not Unemployment." These were then translated into a series of initiatives and serve as guiding principles for the reform efforts.
To develop these initiatives, he and his cabinet prioritized a focus on 8-10 key "vertical" sectors (such as energy, education, and health) and identified the agencies that play a role in each sector (for example, ten that touch on health and education). The ministers and secretaries for those agencies then developed a joint set of recommended goals to improve services and a long-term strategy for the next 15 years (by 2032). The prime minister then held each of these groups accountable for taking action on the goals and recommendations they developed.
Prime Minister Modi takes an active role in overseeing implementation, chairing NITI Aayog meetings and convening bi-weekly progress reviews with the sectoral groups of ministers and secretaries working on related projects, meeting personally with each group at least quarterly. For example, the Secretary for Sports, Injeti Srinivasan, says that in the meetings he has participated, the prime minister reinforces key priorities such as ensuring a citizen-centric focus and the use of mobile technology to better connect citizens with their government and empower them in their communities.
CEO Kant says that NITI Aayog is in the process of linking states proactively with the Prime Minister, and with each other. They are using technology to monitor progress. For example, one project is to streamline the infrastructure permitting and approval process. He says that NITI Aayog's dashboard ranks states by their progress towards goals, He thinks that ranking, and "naming and shaming" state governments helps spur momentum, and that having dashboard produces the "heat of competition" among them in areas such as health, education, water, etc. There is also budding competition between cities in areas such as cleanliness, to provide the stimulus to act.
Rethinking Government Structures. Kant remarked: "a 21st century government cannot deliver with 19th century institutions," and that the government has identified over 1,000 laws to be reduced, streamlined, or repealed. In addition, the Indian government supports over 680 autonomous bodies (e.g., AMTRAK and the Postal Service are rough equivalents in the US) that they are reviewing each to determine if they can be devolved or eliminated.
A Tech-Powered Good Governance Plan. NITI Aayog has also created a tech-powered"good governance" plan that includes "horizontal" cross-cutting initiatives such as:
· Creating citizen-centric services that are paperless and self-administered.
· Creating connectivity and a digital identify for all, putting mobile technology first; and
· Use direct benefit transfers to individuals, with the goal of becoming a "cash-less" society.
Progress to Date. Dr. Kant, the CEO of NITI Aayog, reprised progress to date at the Business of Government forum, noting: "The quiet administrative revolution that has been taking place in the country during the last two years will receive a shot in the arm by increasing the use of digital technology which in turn will give a fillip to growth." For example, he says:
· The government is shifting from a focus on outputs and process, to monitoring and reviewing progress towards outcomes.
· The government has defined targets and is in the first year of using outcome-oriented budgets for agencies.
· Outcomes are monitored through a dashboard created by NITI Aayog – PRAGATI: Pro-Active Governance and Timely Implementation – an integrated and interactive platform to monitor programs and projects.
With a population of 1.3 billion, the Indian government works at a scale that no other government does. For example, to move to a cash-less society, it has created biometric identification cards for 1 billion people; provided banking for them, and is providing them access to digital payments. This initiative covers 90 percent of the population. Kant envisions a day in the not-too-distant future when physical banks and ATM machines will go away and government benefits will be sent directly to recipients, reducing the opportunities for corruption. However, the move to a mobile, cash-less system will require a huge emphasis on digital inclusion. They rely on near-real time data analytics of the information they are receiving to adjust policy and delivery priorities.
The U.S. Approach to Government Reform. In the U.S., both the President's Budget request and a series of Executive Orders and memoranda from the U.S. Office of Management and Budget (OMB) have directed all agencies to rethink their operations. The White House has directed agencies to deliver their reform and reorganization proposals to OMB by September, to be reviewed and released along with his budget proposal in February 2018. While agencies are to make "vertical" reform proposals, OMB will be convening cross-functional task forces to address "horizontal" reform initiatives.
In addition, the President has created an Office of American Innovation that reports directly to him, that is charged to work with private sector executives to "improve government operations" in part by "scaling proven private-sector models." This office is supplemented with a supporting White House-based American Technology Council,which is charged with coordinating "the vision, strategy, and direction for the Federal Government's use of information technology and the delivery of services through information technology."
The Administration's initial budget proposal in March – which was finalized in late May – also includes a Management Agenda that offers a vision of what government should look like by 2020. This good government agenda includes elements such as more effective delivery of services, reductions in unproductive compliance requirements, and fixing mission support services.
Taken together, these various U.S. initiatives have the potential for making the government "lean, accountable, and more efficient," according to OMB.
Similarities Between Indian and U.S. Reform Efforts. Both the Indian and the U.S. reforms efforts are bold and visionary, yet both build on best practices and lessons learned from prior governments as well. Interestingly, both also focus on creating a citizen-centric approach to the delivery of government services and both rely on the use of technologies, such as mobile phones, as keys to success. In addition, both are taking a systems, cross-agency/cross-functional view of government operations, rather than the traditional hierarchical, stovepipe approach.
Insights from India That Might Be Helpful in the US. Because of the many similarities, are there potential insights from the Indian reform experience, especially since it is two years ahead of where the U.S. is? There seem to be at least four:
· Use an approach that results in the bottom up, collaborative development of recommendations and actions within and across agencies around sets of common outcomes, instead of asking each agency to develop recommendations on their own. Joint action often produces bolder results.
· India has a 15-year vision, a 7-year strategy plan, and a 3-year action plan, all aligned around key outcome areas. Taking a longer view can bring greater coherence to an agenda.
· Have the top leadership personally engage, on a regular basis – especially at the implementation stage.
· Ensure regular, public reporting of status and progress – and provide the status of customer satisfaction in reports to the top leaders.
In the end, government leaders can have bold and visionary ideas, but it all comes down to execution/implementation in the months and years to come.