Submitted by

rgordon

on Thu, 02/25/2021 - 13:25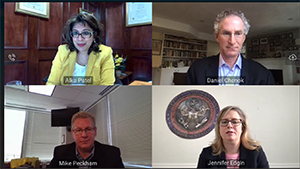 Thursday, February 25, 2021
The IBM Center for The Business of Government and the Partnership for Public Service recently hosted three government innovators to hear how Intelligent Automation (IA) is transforming their agencies to enable their workforce to perform effectively and efficiently.
Michael Peckham, Acting CFO and Director of the Financial Management Portfolio for the Program Support Center, U.S. Department of Health and Human Services, Alka Patel, Head of Ethics Policy for the Department of Defense (DoD) Joint Artificial Intelligence Center (JAIC), and Jennifer Edgin, Assistant Deputy Commandant for Information, Headquarters Marine Corps, all provided specific examples of how IA, AI, and Blockchain have transformed their workflows to better achieve their mission. Watch a replay of the panel event and view an artistic interpretation of the event.
Our final report summarizes the five virtual panels we conducted in 2020 on IA, AI, and Blockchain. The sessions highlighted real cases and lessons learned that can help all agencies understand how best to apply emerging technologies.
To learn more about the five virtual panels, read our summary blogs and watch the webinar replays.