Submitted by

rthomas

on Thu, 12/21/2017 - 16:36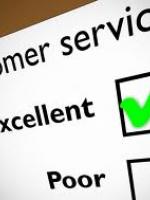 Tuesday, November 9, 2010
Voters have signaled that they aren't happy with the role of government. Surveys also say they are upset with government employees and don't trust government. Yet research shows that citizens base their perceptions on their personal experiences. So would
In the 1990s, the Clinton-Gore Reinventing Government effort thought the answer was "yes."  President Clinton issued a customer service executive order in 1993 followed up in 1995 with a memo to institutionalize the initiative. And now there's a renewed effort to dial-up improved customer service in agencies.  At last week's Excellence in Government conference, OMB's Jeff Zients says they will soon be posting an electronic dashboard of how well agencies are delivering against their customer service standards.
A couple weeks ago, the Government Accountability Office released its assessment of how federal agencies are current using customer service standards and measures.  The report also provides a useful history of the evolution of federal customer service initiatives and discusses pending legislation, by Cong. Henry Cuellar, to require agencies to set and follow customer service standards.
GAO examined 13 federal agency services that are highly visible to the public, such as:
Visitor services at national parks
Border inspections by Customs and Border Protection (CBP)
Passenger and baggage inspections by TSA
Beneficiary services by the Social Security Administration
Tax information to individuals provided by the IRS
Veterans healthcare
Setting service standards.  GAO found that all 13 had established customer service standards, but some were qualitative (e.g., passport services "will provide services in a courteous, professional manner") and some were quantitative (e.g, VA will set new patient medical appointments within 30 days).  Interestingly, two agencies – Federal Student Aid and the Forest Service -- didn't make their standards available to the public!  Why? Well, "Forest Service officials feel the standards would not be helpful to the visitors who evaluate such things as 'cleanliness' of rest rooms against their own standards rather than the frequency of cleaning."  No duh!
Collecting customer satisfaction feedback.  In addition to service standards, 11 of the 13 also measure customer satisfaction related to the quality or accuracy of services and wait times.  The two that didn't – TSA and CBP – did have complaint mechanisms in place.
GAO discussed agency concerns that the Paperwork Reduction Act discourages agencies from measuring customer feedback, with approval processes taking 9 months or longer. . ."so long that sometimes a survey is no longer relevant."  The Forest Service noted, for example, that the approval process makes it "not possible to include customer input in many time-sensitive decisions."
Some agencies use a generic survey for which there is a 10 to 15 day approval process, but this may not address specific agency needs.  For example, 4 of the 13 agencies said they use a survey called the American Customer Satisfaction Index to assess satisfaction and use the results to reallocate resources or provide targeted training to employees.  In addition, OMB plans to create a fast-track clearance process that addresses agency concerns about the clearance process for surveys.
Linking customer service to employee appraisals.  Most of the surveyed agencies say they base employee performance appraisals at least in part on their customer service measures.  In fact, 11 of the 13 say they have such measures in place for all of their senior executives.  IRS, for example, includes customer satisfaction with taxpayer assistance as a critical job element.
However, unions told GAO that "many employees do not have control over the customer service results achieved," but they did note that "there had not been any recent concerns or issues related to the way customer service measures are used in performance appraisals."
Transparency of standards and performance.  GAO found that, while agencies did report on their customer service standards and results, this tended to be in obscured in many agencies by reporting documents rarely visited by the public, such as budget justifications.  It recommends that agencies "make their customer service standards and results more readily available to customers" and points to several best practices such as the CBP's real-time data on airport and border wait times.
OMB says it plans to launch a pilot customer service dashboard before the end of the year to revitalize attention.  In addition, Cong. Cuellar's legislation will be reintroduced in the new Congress, if there is no action this year, to insure the emphasis on customer service is made permanent.