Submitted by

rgordon

on Wed, 05/06/2020 - 15:57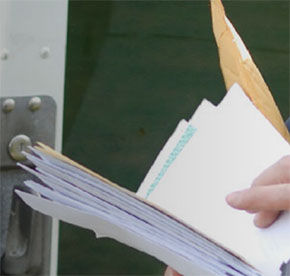 The effects of COVID-19 will be significant for the global postal industry, and indeed the entire world. The essence of the challenges the world's postal operators face is akin to that of other businesses affected by COVID-19: identify where the impacts will be felt; and determine how to respond.
Guest Blogger, Adam Houck, IBM Global Postal Practice Leader, Academy of Technology Leadership Team
COVID-19 has and will continue to have a devastating financial effect on the world's postal services. At the same time, postal services have significant roles to play in the response and recovery effort. However, these efforts will not be enough to offset the financial impacts of COVID-19.
To respond to this global crisis, postal services must do three things:
Take a lead role in helping to accelerate the economic recovery after the COVID-19 situation stabilizes;
Expand collaboration with ecosystem partners to build redundancy in their supply chains; and
Offer the use of their vast, ubiquitous physical networks to play a larger role in response efforts.
Postal services with more diversified revenue models are better positioned than their peers to respond to the pandemic. The US Postal Service (USPS) still relies heavily upon traditional letter products, especially marketing mail. In FY2019, marketing mail accounted for $16 billion in revenue and over half the total volume delivered. Unfortunately, history has shown these volumes are at significant risk in times of economic shock. The global financial crisis of 2008 was devastating to the global postal industry. That year, USPS delivered 9.5 billion fewer letters and packages than the year prior, the largest mail decline in history.
These effects will likely pale in comparison to COVID-19
On April 9, USPS announced that as a result of the COVID-19 shock, it expects a $13 billion drop in revenue in FY2020 and an additional $54.3 billion in losses over the next 10 years. This is largely the result of changes in letter mail volumes for both large and small businesses. History shows that in times of economic decline, these volumes all but disappear. Postal services cannot plan on them returning.
In France, La Poste has already reduced the number of delivery days per week to three. Royal Mail in the UK has reduced service levels as a result of nearly 20 percent of its staff being off work, either due to sickness or self-isolating.
There is reason for hope
Postal services have been affected by and responded to these kinds of economic shocks before. In 2005, in the aftermath of Hurricane Katrina, the USPS was designated as the deliverer of antibiotics as part of the Cities Readiness Initiative (CRI). This program, managed by the Centers for Disease Control and Prevention (CDC), increased bioterrorism preparedness across the US. USPS also delivered disaster relief checks and distributed absentee ballots during the 2006 election. These serve as examples of how posts can aid governments at different levels in these most difficult times.
COVID-19 has revealed how increased globalization and shifting manufacturing out of the country can amplify the detrimental effects to global supply chains. Postal services need to consider a world of less globalized supply chains to build in redundancy for the future. They must test contingency plans and be ready to make quick decisions to move mail and packages in the face of mass flight cancellations of both commercial airlines and air cargo. They must plan to balance the trade-offs that include shifting volumes to slower transit modes, paying higher per kilogram rates, and reducing network visibility.
This increased redundancy can also be utilized to offer innovative services to help individuals and businesses in difficult times. For example, USPS could expand small businesses access to its Electronic Verification System (EVS) mechanism to facilitate drop-off zones to better reach customers who are sheltering in place.
Postal services should also use their physical networks of assets (such as trucks, buildings, and indeed, employees) to contribute to the recovery effort in innovative ways. In short, they need to work with traditional and non-traditional partners to identify the highest and best uses for their assets. USPS has more than 200,000 delivery trucks and 31,000 retail locations. Letter carriers and truck drivers drove 1.34 billion miles in 2019. Excess capacity should be offered to help move needed supplies and deliveries in local economies.
Regarding core postal services, current global quarantine measures are driving increased demand for package deliveries.  Companies like Amazon are finding it difficult to support the surge. After quarantine ends and global production resumes, postal services must be prepared for the potential "Bullwhip Effect," as described by MIT Logistics and Supply Chain Expert Yossi Sheffi, where sudden spikes in demand for cargo could exceed supply, causing bottlenecks throughout the global supply chain. Postal services must be prepared for shortages in available air cargo and passenger underbelly capacity when manufacturing restarts. They must be prepared to scale up operations and delivery capacity in an environment that may already have insufficient capacity.
Postal services must also consider what they can offer in non-core services to assist in the recovery. Broadening the network of partners is a start. The goal should be to identify roles that aid in the development of "smart cities" during quarantine, during the restart, and long after the COVID-19 crisis. Postal services and governments must collaborate on how to best use and repurpose publicly owned assets to improve the quality of social services and develop entrepreneurial solutions. It is possible the world's postal services discover that the innovative partnerships formed during the pandemic may turn into new revenue streams after the world settles on a "new normal."
** This article first appeared on the Institute for Business Value website.