Submitted by

rgordon

on Mon, 12/20/2021 - 11:05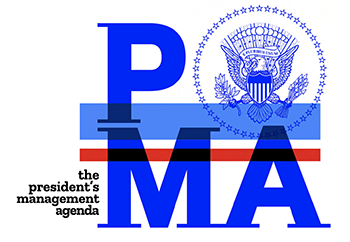 Monday, December 20, 2021
Federal agencies spend billions of dollars every year on routine office functions such as procurement, human resources, logistics, and information technology.
Blog Co-Author:  Matt Warshaw
Federal agencies spend billions of dollars every year on routine office functions such as procurement, human resources, logistics, and information technology. Intelligent automation (IA) is one set of tools that can help agencies  simply processes, saving time and reducing costs, ultimately allowing federal employees to focus their energy on mission critical outcomes rather than complex back-office tasks.
The President's Management Agenda vision looks to "leverage the scale of common capabilities while designing safe and secure products that better meet what the customer needs." And a recent Executive Order commits government agencies to providing improved customer experience and reducing administrative burden through the use of new online tools and technologies. IA, a key component of this work, is a suite of scalable technologies and processes that improve efficiency and allow government employees to spend more of their time in direct support to citizens.
In a March 2021 report, ACT-IAC identifies three specific technologies government agencies can use today – all of which fall under the broader scope of IA.
Key intelligent automation technologies:
Robotic Process Automation (RPA) – RPA is software that can automate repetitive, rules-based tasks. This could be an Excel macro operating within a spreadsheet or a series of actions performed across a personal computer, or access systems.
Intelligent Document Processing (IDP) – IDP applies artificial intelligence (AI) technologies such as machine learning, natural language processing (NLP), and cognitive vision to document classification, enhancement, and conversion of text, email, and scanned and digital images into structured data for processing.
Process Discovery and Process Mining – These are "process technologies that capture computer keystroke and transaction logs to provide process and system usage insights that support efficiency improvement through process optimization, simulations, automation, and user training."
Today, government agencies are using these technologies to save both government employee time and taxpayer dollars. For example, the Veterans Benefits Administration is using a combination of process mining, IDP, and RPA to overhaul the Veterans benefits claims process. IDP is used to extract information from mail correspondence, process mining is used to understand the data and create real time automation processes, and tasks are then automated using RPA. This new way of working processes benefits more quickly for Veterans and their families and allows 550 Claims Assistants to focus on other tasks, creating a higher level of employee and customer satisfaction.
Similar programs can be found across the government, as offices work to streamline operations, improve citizen services, and reduce government spending (See "Improving Outcomes in Government through Data and Intelligent Automation," the Center's 2021 report co-released with the Partnership for Public Service, for more examples). However, agencies are coming under increased budgetary and operational pressure, often unable to meet both critical mission demands and keep up with maintaining modern business and technology operations. Government leaders need help quantifying the value that IA can deliver for improving how Federal employees do their work, and identifying how best to scale siloed automation projects.
In previous reports, the IBM Center for the Business of Government (CBG) has estimated cost savings for government agencies based on best practices that IBM has found both inside and outside of government. In March 2017, CBG partnered with the Technology CEO Council to produce a special report: "Transforming Government Through Technology." The report identified more than $1 trillion in savings over the course of 10 years. Another Center report identified RPA as a key technology in improving the government's financial management function.
In 2022, the IBM Center will convene further discussions that explore the value of IA for government agencies.  We look forward to a dialogue with experts from government, academia, and the private sector to help  identify benefits, cost impacts, and best practices, and how the government can scale adoption of IA to improve both service delivery and the nature of work for employees.