Submitted by

rgordon

on Thu, 11/11/2021 - 11:17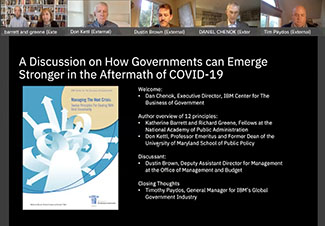 Thursday, November 11, 2021
Watch the video from our virtual roundtable with report authors Katherine Barrett, Richard Greene, and Don Kettl; Assistant Director for Management, OMB, Dustin Brown; and General Manager, IBM Global Government Industry, Tim Paydos.
Governments and societies continue to face the unforeseen and unprecedented challenges of responding to and recovering from the COVID-19 pandemic. The experiences of the last 18 months have pointed to the importance of well-managed actions at the local, national, and cross-border levels. There are many ways to address issues that are now well-documented, including medical support for testing, contact tracing, and vaccine management; supply chain challenges around vaccine production and distribution; impacts on local job markets; and the importance of addressing equity in delivering needed social services.
In late October, we hosted an insightful virtual discussion of our report that takes a deep look at how governments can learn lessons from COVID to manage well and emerge stronger and more resilient.  The session featured authors of the IBM Center report, Managing The Next Crisis: Twelve Principles For Dealing With Viral Uncertainty, by Katherine Barrett, Richard Greene, and Don Kettl.   Dustin Brown, Deputy Assistant Director for Management at the Office of Management and Budget, provided insights from a government perspective while Tim Paydos, General Manager for IBM's Global Government Industry, contributed to the conversation using a global lens.