Submitted by

rgordon

on Mon, 01/31/2022 - 16:01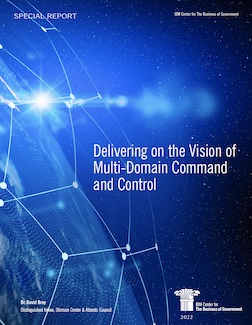 Multi-Domain Command and Control enables governments and partner organizations to meet the challenges of 21st century engagement across land, sea, air, cyber, and space domains.
Co-Author:  Daniel Munro, Defence Global Markets, IBM
Across the defense and national security landscape, governments and partners are grappling with the speed of technological change and a deteriorating global strategic context. From capability development, to planning, to operations, leaders recognize that Western Allies no longer have a technological advantage over peer adversaries. To win the future battle, governments must focus on gaining situational advantages—making decisions better and faster than the enemy. Multi-Domain Command and Control (MDC2) addresses gaining that decision superiority. This strategy enables integration and coordination of command and control operations simultaneously across air, land, sea, space, cyber, and electromagnetic domains.
MDC2, also referred to as Joint All-Domain Command and Control (JADC2), represents the operational vision of connecting sensors from all military services into a single, interoperable, actionable data environment. Following on the foundations of Network-Centric Operations, MDC2 leverages data-centricity to include data interoperability across different sensors, communication, and processing capabilities.
On October 19, 2021, several leaders from Australia, the U.S., and the U.K. discussed the challenges and opportunities for MDC2 in a virtual Roundtable, which followed on from IBM's SPADE 2021 conference.  Dr. David Bray has expertly gathered the thoughts and insights of the diverse range of leaders from defense, industry, and academia, who joined this session.  Dr. Bray's report synthesizes the immediate realities each of the speakers see with regards to MDC2, as well near-term actions necessary to produce effective command and control capabilities to ensure collective defense.
By defining the need for MDC2 in context of the human flaws and irrationality in chaotic, uncertain, ambiguous circumstances—as well as the ability of the adversary to contribute to that uncertainty and the inherent flaws of any technological system and its processes—Dr. Bray elevates the discussion beyond any single challenge. This is vital because the modern battlespace is anything but homogenous. Today's military terrain involves a seething mass of digital infrastructure that includes edge assets, public/private clouds, embedded weapons systems software, and a host of Internet of Things (IoT)—all built separately, over a long period of time and for different purposes.
To solve for the challenges of MDC2, this paper outlines a range of action-oriented steps to be taken. Each step supports one or both of these top-line statements:
Strong and gifted commanders, at all levels, must remain at the center of the solution. They must learn, and continually relearn, how to take best advantage of available technology to inform the development of the next generation of systems.
Only a hybrid cloud architecture can provide a consistent, standards-based approach to development, security, and operations. This smarter architecture allows for workload portability, orchestration, and management across multiple environments.
For defense and national security—when the mission is this critical—agility and flexibility are paramount. Such a complex undertaking does not mean a lack of planning or unstructured implementation. It means taking the right approach to avoid being locked in and unable to respond to a changing environment. We hope this paper will help prompt deeper assessment about creating the capability needed for the future.