Submitted by

rgordon

on Wed, 02/19/2020 - 16:49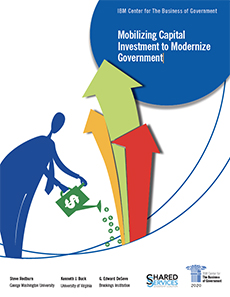 Thursday, February 20, 2020
Commercial capital could provide a powerful boost to public sector modernization.
Co-Blogger: John Marshall, Founder and CEO, Shared Services Leadership Coalition
Many governments around the world seek ways to serve their constituents and carry out their missions more effectively and with greater efficiency. This imperative takes on even greater import as emerging technology and business paradigms raise expectations from the public and enable new channels of collaboration between government and industry.  More specifically, the U.S. government has enormous unfunded needs to modernize administrative processes, workforce skills, and technologies.
These demands continue to grow in an environment of public sector resource constraints, which could be alleviated though greater leverage of private sector investment, technology, and expertise.  But capital markets that enable companies to finance critical needs generally do not address public sector work – one set of such markets, state and municipal bond issuances do not have an analog at the national level. Private investment and public-private partnerships can help to supplement government funding sources, and can be a source for innovation and expertise.
Addressing these and other modernization challenges requires a long-term vision for increasing investment in public goals, optimizing current budget and procurement processes to deploy greater engagement with the private sector consistent with sound use of public funds, and a strategy to achieve this change in practical increments over time.  As public sector funding constraints continue to be impacted by rising deficits and debt, agencies can benefit from pathways for the private sector to invest capital in modernizing government operations, and from processes for making the most effective use of public and private investment dollars over time.
To address these challenges, the IBM Center for The Business of Government and the Shared Services Leadership Coalition (SSLC) have released a new report, Mobilizing Capital Investment to Modernize Government.  Three former leaders in government – Ed DeSeve with Brookings Executive Education, Steve Redburn with George Washington University, and Ken Buck with the University of Virginia -- identify strategies for Federal agencies on how to incentivize private sector capital investment.
The authors also discuss options and recommendations for revising budget and acquisition processes that have tended to limit systematic engagement with industry around investment, such as with shared services; and to discourage longer-term capital planning by government. At the same time, the report makes clear how such recommendations can be done consistent with important safeguards in appropriations, budget scoring, and procurement processes—safeguards rooted in longstanding law and policy.
This report was informed by the insights at a September 2019 Roundtable discussion co-hosted by the IBM Center and SSLC, which that addressed how investment, budgeting, and procurement strategies might help government meet its capital challenges.  Participants include current and former senior officials from OMB, agencies, congress, academia, and industry, and their insights pointed out ways to meet these challenges more effectively -- exploring options for adopting "outside-in" solutions that draw on private sector resources, expertise, and technology to bolster public spending, as well as how to capitalize on current budget and procurement flexibilities.
The Roundtable and research from the authors also reflected on how the Federal Government has engaged in initiatives to address this imperative over the past several decades.  OMB has worked with agencies to develop several shared services initiatives that seek to apply commercial best practices across government; numerous innovations in acquisition have been authorized and implemented; industry has joined in multiple forms of public-private partnerships modeled on similar collaborative efforts in state and local governments. And recent budget innovations have brought flexible investment approaches, such as the Technology Modernization Fund.
The authors drew on this experience and discussion to identify several findings regarding current budgetary and procurement practices that affect the ability of the federal government to attract and deploy private capital in support of national policy objectives, including:
Many perceived obstacles to increased use of private capital, technology, and expertise to support federal systems modernization and an array of other public capital needs can be overcome by creative interpretation and application within established rules, in a manner consistent with the intent of those rules.
Ample precedents exist as models for future initiatives to bring private capital to bear for public purposes, and these precedents should be systematically evaluated by the federal government to determine how they can be applied and generalized.
Significant risks for both public and private partners arise from the vagaries of the budget process and the complexities of federal procurement, which can be addressed by developing a body of evaluated experience and using that evidence to establish consistent budget conventions and replicable contract standards.
Near- and longer-term opportunities exist to make the federal government's budget and procurement processes friendlier to investments to help modernize government, and to public-private partnerships for an array of public purposes, by reducing uncertainties and risks for both sectors.
The report also outlines a set of actions that could be taken both now and in the future, including ways to incentivize private sector investment and public sector agility as well as reforms in federal budgeting and procurement.  These actions take the form of 10 near and long-term recommendations for OMB, GSA, Congress, and stakeholders and partners.
We hope that this report helps government understand how best to engage with private sector partners in achieving its modernization goals effectively, efficiently, and consistent with integrity for taxpayer dollars  .