Submitted by

rgordon

on Fri, 07/29/2022 - 17:35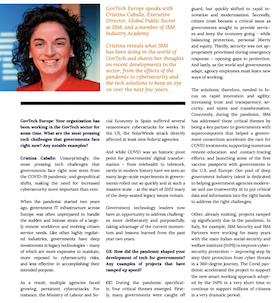 GovTech Europe spoke with Cristina Caballe, Executive Director, Global Public Sector at IBM about recent developments in the GovTech sector, from the effects of the pandemic to cybersecurity.
GovTech Europe: Your organisation has been working in the GovTech sector for some time. What are the most pressing tech challenges that governments face right now? Any notable examples?
Cristina Caballe: Unsurprisingly, the most pressing tech challenges that governments face right now stem from the COVID-19 pandemic, and geopolitical shifts, making the need for increased cybersecurity more important than ever.
When the pandemic started two years ago, government IT infrastructure across Europe was often unprepared to handle the sudden and intense strain of a large­ly remote workforce and evolving citizen service needs. Like other highly regulat­ed industries, governments have deep investments in legacy technologies - many of which are more expensive to maintain, more exposed to cybersecurity risks, and less effective in accomplishing their intended purpose.
As a result, multiple agencies faced growing, persistent cyberattacks. For instance, the Ministry of Labour and Social Economy in Spain suffered several ransomware cyberattacks for weeks. In the US, the SolarWinds attack directly affected at least nine federal agencies.
And while COVID was an historic pivot point for governments' digital transfor­mation - from telehealth to telework, rarely in modern history have we seen so many large-scale experiments in govern­ments rolled out so quickly and at such a massive scale - at the start of 2022 many of the deep-seated legacy issues remain.
Government technology leaders now have an opportunity to address challeng­es more deliberately and purposefully, taking advantage of the current momen­tum and lessons learned from the past year two years.
GE: How did the pandemic shape the development of tech for governments?
CC: During the pandemic specifical­ly, four critical themes emerged. First­ly, many governments were caught off guard, but quickly shifted to rapid in­novation and modernisation. Secondly, citizen trust became a critical issue as governments sought to provide servic­es and keep the economy going - while balancing protection, personal liberty and equity. Thirdly, security was not ap­propriately prioritised during emergency response - opening gaps in protection. And lastly, as the world and governments adapt, agency employees must learn new ways of working.
To emerge stronger & more resilient from the pandemic, government leaders should be thinking around four key archi­tectural decision points: predicting outcomes, automating at scale, securing everything, and modernising with ease. COVID taught us that governments can move fast. And the right tech­nologies can accelerate that much-needed change.
GE: Are there any innovative tech solutions currently being developed/coming around the corner that you're focusing on? What doors will these open for government technologies?
CC: Every industry, including government, is facing digital dis­ruption. By our analysis, seventy-five percent of government leaders say traditional business models aren't sustainable in the current environment.
The public expects the agility and efficiency found in the pri­vate sector, and governments must appeal to new workers with the skills to meet these requirements to attract investment and grow economies. Security alone demands significant increases in investment and oversight. For many governments, it may take time to re-examine their role in society and re-imagine how to achieve sustained success. Perhaps decades. But change is inevitable. By leveraging automation to complete repetitive tasks with greater consistency and speed, many back-office processes can be re-imagined. As technologies mature, every government process will be re-examined and re-architected.
Supported by artificial intelligence (Al) and cognitive comput­ing, experts will find more time to focus on activities where human judgment and experience has greater impact. For example, Al and cognitive computing-enabled tools can make filing taxes faster and easier and deliver more pre­cise results. Network technologies, including blockchain, that enhance the security of online records, will redefine many core government functions such as global trade, customs, and visa processing, rendering them more trustworthy and efficient. Once a record is added to the blockchain, it's permanent and difficult to tamper with. The Internet of Things (IOT) that infuses devices with the ability to communicate status information to other systems that then evaluate and act on it, will increasingly help run integrated cities.
GE: What other solutions matter when trying to meet the challenges that you have described? Any notable examples?
CC: Organizations should approach challenges with an eye on collaboration and - just like its technology - remain open to the best solu­tion. Technologies and services essential for government IT modernisation include:
 
IT modernisation and hybrid/multi-cloud: aligns with governments' anti- 'vendor lock-in' IT modernisation mind­set and needs. It provides government agencies with the flexibility to straddle on-premises, mainframe, private, public and edge environments. Such flexibility allows IT modernisation decisions to be made over time, while provid­ing the performance needed to keep mission-critical oper­ations functioning. Open, secure, hybrid/multi-cloud approach is cloud and vendor-agnostic, encouraging application sharing and bringing development and operations together through automation of tasks, data interoperability and man­agement, all while improving enterprise security with vali­dation and escalation of threats.
Automation: Digital automation reduces the need for hu­man intervention to run processes and drive efficiencies. This can speed up response times for government claims or inquiries because government workers are free to focus on more meaningful tasks. For example, rather than requiring employees to manually enter VA claims, automation allows employees to close those claims more quickly.
Data fabric and Al: The global crisis highlighted that many governments could not provide the right and relevant in­formation to understand the impact of disruption and em­power citizens to make the right decisions. Data fabric is an integral element of a government agency's IT modernisation strategy, as it enables the integration and centralised data quality management across cloud, on-premises, mainframe and edge devices. It uses trusted AI built on transparency, explainability, robustness, fairness, and privacy, with the flexibility to permission certain sets of data. This is key for meeting the varying levels of clearance required for certain data sets.
Cybersecurity: It's important to collaborate with government agen­cies to implement new approaches to cybersecurity that help protect data across hybrid, multi-cloud environments either on-premises, in the cloud, or at the edge. In the US, there is a collaborative environment focused on helping US federal agencies address and understand current and future cybersecurity threats and trends. These include zero-trust network security and AI to help combat security threats, as well as identity protection and encryption.
Ecosystem: IT modernisation is a government-wide, systems challenge that cannot be addressed by one vendor, product or service and requires a different approach to partnership.
** This article was first published in GovTech Europe.