Submitted by

rgordon

on Mon, 03/27/2023 - 08:21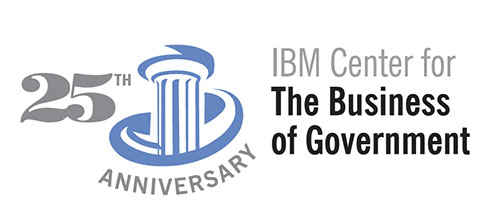 25th Anniversary Challenge Grant Competition
This year, the IBM Center for The Business of Government marks 25 years of connecting public management research to practice with the goal of improving government performance. Since its creation in 1998, the Center has sought to help public sector leaders and managers address real-world problems and more effectively respond to mission and management challenges.
The Center focuses on "The Business of Government" because our scope addresses government management and operations. Public sector leaders and managers benefit from informed and practical advice available to support better delivery of services for their constituents. For 25 years, the Center has aimed to "bridge the gap" between research and practice by helping to stimulate and accelerate the publication of actionable public management research. 
25th Anniversary Challenge Grant Competition 
To commemorate our 25th anniversary, we are pleased to announce Challenge grant competition to solicit short essays describing the future of government management and operations in six key areas identified below, and how innovations in these areas can drive agency missions forward.  We will select the authors of one or more impactful essay in each area as "Challenge winners", who will receive a $2,500 stipend to write a longer article.  We will draw on and credit any content from these papers in a subsequent publication by the end of 2023, to identify new ways of understanding and framing problems; new processes to solve problems; and innovative implementation solutions. 
The six Challenge grant focus areas follow:
Intelligent Automation (IA), including Artificial Intelligence (AI), is revolutionizing how governments derive value and insights from data to achieve key goals and objectives.  An effective automation program can greatly enhance the ability of the public sector to improve services. The challenge going forward is to design and implement IA and AI programs with critical elements to successfully enable mission delivery and citizen services.  Across government agencies, AI and related automation technologies are changing how individuals perform their jobs, interact with teams, learn, and make decisions.  These innovations can drive improvements in the fields of data collection and analysis, logistics, cyber operations, information operations, command and control, and even autonomous vehicles.  Potential areas to address in Challenge grant essays include:
How can the future of IA and AI drive government missions forward? 

What are the best ways to foster a culture of experimentation to test and learn in developing mission-based applications? 

What is the role of multi-sector ecosystems in developing and delivering AI capability? 
Data and evidence can help government executives and managers to do more of what works and less of what does not to deliver better outcomes. This challenges public sector leaders and managers to collect more accurate and timely data, conduct more informed analysis, make better decisions, and take smarter actions. Governments must also seek high-quality data to derive insights, inform decisions, and improve delivery. In recent years, the federal government has developed a data strategy and institutional infrastructure to leverage a wealth of statistical and administrative data. New legislation has promoted a greater supply of information and invested in strengthened analytic capabilities in agencies. Innovative analytics strategies have reduced the cost of collecting and reporting such data and achieving evidence-based insights, and emerging technologies such as using artificial intelligence (AI) have open new vistas. Potential areas to address in Challenge grant essays include:
What innovative benchmarks, measures, and tools (analytic, cognitive, or social) best demonstrate effectiveness? 

How government can enhance both institutional capacity and staff competencies in the use of analytics and advanced analytics to improve decision-making.

What innovation exists to propel effectiveness in delivering outcomes and optimizing return on investments?
Cloud computing has rapidly become a key goal for information technology in the federal government. Agencies are increasingly employing secure and scalable cloud solutions to transform how the government operates and effectively provides digital public services. The National Institute of Standards and Technology defines cloud computing by its benefits: "ubiquitous, convenient on-demand access" to computing power to deliver cost-efficient services. Since the release of the Cloud First strategy and its update Cloud Smart, it is no longer in question whether agencies should adopt cloud platforms as key elements of their technology environments, but how. In surveying the current landscape of cloud adoption within federal agencies, we've identified several stages of adoption, from supporting mission-specific needs to agencywide cloud enablement to using cloud technologies for future transformation. Potential areas to address in Challenge grant essays include:
How can strategic collaboration across the cloud ecosystem enable cloud computing that is ready for use in the field?

 

How can cloud services embed "zero-trust" and security-focused teams to protect agency data?

 

How do cloud optimization strategies improve outcomes and reduce cost? 
 Cybersecurity risk can have an immediate, long lasting, and detrimental effect on the ability for government agencies to do business and meet their varied missions. Cyberattacks against government are becoming more common and severe – a trend made more pronounced as agencies have increased reliance on digital networks for distance work in the response and recovery efforts around COVID-19. The number of cyberattacks targeting governments increased 95% worldwide during the last half of 2022, compared to the same period in 2021 while the cost of public sector data breaches increased 7.25% between March 2021 and March 2022.  Government agencies must be cyber resilient to optimally operate in today's environment. This requires new approaches and ways of thinking about cybersecurity.  Potential areas to address in Challenge grant essays include:
Are there innovative ways to increase the cyber talent resource base?

How can organizational collaboration be improved to accelerate cyber response? 

Are there creative ways to build cyber resilience within government agencies? 
Shared services in the federal government have focused primarily on "back office" functions of financial management, human resources, acquisition, and technology related functions. More recently, grants and cyber security services have been added to HR and finance as the focus of dedicated Quality Service Management Offices (QSMOs).  Shared platforms across open ecosystems can enable agencies to leverage innovative and cost-effective services, both to modernize the scope of existing services and develop new ones.  Potential areas to address in Challenge grant essays include:
What are new ways to employ a shared services model to improve government operations and management? (i.e., travel, employee relocation, learning management, data insights as a service?)

Are there other unrealized potential wins or transformative efforts that can gain customer acceptance and build momentum for broader application of a shared services model across government? 

How can the shared service marketplace model evolve

in bringing new innovative solutions to the market?
 Customer experience is now a key strategic priority of all federal agencies.  Focusing on customer experience enables agencies to improve service and build trust in government. By focused attention on delivering a great experience for customers – a goal commonly referred to "CX", short for customer experience – agencies will provide great value for the people they serve.  CX thus becomes a strategic imperative in mission delivery, and a foundational element to build public trust in government. Interaction with an agency's systems, people, and processes are significant determinants in the effectiveness of an agency's mission. A concerted effort to improve CX and trust needs to be multi-faceted and reach beyond just improving initial experience. This implies that a range of different strategies will be needed that may go beyond currently established approaches. Integral to this effort involves optimizing new technologies to enhance the user experience and incentivize innovators to modernize how government does business and delivers services.  Potential areas to address in Challenge grant essays include:
What role do technology and innovative tools (i.e., chatbot, metaverse, social media, interfaces, augmented reality, etc) play in enhancing the customer experience?  

How can they act as force-multipliers helping agencies do more in this area in cost-effective ways? 

How will using these capabilities drive memorable, satisfying, and lasting interactions with those who seek care, benefits, and services from federal agencies meeting at the nexus of human behavior and technology? 

How can agile techniques, including the agile principles put forward by the NAPA-IBM Center Agile Government, improve customer experience and build trust?
The Challenge process is straight forward:
Stage One: Submit one or more proposals of up to 300 words describing the future of the management and operations of government in any of the six key areas outlined above and how innovations in these areas  can drive government missions forward. Schedule: Deadline for the 300-word proposals is May 10, 2023.
Stage Two: The IBM Center will review proposals and select 5 to 10 finalists who will each be offered a $2,500 Challenge Grant to prepare a longer essay (up to 2,500 words) refining their original proposal. Schedule: The Center will announce the winning proposals June 1, 2023.
Stage Three: The winners of the Challenge Grant will prepare their essays for publication by the IBM Center. Schedule: The 2,500-word essays are due to the Center by July 17, 2023.
Please let us know if you have any questions. They can be sent to: businessofgovernment@us.ibm.com.