Submitted by

cmasingo

on Thu, 12/21/2017 - 11:51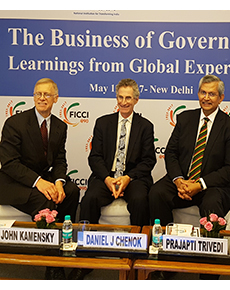 As governments look to leverage technology and commercial best practices in their reform efforts, pathways to leverage research and experience from the business and academic worlds are increasingly in demand – as evidenced by a recent visit with key gover
Recently, IBM Center Senior Fellow John Kamensky and I spent a week in Delhi meeting with key officials in India's government, academic, and business communities, in consultation with our IBM colleagues from India and our global government leadership team. The visit was arranged by Center Visiting Fellow Prajapati Trivedi, former Secretary for Performance Management with the Government of India who is now at the Bharti Institute for Public Policy at the Indian School of Business and also teaches at the Harvard Kennedy School.
In a companion post, IBM Center Senior Fellow John Kamensky writes on what we learned about key reform efforts in the Indian government, and lessons that can be adapted to the U.S. and other countries. In this post, I note highlights from the trip.
Background: Increasing Global Thought Leadership for Governments. Over the past two years, our Center has increasingly interacted with government leaders and stakeholders around the world who have an interest in leveraging best practices to improve efficiency and effectiveness [cite to global blog – need to find]. Our work with Dr. Trivedi is one example; another is demonstrated by our recent report about New Zealand's Interagency Results Programme that includes globally-relevant lessons learned about managing cross-agency outcomes.
Last year, Dr. Trivedi introduced the Center to the Federation of Indian Chambers of Commerce and Industry (FICCI) and its Executive Director, Didar Singh, to discuss how IBM might best collaborate on establishing a thought leadership entity like the Center to potentially support third party research into management issues relevant to the Indian government. Our trip grew out of those discussions, which culminated in a day-long session to discuss this issue entitled "The Business of Government: Learnings from Global Experiences," co-sponsored by India's strategic transformation organization in the Prime Minister's office - the National Institution for Transforming India, or NITI Aayog, the Indian School of Business, FICCI, and the IBM Center – highlights below.
Meetings with Secretaries to Government of India. Government departments in India are led by politically appointed Ministers, with senior career Secretaries serving as the equivalent of COOs who run departmental activities. John, Praja and I met with two Secretaries very interested in government reform: Injeti Srinivasan with the Ministry of Sports (pictured below to the left with John and I) and Rajeev Kapoor with the Ministry of new and Renewable Energy (below to the right).
Left Photo: Kamensky, Sec. Srinivasan, Chenok; Right Photo: Kamensky, Sec. Kapoor, Chenok
Both Secretaries described challenges that are similar to those experienced by agency leaders in the US and other countries, including how to manage a massive scope of operations within a constrained budget environment, how to keep their workforce motivated and skilled, and how to best to draw ideas from and work with the private sector. Both are also involved in developing issue-based initiatives under the cross-cutting, mission-related sector (e.g., health and education, infrastructure, etc.) that are described in John Kamensky's post, through which agencies with common mission goals are developing a set of consistent objectives and metrics. This concept could potentially serve as a model for the U.S. as the Office of Management and Budget (OMB) works with agencies to develop mission-focused, cross-agency objectives under the Presidential Executive Order on Reorganizing Government and OMB's implementing guidance to agencies.
The "Business of Government" Event. This daylong session consisted of an opening plenary highlighted by NITI Aayog's CEO, Amitabh Kant (detailed in John's post), and then followed by three panels and a lunch keynote speech from IBM's General Manager for India Vanitha Naranayan. Key highlights follow:
In the opening plenary, Dr. Kant's keynote was preceded by remarks from the leaders of FICCI, the Indian School of Business, and myself. Each of us spoke about the importance of government-industry-academic collaboration to develop ideas and thought leadership that can improve public sector operations and performance.
Opening plenary, from left to right: Dr. Didar Singh, FICCI Director General, at podium; Mr. Sidharth Birla, FICCI chairman; Dr. Amitabh Kant, NITI Aayog CEO; Dan Chenok; Dean Rajendra Srivastava, Indian School of Business
The two substantive panel discussions that followed brought together current and former government leaders and academics in a discussion as to how third-party, non-partisan research could help the Indian government advance in two key areas: (1) citizen engagement and innovation, and (2) the use of analytics to improve decision making and collaboration. In each case, speakers raised a number of questions and challenges relevant for any government seeking to improve performance through these channels, including:
· Defining which citizen groups would benefit most from engaging with government, and across what service delivery channels (e.g., the web, in-person, via phone, etc.).
· Developing a strategy for how analytics can aid governments in making decisions that impact their people based on vast stores of ever-changing data (IBM's Global general manager, Dr. Julia Glidden, highlighted the power that cognitive computing can bring to governments facing this challenge).
· Building networks across organizational boundaries.
In the final panel session, Dr. Trivedi led us through a discussion of how the Center works and what relevance a similar approach would have for India. Joining the discussion was Dr. Nivedita Haran, Director of the Centre for Innovations in Public Systems, an innovation research arm sponsored by the national government. We concluded that any such strategy would have a higher chance of success if a government organization served as facilitator for identifying management issues of relevance to the government operations. This government organization would need to also champion the value of thought leadership and research by non-partisan, third-party focused on key issues facing India, rather than having a more general, global focus.
We hope to continue the dialogue to develop pathways that can help the Indian government, and in so doing serve as a model for governments around the globe. We also left with gratitude to Dr. Praja Trivedi, whose vision provided a great opportunity to expand the Center's horizons.
Pictured top left: "Left to right: Kamensky, Chenok, and Trivedi at conclusion of Forum