Submitted by

rgordon

on Tue, 04/17/2018 - 10:45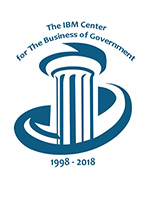 This year, the IBM Center for The Business of Government marks 20 years since starting up in 1998, leveraging our research to envision the possible for government 20 years ahead.
To commemorate our 20th anniversary, the Center is engaging in a series of collaborative activities, events, and reports that envision government 20 years from now, informed by a look back at our research over the last 20 years – the "20/20" project. We hope to spark imaginative discussion and content about what government structure, operations, and service delivery might look like in two decades.
This post launches a year of ideas, activities, and reports by the IBM Center for The Business of Government that look to the future, reflecting on research into past management trends and reform efforts. Joining me in this effort are Mark Abramson, the Center's founding Executive Director, and John Kamensky, Center Senior Fellow.
Our "20/20" highlights include:
Envisioning the Future. We will host Envisioning Sessions that look ahead to identify scenarios and develop a vision of what government operations and services might look like by 2040. This will be facilitated through discussions with experts whose insights contribute to a series of blogs and papers. We will also launch a broader Challenge Grant contest this week that seeks ideas about what the structure and operations of government may look like in 2040; this will be announced in a separate blog post tomorrow.
Taking Stock of the Past. To inform our look ahead, we have commenced the 20/20 project by looking back over the past 20 years -- identifying the most significant government management improvement initiatives undertaken, and their impact. We have connected with many government executives, academics, and good government groups about the impact of 50 management improvement initiatives gathered through analysis of the over 350 research reports sponsored by the IBM Center since 1998. We plan to report findings in upcoming posts.
Concluding Capstone Events. We will complete 20/20 activities this Fall by summing up insights learned during the course of the coming year. This will come in the form of a book that discusses scenarios for the future of government leadership and management, given the foundation of past efforts. Importantly, we will also recommend steps that government and its stakeholders can take today to help move toward a positive future tomorrow. The project will culminate in Fall event marking the 20th anniversary of the IBM Center and a release of this new book.
The Center will also host additional activities throughout the year. We look forward to sharing the results of our project to help government, and to collaborating with the broader community of professionals dedicated to making government work. The IBM Center has long connected academic research to practitioners in the public service, and we look forward to continuing this pursuit in years to come.