Enabling a More Resilient and Shared Supply Chain Strategy for the Nation – Lessons from the COVID-19 Experience
Submitted by

rgordon

on Fri, 12/17/2021 - 10:45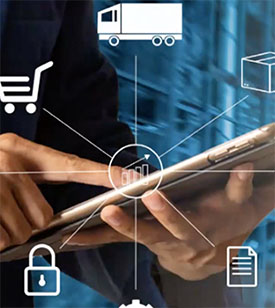 Friday, December 17, 2021
An expert roundtable shares insights that shared services can bring to supply chain management for government in the future
Blog Co-Author:  John Marshall, Founder and CEO, Shared Services Leadership Coalition
Many government programs, including several top priorities of the Administration can be conceived as supply chains for the production and distribution of goods, services, data, funds and other public benefits.  The National response to the COVID pandemic involved hundreds of Federal, state, local and private sector entities in the exchange and distribution of information, personal protective equipment, testing, and vaccine administration. The administration of these programs can be transformed by leveraging a "whole of government" scope and industry leading supply chain management and shared services business models to their delivery.
The IBM Center for The Business of Government and the Shared Services Leadership Coalition recently convened a roundtable of experts from government, industry, and academia to address these issues.  Objectives for the roundtable included:
framing the government's supply chain challenges more specifically in the context of major performance problems in the national response to COVID;
understanding the current state of capabilities in the national response system, and what missing or under-performing capabilities caused performance problems to occur;
developing a model based on how world class commercial entities approach similar challenges, and attributes associated with these capabilities;
conducting a gap analysis between government and industry models; and
considering the crucial role of informal networks in addressing such a complex national challenge.
The Roundtable produced significant insights into the challenges of whole of government supply chain and shared service challenges using the Covid-19 experience as a proxy and drawing conclusions for larger process, technology, and policy strategies.  Among positive observations was that embedded in the United States is tremendous problem-solving capacity which comes from networked individuals who step outside assigned roles and designations and join with others to bring their collective talent to bear on urgent problems facing the country.  This capacity was on display in the roundtable discussions as participants representing a wide spectrum of views assembled to share experiences, address what has been learned and how to prepare for the next pandemic or other whole of government management challenges. 
Roundtable participants agreed that greater networked response capacity will be necessary to improve future response capability.  Expanding this capacity will require improved transparency and information sharing across levels of government and throughout the private sector.  Data standardization and interoperability are of particular importance, and machine learning tools offer significant potential to enhance these capabilities.  Important public policy issues surrounding leadership and governance for national initiatives and ownership of certain assets (stockpiles, information systems, etc.) require further serious consideration.  
Roundtable participants identified gaps between the current and future states in these and other key areas, and framed key features of a future state that would leverage industry leading supply chain and shared services business practices to enable world class whole of government response capabilities.  Potential barriers to realizing the vision were identified, and strategies and critical success factors proposed to overcome the barriers. 
Some elements of a strategy to address this challenge may include:
a new organizational model to support new shared services and supply chain model to effectively leverage state, local and industry in a unified national response capability.
A robust and well-integrated planning and governance framework that would align and coordinate these interests throughout the life cycle of emergency response activities.
Addressing data challenges through cross-agency and inter-governmental data standards and integration.
A cultural shift to tackle these issues on a whole of government basis.
The Center and SSLC will soon release a report with detail on these findings and recommendations, authored by global leading supply chain scholar Robert Handfield of North Carolina State university.  This report will address a future state designed to leverage industry leading to enable an effective, responsive, national supply chain that leverages shared service strategies, and a set of practical and actionable recommendations for government to close the gaps that exist today and move towards a more responsive national and shared supply chain.