Submitted by

rgordon

on Tue, 02/15/2022 - 11:02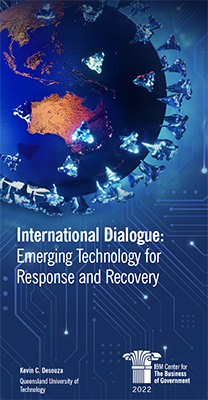 Tuesday, February 15, 2022
A report based on a recent international dialogue among government technology leaders for border control in Australia, Singapore and the U.S. identifies challenges and opportunities.
As governments make their way through the COVID-19 pandemic to emerge stronger, nations are grappling with how to adjust to and plan for the new normal. This future state will fundamentally differ from business as usual before the onset of the COVID-19 pandemic.
In a post-pandemic world, homeland security and border control agencies are being tasked with transforming how they respond and operate in a highly digitalized environment, while ensuring safety and prosperity of citizens and country. Critical challenges that agencies face include the increasing volume of incidents and emergencies, overly complex trade and immigration processes, and evolving threats to borders and customs. Governments can leverage data, AI, intelligent automation, and other emerging technologies to address these complex challenges—while also freeing up critical human resources for high value missions.
To address these key issues, the IBM Center for The Business of Government hosted an international dialogue in September 2021 attended by CIOs and IT leaders with the Australia Department of Home Affairs, the Singapore Ministry of Home Affairs, and U.S. Department of Homeland Security Customs and Border Protection. These three dynamic leaders engaged in an interactive dialogue, joined by nearly 50 attendees from across the globe.
Professor Kevin DeSouza of the Queensland University of Technology and the Brookings Institution has drawn on this discussion to produce a report providing keen insights about leveraging technologies to improve operations and security across borders. Participants addressed supply chain assurance, opening borders amidst the global fight against COVID-19, and the role of data, AI, and other technologies to support border security. The wide-ranging discussion also touched on addressing the needs of the future, anticipating new threats, and developing response strategies. These strategies—which rest on hybrid, multi-cloud environments—include operational capabilities that can stand up "on demand" to address rapidly shifting threats.
As governments move forward during the COVID-19 pandemic and as borders ultimately reopen, nations will enter unchartered territory. Agencies tasked with securing borders and law enforcement have made great strides to prepare for the new normal. Yet much work remains. In particular, the insights from this dialogue that Professor Desouza brings forward point to four key recommendations for governments:
Bring together stakeholders across sectors from the private and non-profit sectors and academia to work collaboratively and address challenges like securing critical infrastructure and bolstering capacity to respond to crises.
Develop the capacity for anticipatory governance to get ahead of crises. This will require a relentless focus on increasing situational awareness across heterogenous environments. Insights discovered must be actioned in a decisive manner to prevent threats from gathering speed and materializing into large-scale crises.
Leverage technological advances to optimize current operations and service delivery, and to reimagine how agencies can achieve mission objectives. Designing around mission objectives and future operating environments will enable agencies to advance from legacy administrative processes, protocols, and systems.
Constantly evaluate how emerging technologies are used in an ethical manner that address privacy rights and risks from potential and actual crises, adheres to laws and regulations, to build public trust.
Government leaders need the best possible tools and knowledge to tackle increasingly complex environments to keep nations safe and secure. Emerging, advanced technologies can allow the public sector to secure mission objectives for border security, as demonstrated by actions taken in border security agencies from Australia, Singapore, and the United States.  We hope that Professor Desouza's report enables government leaders to draw on insights and lessons learned from across the world.