Submitted by

MKeegan

on Thu, 06/24/2021 - 12:29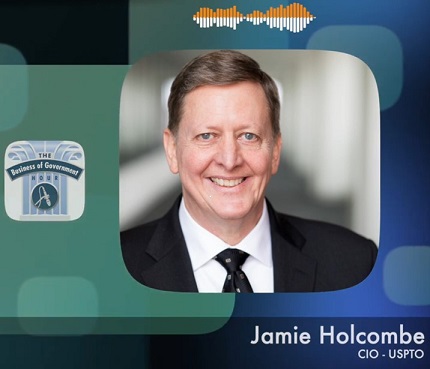 Interview with Jamie Holcomb, Chief Information Officer, U.S. Patent and Trademark Office
In early 2019, Jamie Holcombe became the chief information officer at the U.S. Patent and Trademark Office (USPTO). He came to the agency to modernize and transform how USPTO uses technology to accomplish its constitutionally required mission. With a mission-first strategy, Holcombe has sought to drive next generation enterprise IT investments and implement better, faster, and cheaper ways to grant patents and register trademarks. This involves maintaining current systems while leveraging advances in technology, such as cloud and mobile, to transform how the USPTO delivers and uses IT services.  Jamie Holcomb joined me on The Business of Government Hour to discuss his agency's IT strategy and his efforts to realize its vision. The following is an edited excerpt of our discussion.
On the Mission of USPTO. The agency receives no appropriation. Our funding comes from the fees we collect. Therefore, we have a fiduciary responsibility to our customers to register trademarks and award patents in an efficient and effective manner as possible. Given USPTO is fee-based funded, it needs to squeeze all the value out of those dollars.
I came to USPTO to serve. As outlined in the U.S. Constitution, our mission is to register intellectual property for those individuals and their property rights. It is solemn duty. USPTO is the innovation agency for America awarding patents and defending the property rights and creating some of the greatest things the world has ever seen. Along with serving, I came to help PTO modernize its systems and infrastructure to move it from a client-server base to an internet-cloud based system. Frankly, over the last 20 years, leveraging the internet passed the agency by on some level. This move can allow us to implement and use efficient tools to improve functionality more easily.
On Changing Culture. Upon arriving at PTO, I recognized that a change in culture to USPTO workflow was needed. I focused on creating new way of working (nWOW).  I challenged the agency's IT staff to automate more steps of workflows to make things better, cheaper, and faster. If you fail in the 30/60 days, then learn and adapt. As I learned in the Army, checklists and SOPs are merely guidelines for tactical execution. What matters is what happens on the ground. Bringing this mindset into the how we do IT at PTO is key to producing better, faster, and cheaper results. The government often lags the commercial industry because of compliance with government laws and regulations. We need to be more agile and bring commercial practices into the agency. Given PTO is a fee-based organization, we have an obligation to operate more like a business.  
As an example, with the "people to teams" effort, we adopted a matrix organization approach. Staff maintain their reporting structure and job descriptions but are detailed to product teams. We just eliminated the project management organization and created product teams. We went from over 200 separate and unique projects into 30 unique products. We have four product lines: patent product line, trademark product line, back office or business product line, and the IT or the infrastructure product line. Each having about seven or eight products amongst those teams. Doing this we created a new way to operate that follows better, cheaper, and faster.
On the Role of CIO. As the CIO, you must set the vision and develop a roadmap outlining how to realize that vision. This has to do with the transforming the culture. There are three key elements: people, process, and tools. You must apply the right tools to the right people. All elements are necessary to make sure that a mission is accomplished. We are a support organization that provides the best tools to the patents and trademarks teams. In the end, we accomplish our mission by supporting the organization in meeting its mission:  awarding patents and/or registering trademarks,
I reference the old real estate adage: location, location, location. Similarly, my three biggest priorities are culture, culture, and culture. We need to ensure that people have the right attitude while pursuing our new ways of working. This culture shift includes the ABCs of moving away from the old ways and into the new ways of working. It requires you to act now. You must have a sense of urgency. You must be bold. Do not just do-little things but do something that really matters. Finally, seek to simplify processes. It is all about a sense of urgency. If the burning platform is not on fire, then you have got to create the fire. You must make people see that sense of urgency. One of the most effective commercial practices I have adopted the 30, 60, and 90-day plan. If you cannot complete an IT modernization project in 90 days, then don't do it. The government gets trapped in the sunk cost fallacy. Our goal is "Better, Cheaper, Faster".
On Pursuing IT Modernization. We have a good understanding of the agency applications that can be moved from the current client server environment to the cloud. This year our 30 different product teams reviewed their applications to access ease of migration. It must make business sense to move each application to the cloud. There are applications that are either process intensive and/or storage intensive that it makes better business sense for them to remain in our data center. We are assessing moves to the cloud on an application-by-application basis based on solid business case analysis. Most of our 20-year-old applications are client server base. We must assess how quickly we can move these applications into the cloud and modernize them. We must access the trade-offs: what you can stabilize and what you can move while being able to deliver on the agency's mission. We have 26 critical system applications that need to run for us to deliver on our mission. We have a transition to modernize based on prioritizing those high-value assets.
I have been focused on security and stabilization of our core infrastructure, which has helped make the remote work transition nearly seamless. With roughly 13,000 staff across the U.S., we operate both a network operations center (NOC) and a security operations center (SOC) that runs 24 hours a day, year-round. A big part of that security and stabilization focus has been applying automation to the NOC and SOC with the help of machine learning and robotic process automation. We have reduced alerts caused by false positives and automated security compliance tasks.
On Using Technology to Transform Service Delivery. Today we see service expectations have changed. People put value on ease and convenience and wonder why government cannot adopt some of these commercial ways of doing business. This summer I will be attending an event hosted at Oxford University with 50 of the greatest entrepreneurs currently involved with innovation and creativity in America to hear first-hand from our users on how to create a better environment for our customers. We need to get out there and transform the way we think about how we serve our customers.
Our job is to provide the best tools to our examiners. For example, taking something like the search tool and transforming it to help our examiners do their jobs more effectively. [Patents End-to-End (PE2E)-Search Tool] provides examiners with increased access to prior art. This tool currently provides examiners access to millions more foreign documents and full English translation documents. The search system can also integrate with an artificial intelligence-based tool to help examiners find more relevant prior art. We have used TensorFlow and Python to create new algorithms. We augmented our patent end-to-end search tool with machine learning to help examiners search not just for the context of words that may be in a patent filing, but the context of concepts. When it comes to using machine learning our approach involves having a human in the loop to guide it, coach it, and enhance the algorithms. It is about helping examiners not replacing them.
On Pursuing Emerging Technologies. We hired Jerry Ma as the director of emerging technologies. He has phenomenal approach and vision for how to effectively use emerging technologies. These technologies are emerging, brand-new because they have yet to prove themselves. We need to engage in proof-of-concept efforts, pilots, around emerging technologies, so we can get verifiable results. We need to understand the pros and cons of such technologies as RPA, Blockchain, and AI/ML. Though we should engage the possibilities afforded by doing research and development, we also need ensure we get results. If we do not get results at the end of 90 days, then you must starve that failure. We should build on failure but should on feed success. If you achieve success at the end of a pilot, then you figure out how to adapt, build your business case and decide whether to invest or not in that technology in that specific area.
On the Impact of the Pandemic on Operations. USPTO has been a model of telecommuting in the government for years. Of our almost 9,000 examiners, almost 75% worked out of their home and telecommuted before COVID-19. We have increased productivity, mostly for the support workers that instead of going to headquarters now work from home. We have proven that 98-99% of us can do our job at home and do it just as good or better. Our productivity metrics for turning around applications for patents and trademarks have improved during the pandemic.
On Recognition. It is not about the recognition. It is about the team. Any accolades you receive as a leader is because of your team. Teamwork produces these awards. Leaders need to express gratitude to their teams for the success they have achieved together: mission first, but people always.