Submitted by

rgordon

on Mon, 02/24/2020 - 14:52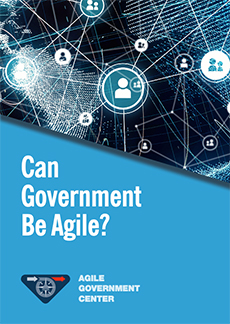 Monday, February 24, 2020
Following up on the successes using agile techniques in software development, many leading private sector companies have used agile principles to transform their organizations.
Others have developed guides for agile organizational transformation and are assisting in its implementation.  Governments around the world have begun to leverage this progress, similarly adopting agile principles to transform their organizations. 
Recently, a colleague asked me, "What is Agile Government?"  I didn't have a concise answer ready.  The quote below contains the National Academy of Public Administration's current definition of Agile Government.  In fact, the precise definition of what constitutes Agile Government is currently evolving in many venues around the globe. 
"Agile government is mission centric, customer focused, communication and collaboration enabled, and continually demonstrates success to customers and the public. Agile government involves small teams and customer participation, empowered by leaders to take rapid action to deliver timely, transparent results."
From "Can Government Be Agile?" October 2019
For example in 2016, the World Bank launched the Agile Bank Program, which is a long term effort to change institutional behaviors, mindsets, and structures.  In 2018, the World Economic Forum published a monograph entitled, "Agile Governance Reimagining Policy-Making in the Fourth Industrial Revolution."  They also established the Global Future Council on Agile Governance to "create a platform for communities of practitioners of these agile governance tools to share best practices, expand the use of these tools, and push their boundaries."
These initiatives have been mirrored in G7 economies keen to maximize the potential of the "Fourth Industrial Revolution." In 2019, the UK published its strategy for a more agile, innovation-enabling approach to regulation, while Japan issued its own plans for governance innovation, making the issue a centerpiece of its G20 presidency. Building on these, the Organization of Economic Cooperation and Development (OECD) recently convened its "Global Conference on Governance Innovation: Towards Agile Regulatory Frameworks in the Fourth Industrial Revolution." 
In November of 2019, the US National Academy of Public Administration (NAPA) announced the creation of an Agile Government Center (AGC), which intends to create "A global network of governments, non-profits, foundations, academic institutions and their private sector partners that uses Agile Government Principles to provide goods and services that fully meet customer needs and build public trust."
Three Functions of Government and Governance
Each of the entities discussed above is using agile techniques to solve difficult problems that face governments and societies around the world, especially as they take on the challenges of the "Fourth Industrial Revolution." More specifically, three government and governance functions can benefit from an agile approach and recognize their interrelationships: policy development, regulation, and implementation. The diagram below lays out in simple terms the relationship across these areas, reflecting how policies are developed that intersect with existing or proposed regulatory frameworks and require effective strategies for implementation. Effective governance and efficient government can both be strengthened by thinking about these functions in a coordinated and comprehensive way.
Agile Government and Governance
In addition, all governance does not rest in the hands of governments. The private sector, independent regulatory bodies, and governments all participate in establishing standards and regulations, and in implementing programs that emerge from them. Given the complexity of these relationships, a key question arises: What principles will guide each of the functions pictured above, and how might such reinforce one another?
Much of the success of agile in the software development area emerged from the development of Agile Principles that became the foundation of a new approach to software development. Drawing on the rich history of this work over the past two decades, the Agile Government Center seeks to assist with the implementation of policies and programs in several areas:
Identify draft Agile Government Principles in concert with key government stakeholders
Identify instances of agile government around the world and create an usable repository of cases
Collaborate with governments around the world who wish to use agile in their policies, projects, programs and overall organizational design, and assist them in implementation
The AGC focuses primarily on policy and program implementation, and intends to broadly involve interested partners (such as those discussed above) in developing principles relevant to other major functions of government. We hope to learn from experience in using agile techniques in policy development and regulation to inform implementation. As we do this, we will reach out to many stakeholders and ask them to help us continually refine the answer to the question, "What is Agile Government?"