COVID-19 Phase III — The new urgency in modernizing supply chains for control, integrity, and dynamic agility
Submitted by

rgordon

on Tue, 11/30/2021 - 10:54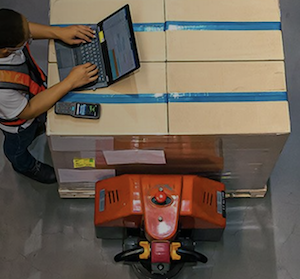 Monday, November 29, 2021
The globalized supply chain is a "hidden hand" underpinning our economy and society.
Blog co-authors:  Rob Cushman Senior Partner, Supply Chain Transformation, IBM, Mike Stone Global Managing Director, Public Sector, Healthcare and Life Sciences, IBM, Jonathan Wright Managing Partner and Service Line Leader, IBM, and Nikki Zimmerman Global Leader, Supply Chain Resilience, IBM
For the last several decades, a vast ecosystem of suppliers, logistics providers, and buyer brokers has partnered to optimize this extended supply chain and increase efficiency while cutting the cost of capital.
We all depend on this global supply chain for our food, clothing, fuel—indeed, our very livelihoods and security. And it has become increasingly complex, integrated, and fragile.
The domino effect
In March 2021, strong winds helped cause a single ship, the Ever Given, to run aground and block the entire Suez Canal—through which 12% of global trade passes each day, representing 30% of all global container traffic and over $1 trillion worth of goods annually. As a result, 369 massive cargo ships came to a complete standstill—holding up an estimated $9.6 billion in trade along the waterway per day. What's more, the global price of oil spiked 4%, and commodity price indices in Europe grew 5%.
The fact that a single vessel can impact the cost of beef on the other side of the world underscores supply chain interdependence in a globalized world.
That had become clear a year earlier, when the Black Swan COVID-19 hit with all its attendant challenges. Almost overnight, we saw disruptions to the supply of goods that were unimaginable just days prior. As consumers, we all have our personal stories to tell—perhaps you were unable to purchase paper products or eggs at your local grocery store.
The problem was not that the world had run out of toilet paper or poultry, but rather that we had too much product packaged in transit in the commercial supply chain—hotels, restaurants, and office buildings—and not enough in the retail and consumer supply chain.
On March 12, 2020, demand for consumer paper products jumped 734%. The following month, US dairy farmers reportedly were dumping 3.7 million gallons of milk a day. The worldwide crude oil surplus reached an all-time high. And while the global food distributor Sysco furloughed 33% of its workforce in the summer of 2020, Amazon hired 100,000 new employees, mostly in delivery and logistics.
Given the complexity of our interdependent supply chain, 80% of the failures we saw were in the 2nd and 3rd subtier ecosystem of raw material and component suppliers.
Bearing the brunt
Leaders in healthcare and government, more than any other sector, faced the full force of this disruption. The most visibly impacted area was the medical equipment supply chain, as demand skyrocketed for personal protective equipment (PPE), ventilators, and even hospital beds. But the impact to the public sector went far beyond that, as government leaders sought to keep the economy open and the supply of goods flowing.
As a result, leaders faced 4 core challenges:
Volatile demand: Extreme volatility in critical materials and supplies that public sector leaders needed to address the pandemic, and entirely new demand patterns the world had never seen.
Inventory fluctuations: Stockouts of high-demand goods and stockpiles of low-demand items, with little visibility in inventory count and location.
Logistics constraints: Partial loads, capacity-constrained warehouses, lower fill rates, fewer on-time deliveries, and constrained labor flexibility.
Increased global supply network complexity: The supply chain became even more dependent on tier 2 and 3 suppliers, creating limited visibility into raw or work-in-progress (WIP) inventory, coupled with a rising need to onboard new suppliers and a growing concern around supply chain integrity.
Forging stronger supply chains
Government and healthcare leaders have been focused on supply chain issues for decades. More than 20 years ago, when the September 11 terrorist attacks shook the world and shaped an entire generation, agencies became much more aware of how global risk and uncertainty affect supply chains. Those events moved the issue of supply chain resiliency to the fore.
As the global community focuses on rebuilding and emerging from the most recent crisis, there are 4 key actions that governments must take to modernize and strengthen supply chains. These actions can help ensure increased agility and resiliency for the future and protect against foreign adversaries and other potential risks:
1. Harness data and build visibility across multitier supply chains to smooth volatility. 
Organizations gather vast amounts of data to monitor and measure risk. That trove of information can, with improved transparency, provide the ability to identify both relationships and resulting dependencies in integrated chains.
A trusted data exchange secured and enabled by blockchain technology can allow organizations to collect internal and external data from partners across their extended supply chain ecosystem. Once synthetized, that data can offer vital insights shared across partner networks on critical transactions, external and internal events, and shared risks.
2. Monitor the supply chain and drive collaboration to actively plan for future disruption.
No supply chain is without risk. But increased access to information in a timely manner provides greater decision-making options.
Before an agency can craft a strategy, it must identify the risks inherent in its integrated supply chain. From suppliers and production flows to transactions and operations, organizations must examine the details of each interconnected relationship and segment of the supply chain to pinpoint vulnerabilities and bottlenecks. By creating a common operating picture based on information from all suppliers, organizations can model and test different scenarios to evaluate the plans of action that best align with shared goals.
Increased visibility into supply chain disruptions enables organizations to be better prepared. Moreover, this information can provide organizations insights to help achieve essential supply chain objectives (such as sustainability or supplier diversity) by surfacing information on where and by whom commodities are sourced.
3. Build integrity and trust by measuring performance and risk, and compare results over time.
Measuring the supply chain is as critical as monitoring it. Organizations must identify measurements to gauge and quantify risks, and to better understand the impact and potential exposure of disruptions across their integrated supply chain. Data management solutions can help categorize certain aspects of supply chain risks as high, medium, or low. Transparency across ecosystem partners provides shared insights on the reliability of the entire integrated supply chain.
Extending a measurement system to external partners allows organizations to benchmark themselves against leading organizations in both the public and private sectors—and drive continuous improvement efforts. Regardless of the data collection frequency, a regular measurement and analysis cadence helps ensure quality findings. This data set is pivotal to shaping a risk management strategy and prioritizing resources for the greatest return.
Combining these findings with the right analytics tools can further enhance the reliability, quality, and repeatability of organizational processes.
4. Improve the resiliency and reliability of supply chains.
With a foundation of data-driven insights for monitoring and measuring the integrated supply chain, organizations can put preventive and proactive strategies in place and continuously iterate to improve reliability and resilience. With a robust data set, organizations can better monitor their integrated supply chain as they implement new strategies and evaluate the results of new initiatives and interventions.
Introducing new technologies such as artificial intelligence (AI) can further amplify results. AI can help identify suppliers that have room for improvement, prioritizing based on highest impact and predicting new scenarios through simulations.
Improving resiliency also requires building a diverse supplier base. Understanding and mitigating supply chain risks involves gaining visibility into tier 2 and 3 suppliers which—as we've seen—can quickly and significantly disrupt production and delivery. Over 90% of Fortune 1000 companies depended on tier 2 suppliers in regions most affected in the initial phase of the global COVID-19 pandemic or operated in potentially adversarial nation states. Impediments to interaction and engagement with these suppliers greatly complicate risk management.
Governments should pursue policies and strategies that reduce dependence on single sources of supply (suppliers and regions) for critical goods and services, and limit geopolitical exposure. Supply chain repatriation should be part of the discussion.
Critical capabilities
Building a deep and comprehensive understanding of your organization's integrated supply chain strengths and weaknesses can enable business continuity planning and rapid response strategies. The last 19 months have been a harsh reminder of the risks inherent in our interconnected world and further demonstrated the criticality of supply chains to economies, organizations, and individuals. As such, it's imperative that governments can crowdsource feedback from stakeholders across the extended value chain—from suppliers to citizens—on what they need and what changes impact them most.
Additional Thoughts
The IBM Center for The Business of Government and the Shared Services Leadership Coalition recently held an engaging virtual roundtable discussion around shared services and supply chain management. The objectives for the roundtable were to help: frame the government's supply chain challenges more specifically; develop a model by which world class commercial entities approach similar challenges; conduct a gap analysis between government and industry models; and consider the crucial role of informal networks and "backdoor bureaucracies" in addressing complex national challenges. 
Author Robert Handfield, Executive Director, Supply Chain Resource Cooperative, North Carolina State University, will be summarizing the results of roundtable discussion in a forthcoming report - stay tuned for its release.