Submitted by

rthomas

on Wed, 12/20/2017 - 14:51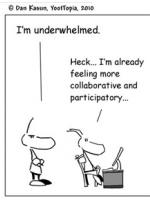 My DC Way is the first city app I'd pay for, though the company wants to give it away for free. It pulls around 20 public data sets and numerous commercial data sets to offer a single comprehensive guide to DC.
Like many other gov/tech enthusiasts, I've found this cartoon deeply relevant:
That was before I downloaded My City Way for Washington, DC.  Alas, it's available only for the iPhone currently—though an Andriod version is promised soon.   But it's the first app I've seen that offers enough value to take up the limited urban real estate on the home page of my Driod.
The app pulls around 20 public data sets and numerous commercial data sets to offer a single comprehensive guide to DC.  (Note: other cities have their own apps, including New York, London, San Francisco, and LA; Chicago and Portland are in the works, and the company aims to be in 40 cities in the next 6 months) 
I contacted My City Way's co-founder, Archana Patchirajan, to talk to her about her company and how she finds working with various municipalities' data feeds.
How did you get the idea for My City Way?
Our company was founded by three people, Sonpreet Bhatia, Puneet Mehta and myself, who worked on Wall Street and wanted to do something different.  We developed the initial application in response to New York City's Big Apps Contest.  We won three awards--popular choice, investor's choice, honorable mention for the overall app--and our app was downloaded more than 250,000 times.  So we see a demand for an application that pulls together so many aspects of living in a city.
Can you tell me about the data sets that you pull from?
Sure.  We pull together about 20 public data sets.  In New York, we're pulling Wifi hotspots, swimming pools, libraries, traffic updates, and post office locations to name a few.  In Washington, DC, we're accessing the public traffic cameras, which is one of the most popular feeds in every city that offers it.  I just hope it's passengers, and not drivers, who are looking at it!
What non-government derived data sets do you use?
Well, we partner with a few companies.  For example, booking.com for hotels.  But we do use some commercial data sets that we think the government really should supply.  One example is that municipalities will list business names, but not always the "doing business as" names.  So a dry cleaner might actually be called "Best Dry Cleaner LLC," but everyone knows it as "117th ST Dry Cleaner." 
Also, not every data set released by various cities are formatted for Macs, and some use a format for GIS-specific data that few machines can read.  So we have to turn to commercial sets that have done the work of reformatting for us.  It's great that cities have made all this data public, but they can still do more to make it usable.
What cities do you think have some of the best feeds?
New York, San Francisco, and Washington, DC, have all been really good.  New York has around 170 data feeds, and DC has about 150 data sets.
What cities do you think need to catch up?
Boston and LA could learn a lot from other cities.  And any city that doesn't give access to live traffic cameras should really think about putting those online.
What other feeds would you like to see?
Aside from traffic cameras?  Probably a complete list of restaurants and night clubs.  Cities require different licenses for those kinds of businesses, so it's not a matter of capturing new data, but just formatting and releasing it to the public.
Thanks for your time.
Thank you.
Check out My City Way's site and follow them at www.twitter.com/mycityway. (or follow Puneet, Sonpreet, and Archana directly; I can attest they are responsive to to replies).