Submitted by

rgordon

on Thu, 12/08/2022 - 09:01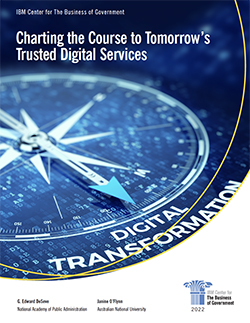 Thursday, December 8, 2022
A new IBM Center report draws lessons on agility and digital transformation to build public trust from one of the world's largest and most diverse nations.
Governments around the world are advancing in the transformation of operations and services for the digital age. The goal of "trusted digital services" enables transformation in a way that earns public trust. Developing and implementing trusted digital services matters supports near-term service delivery, and long-term legitimacy and sustainability of government with the public. Advanced digital governments cite trust as a key success factor, and as well as how digital technologies supportive innovative governance that services the public.
In a new report from the IBM Center, Charting the Course to Tomorrow's Trusted Digital Services, authors Ed DeSeve and Janine O'Flynn focuses on how leaders in Australia -- one of the world's largest and most diverse nations -- are adapting their approach to delivering services effectively and efficiently, in an agile fashion that leverages digital technology and builds public trust. The report draws on the findings of an expert roundtable with senior leaders from a variety of agencies, as well as nonprofit, academia, and technology organizations. Roundtable participants discussed learnings and case studies of transformation to chart a course to the trusted digital services of tomorrow, focused on three main questions:
How can government increase the use of data, AI, and automation in service design, while maintaining a foundation of trust to promote service adoption?
Amidst rising cyberattacks, how can government strike a balance between security that keeps the public's data safe, and simple, helpful service delivery?
How can agile principles be embedded in government workforces, operations, and architectures to achieve sustainable long-term transformation?
The report closes with key findings and recommendations that can help government—both in Australia and with lessons for leaders across the globe—can proceed to continue improving outcomes from programs and increasing trust from the public. Principle recommendations include:
Evaluating the need for updated regulations and laws. It may be necessary to change legislation, procedures, and regulations across the entire spectrum of government. This may require creating a "guiding coalition" from federal, state, and local levels. Leadership throughout the coalition must develop an agile mindset and be willing to innovate and involve customers and the public.
Developing a strategy for change. Creating a strategy for change will be based on a precise definition of the mission involved and a clear vision for the future. Time spent at the beginning to gain acceptance of the mission and vision will pay continued dividends. Once created, leaders must continually communicate this mission and vision within their agency, across levels of government, and to the public.
Using evidence. As the strategy moves forward, developing and examining evidence about the direction can be informed by metrics that will demonstrate success. Such metrics can include the wise use of resources, the speed with which change happens, and the impact of the work on desired results. These metrics should be easily understood, widely agreed upon, and transparent to all participants and the public.
Coordinating as a force multiplier. The roundtable keenly recognized the need for a more joined up approach especially horizontally within the federal government, to create a delivery mechanism for services and the technology needed for this delivery.
Using cross-functional teams at all levels. In an agile environment, the role of small and autonomous cross-functional teams is paramount. These teams should work independently but with continuous feedback from customers and the public. Using teams at all levels of the organization will facilitate products, including policies, regulations, and legislation, that can be tested quickly to gauge efficacy and acceptance.
Innovating as a key value. Various mechanisms can foster innovation, and testing ideas generated from innovation should happen quickly and continuously.
This report builds on the IBM Center's longstanding work on digital and agile government, including recent reports published in collaboration with the Agile Government Center. The AGC is a joint venture of the IBM Center and the National Academy of Public Administration, a global network of leaders where authors DeSeve and O'Flynn serve as Fellows. These reports include Human Centricity in Digital Delivery: Enhancing Agile Governance, by Ines Mergel; Adopting Agile in State and Local Governments, by Sukumar Gapanati; and The Road to Agile Government: Driving Change to Achieve Success, by Ed DeSeve.
We hope this report provides helpful insights for leaders seeking to serve their nation with digital strategies that improve the public's connection with their government.