Submitted by

rgordon

on Tue, 05/02/2023 - 13:31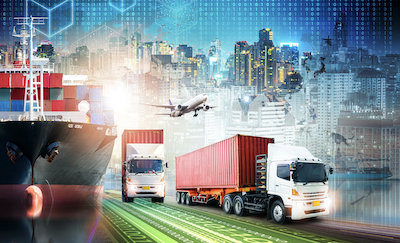 Recent roundtable discussions demonstrate how preparedness, diversification, and sustainability can all help government leaders reduce risks and harden operations across supply chains.
Global supply chains have experienced major constraints over the past several years, and many are still recovering and responding to new threats. In 2022, 38% of global CEOs reported supply chain disruption as one of their greatest challenges, a 36% increase from the previous year based on research from the IBM Institute for Business Value (IBV).  Supply chains are being affected across their entire ecosystems, with global Chief Supply Chain Officers (CSCOs) reporting significant disruptions related to demand volatility, transportation, and logistics availability, supply base inventory availability, technology adequacy, and availability of skilled labor.
To address these challenges, supply chain leaders are turning to data-based decision-making and emerging technology, developing agile and resilient workflows to react to escalating challenges.  The IBV also finds that 47% of business and supply chain leaders are increasing investments in automation and reimagining supply chain operations, and that 80% of executives whose organizations are scaling automation by 2023 expect their organization to handle supply chain challenges.  Governments must similarly secure their supply chain networks and take steps to address supply chain disruptions in the future.
Recently, the IBM Center for The Business of Government and the IBM Institute for Business Value, in collaboration with the National Academy of Public Administration, convened executives from the government, nonprofit, academic, and commercial sectors for a highly interactive, moderated discussion to share learnings and develop practical, actionable recommendations for government to increase their supply chain resilience. The sessions developed insights and content for governments and key stakeholders to strengthen supply chain strategies and prepare for the inevitable impact of future shocks.  This content will be featured in a forthcoming report by Robert Handfield, Ph. D., a leading global expert on supply chain management at North Carolina State University.
Background
The shocks to supply chains over the past few years continue to reverberate in 2023. Whether a supply chain impacts efficiency and resiliency today or data-driven insights and innovations for the future, addressing supply chain challenges involves balancing priorities and navigating a complex ecosystem.
Governments face unique supply chain challenges - they enable commercial supply chains and security as well as overseeing a massive public sector network. Government CSCOs identify supply chain disruptions as their greatest challenge, and the IBV reports that more than half are prioritizing accurate forecasts and improving efficiency over the next 2—3 years to help minimize the impact of disruptions.
Perpetual and escalating supply chain challenges require increased digital transformation and innovation. Exponential automation technologies such as artificial intelligence, the internet of things, digital twins, and quantum computing can now more rapidly enable integrated, data-driven progress; more than half of government CSCOs expect hybrid cloud computing, IOT and AI to help improve supply chain operations over the next three years.  Supply chain testing and experimentation can leverage exploding volumes of data unleashed by sensors, interconnectivity, and machine learning engines and platforms. Data-led innovation can increase visibility in supply chain workflows across ecosystems, improve integrated and sustainable supply chain outcomes, and accelerate real-time decisions and actions.
Key Factors in Supply Chain Resilience
Below are key themes and leading practices that point to actions for building resiliency and agility in future supply chains. Insights from the roundtable can help prepare governments to address future supply chain shocks.
Supply Chain Resilience and Preparedness
Digital transformation across interconnected processes and extended ecosystems with the expansion of new automation technologies provides predictability, flexibility, and intelligence to operations—especially in the automating of decision-making. AI and intelligent workflows can deliver 360-degree insights and impact analysis that provide interconnectivity and optimize predictability. These workflows can benefit the workforce adjust to change.
With digital transformation comes increased vulnerabilities and security concerns for supply chains - including critical infrastructure, essential for supply chain performance. Additionally, an escalating need for visibility into supply chain can provide knowledge to external stakeholders. Leveraging digital transformation and intelligent workflows can address security concerns and foster visibility.
As organizations implement technology into their supply chain practices, the following actions can help in their digital transformation.
Use AI and machine learning to guide the quality and track performance of workflow reactions and decisions, as well as to monitor physical assets with predictability.
Digitize to develop agile workflows to react quickly to escalating situations.
Begin experimenting with quantum computing tools and methods to lay the groundwork for expanded capabilities.
Combine predictive and prescriptive analysis for better decision-making, while focusing on micro-insights revealed through extreme digitalization.
Supply Chain Diversification
A supply chain involves a series of linked, connected, or associated entities. Extending that concept, a modern supply chain connects the organizations, activities, people, information, and resources that intersect to move products and services from producers to suppliers to consumers, and back again. These complex, interconnected, and global ecosystems engage partners, infrastructure, and resources.
Current geopolitical turbulence drives many organizations to invest in regionalization and localization strategies of product supply and production to decrease the risk of overreliance on a single region. They seek more horizontal data visibility into suppliers, with connectivity through logistics channels for delivery.
Many organizations parse the supply chain by segment, to promote tighter collaboration with suppliers and service providers that have differentiated skills and capabilities – adding AI and algorithmic insights for increased risk management and predictive event forecasting. Virtual models and digitization increasingly drive new solutions to supply chain challenges. 
Evolving and modern supply chains operate through an ecosystem of partners. The below actions can enable an organization to diversify supply chain models.
Use segmentation techniques to examine ecosystems in detail for increased collaborative opportunities across workflows with data-infused intelligent decision and action.
Increase visibility and security in every touchpoint of supply chain workflows with extended ecosystems and partners.
Re-evaluate supplier networks with visibility and trusted data-sharing.
Supply Chain Operations and Sustainability
Open innovation across an ecosystem of partners drives sustainability initiatives and transformation.  Such complex ecosystems must be powered by data; cross-industry, multi-enterprise platforms require shared visibility, interoperability, and verified chain of custody for data aggregation. This level of transparency and accountability makes ecosystem-wide metrics essential for achieving sustainability goals and promises.
Executives and leaders from both public and private sectors focus on improving energy efficiency, water management, and using more organic and recyclable materials – reporting that these sustainability initiatives will substantially change their supply chain models. Many seek a portfolio of strategies that include environmental, social, and governance (ESG) initiatives to drive lower emissions, ethical sourcing practices, and similar goals.
Workflow digitization also helps organizations meet their sustainability objectives. As teams evaluate and build intelligent workflows, they can reduce environmental impact – for example, end-of-life products aren't disposed of but rather flow back into the supply chain.
Sustainability initiatives are growing in importance within organizational operations. The following actions can help with the integration of sustainability and supply chain operations.
Optimize workflows with AI, automation, and virtualization to manage carbon, waste, energy, and water consumption.
Use virtualization to help shrink environmental footprints and support the 9 R's: Recycle, Reduce, Re-use, Repair, Refurbish, Remanufacture, Repurpose, Recover, Refuse.
Experiment with open innovation and scientific discovery to explore future solutions and possibilities.
Insights from the Roundtable
Supply chain experts identified three major themes with nine steps that can help to plan for future unexpected events.  The session discussed "supply chain immunity" to react and mitigate disruptions.  Specifically, participants identified the need to develop a Center of Excellence (COE)) to carry out this task in three stages:  Diagnose phase, Design, and Sustain, which enable "Supply Chain Risk Management" (SCRM) for government.
Diagnose Phase
Understand the different categories of vulnerability
Establish the critical risks in each category
Map the supply chain network to identify the specific risk nodes
Design Phase
Establish inventory stockpile requirements for each category
Drive changes in behavior through education of acquisition workforces
Develop technology platforms to create supply chain visibility (reactive) and planning (predictive)
Sustain Phase
Build and run predictive models and wargaming scenarios
Invest in relational contracts with critical private sector government suppliers
Develop partnerships with the private sector to improve information visibility
This framework provides a playbook for government agencies to anticipate future shocks, collaborate with the private sector, and enhance the resiliency of local, national, and global supply chains.