Submitted by

rgordon

on Tue, 01/05/2021 - 14:54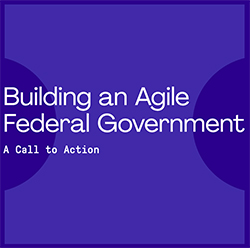 Recently, the National Academy of Public Administration released an important and timely report entitled, "Building an Agile Federal Government". The report was co-sponsored by the Samuel Freeman Charitable Trust and the Project Management Institute.
How agile differs from current management practices;
When agile approaches are appropriate and when they are not;
How agile should be promoted by central management entities; and
What implementation actions should be undertaken by federal departments and agencies.
This examination found that, "New operating principles and practices—and a new leadership and management mindset—will be required for success. With a more flexible management approach, the federal government can be in a stronger position to tackle persistent problems and deal with crises."
The report builds on the work that the Academy has been championing at the Agile Government Center and comes as the new administration is shaping its own management approach. 
It focuses on the President's Management Council (PMC) and the President's Management Agenda (PMA) which will be constituted and implemented during the first few months of the Biden-Harris administration.  The PMC, composed of the chief operating officers of major federal departments and agencies, was first convened during the Clinton administration and has been continued by each President since.  The PMC's primary focus is creating and implementing the President's Management Agenda by working with the Office of Management and Budget and other White House staff.
The Academy's report recommends that agile should be, "the cornerstone of the President's Management Agenda" and that it should build on the Cross Agency Priority Goals, first implemented during the Obama Administration.  It calls upon the General Services Administration to assist federal agencies in their "Agile management journey". 
It also recommends that agile should be the preferred operating model for the federal government, that it should be championed in all federal agencies, and that successes should be highlighted throughout the federal government.  To do this, agencies will need to identify and eliminate barriers and develop and initiate training on agile methods.
The National Academy has embarked on an ambitious multi-year program to address the Grand Challenges in Public Administration across all governments around the world.  Academy President Terry Gerton calls agile, "an essential enabler for meeting the Grand Challenges."  The IBM Center has been pleased to be a partner with the Academy in implementing the work of the Agile Government Center and we look forward to meeting with members of the incoming administration to help them use Agile practices to build a better management structure for the federal government.