Submitted by

rthomas

on Thu, 12/21/2017 - 16:15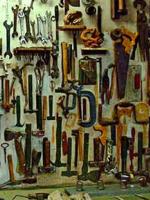 Thursday, October 7, 2010
Coordinators are the pinnacle of Citizen 2.0: they see a systemic, chronic, or pervasive problem in government or society and forge the tools or develop the processes to solve it.
If most of government, and Gov 2.0, is about ordinary people doing ordinary (though necessary, ennobling, and underappreciated) things, Coordinators are the people who are doing extraordinary things.  Both within government and beyond it, coordinators are the ones who are looking at the big picture and creating the tools that co-deliverers and creators use.  
What do coordinators do?
Where co-deliverers see a discrete problem and then help to fix that one problem, coordinators see a pervasive, systemic, and/or chronic condition of government or society and make the tools or refine the procedures to alleviate it.  
They create ways for people to visualize data, initiate entirely new communications channels, streamline or update processes, apply new technologies and new methodologies to long-standing programs, and create new programs to face new challenges.  Coordinators are government employees, individual entrepreneurs, nonprofit organizations, and traditional, private-sector companies that are bringing their own experience to government.
In each category below, there are more examples than I could ever write about (or you would ever want to read about).   I'm going to shine a light on a select few people and organizations who are working for systemic change or trying to tackle a problem that's beyond the abilities of any single person or office.  (The Center for Disease Control's Janice Nall is terrifically prolific, and Ari Schwartz, formerly at the Center for Democracy and Technology and now at the National Institute of Standards and Technology are yet two more people I could write about at greater length)
Government Employees as Coordinators
Beth Noveck – as the Deputy Chief Technology officer, she perhaps less well-known than Vivek Kundra, and Aneesh Chopra, but working at the Office of Science and Technology Policy, Beth is making sure that the tools and practices she laid out in Wiki Government are actually implemented. () 
Alec Ross – at the State Department, Alec is the Senior Innovation Advisor to the Secretary of State.  In that capacity, he has used new technologies—like disbursing salaries through mobile phones in countries where other distribution methods were ineffective—to accomplish traditional goals of statecraft.
Bev Godwin – the General Services Administration loaned Bev to the White House for a period in 2009 – 2010, but she has since returned and is the Director of the newly-minted Office of New Media and Citizen Engagement.  Bev was an early Twitter adopter and government blogger, and is helping other agencies understand that power of digital communications within government.
Jeffrey Levy – though his day job is the Director of Web Communications at the Environmental Protection Agency, Jeff is very active within the Gov2.0 community, organizing events, leading workshops, and sharing case studies of initiatives the EPA has launched. (He's also one of this year's Federal 100, named by Federal Computer Week)
Andy Schoenbach – creator and sponsor of the first governmentwide social network, OMB's MAX Federal Community, which now has over 30,000 government-only participants.  The site is sponsored by the Department of Education and is comprised of agency budget, finance, grant, and other officials.
Dustin Haisler – not all Gov 2.0 stars work at the federal level.  Dustin didn't put the city of Manor, TX on the map (GIS did that), but he did put a QR code on just about everything in the city and made it a hub for municipal Gov 2.0.
Individual Entrepreneurs as Coordinators
Nonprofits as Coordinators
Partnership for Public Service – as its name suggests, this nonprofit is a partnership between public-sector, private-sector, academic, and nonprofit institutions.  It's mission is to "revitalize our federal government by inspiring a new generation to serve and by transforming the way government works."
Forest Service Volunteer Association – I've written about individuals who volunteer their time and services as fire fighters; this organization "assist[s] members of the U.S. Forest Service in the San Bernardino National Forest and specifically in the San Jacinto Ranger District."
KaBoom – CEO Darell Hammond has a vision of America: an outdoor playground within walking distance of every child.  His nonprofit, KaBoom, is helping people all over the country bring that to fruition. 
Private-Sector Companies as Coordinators
There are many Fortune 500 companies that are involved in Gov 2.0 as well.  In part, they do it to burnish their reputation and give back to the communities in which their customers live.  But it also makes good business sense.  In a prior post, I wrote about how Gov 2.0 was taking a cue from McDonald's and shifting some of the work from government to citizens.  Some companies are doing the opposite—they're fulfilling tasks that used to be the domain of the government, and charging for their services.
To wrap up this series, I'll discuss some ways that Gov 2.0 is changing what citizens (including corporate citizens) are able to do and how government agencies are either incorporating citizens into their operating plans or changing their missions in light of citizens' changing needs and capacities.
-----
Photo by Ontario Wanderer