Submitted by

rthomas

on Thu, 12/21/2017 - 16:29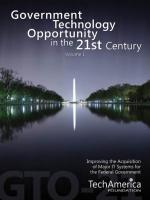 Thursday, October 28, 2010
OMB recently reached out to government and industry leaders for new approaches to making good tech ideas work. The first wave of recommendations is in, and OMB is now looking at them for things that it can act on now. Key recommendations build on past ide
Cloud computing, social networks, identity … the promise of new technologies to help Federal agencies reach their goals is stronger than ever.  At the same time, agencies and contractors who want innovation to bring change are often stymied by lengthy, complex government processes, including those for hiring or training good IT Program Managers, requesting funds though the Federal Budget (a 2-year cycle), and doing an acquisition once the funds are awarded.  Add to this an environment where government and industry see more reasons not to talk to reach other about risks and rewards than they have to collaborate, and it's not surprising that the Obama Administration's ambitious technology agenda has been slowed by implementation realities.
To generate ideas on raising successes and lowering problems in how agencies build and buy technology, the Office of Management and Budget (OMB) recently reached out to leaders from across government and industry, who have responded with very constructive recommendations that OMB is now reviewing.  Among the most visible and thorough of these efforts is the report released Monday by a Commission of over 30 senior IT industry executives through the TechAmerica Foundation, entitled "Government Technology Opportunity in the 21st Century" (GTO-21). The Commission's strong arguments, as well as ideas from multiple other fora (including America Council for Technology/Industry Advisory Council, see www.actgov.org). provide a framework for OMB to work with agency CIOs, program managers, and industry leaders to quickly generate more effective policies and practices that result in better management of IT and a better return for the taxpayer (note:  I was an advisor to the Commission.)
The GTO-21 Report took the view that many good ideas for fixing endemic problems in Federal IT programs have been out there for many years.  I was at OMB for the release of the Clinger Cohen Act of 1996 (http://www.cio.gov/Documents/it_management_reform_act_feb_1996.html) and Raines Rules (http://www.whitehouse.gov/omb/memoranda_m97-02/) in the 1990s, which recommended strong leadership for IT programs, mission alignment, and modular delivery; but these best practices have been implemented only sporadically over the last 15 years.  Based on over 50 government and industry expert interviews, analysis of prior studies, and the deep experience base of the Commissioners and advisors, the Report contains many specific recommendations for how to turn good ideas into actionable steps that can lead to better outcomes with reduced time and cost.  The recommendations cover 4 areas, addressing obstacles, actions, benefits, and metrics in each:
Developing Capacity for Program Management
Promoting Agile Development of IT
Strengthening Risk Management
Enhancing Engagement and Communication Across Government and Industry
Of the four areas, the last one may be the most impactful – insufficient discussion of requirements, problems, and true strategic outcomes has been a key factor in too many failed IT programs.  Breaking through current perceptions that communication will foster procurement irregularities and protests is critical in leveraging IT acquisition to achieve government objectives effectively while minimizing unneeded processes and low-value solutions.
The full text of the Report is at http://www.techamerica.org/Docs/fileManager.cfm?f=gto21.pdf.  Multiple press reports have been issued, including: 
 * * * * * * * * * * * * * * *  * * * * * * * * * * * * * * *  * * * * * * * * * * * * * * *  * * * * * * * * * * * * * * * 
Dan Chenok is a Senior Fellow with the IBM Center for The Business of Government, and leads Technology Strategy consulting for the IBM Global Business Services/North American Public Sector.  Chenok spent 15 years in Government, mostly at OMB where from 1999-2003 he led the staff that developed and oversaw technology policy and budget activities across the Federal Government.  He remains active in numerous formal and informal advisory capacities across the Federal IT landscape.  (See full bio at http://www.businessofgovernment.org/bio/dan-chenok)