Submitted by

rgordon

on Tue, 12/07/2021 - 12:26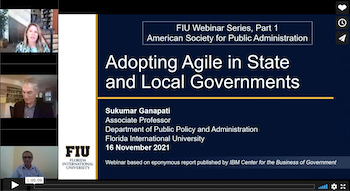 Tuesday, December 7, 2021
Center author speaks on how Agile strategies offer new ways of thinking and delivering for government in areas such as project management, policymaking, human resources, and procurement.
The American Society for Public Administration hosted Center author Professor Sukumar Ganapati of Florida International University to speak on his report, "Adopting Agile in State and Local Governments." Center Director Dan Chenok helped to launch the session as Professor Ganapati described Agile, Agile in government, and Agile beyond technocracy.   Read a summary here.
He discussed the three broad phases for adopting Agile (infancy, adolescence, and adulthood) as well as four Agile applications in government. The report and presentation highlighted the evolution of Agile in the cases of four governments—two states (Connecticut and California) and two cities (New York and Austin). The cases show the rich contextual evolution of Agile, and how the methods support using technology to streamline enterprise processes and address social policy problems. They also show different trajectories of adopting Agile in state and local governments—strategies for adopting and implementing Agile methods vary in the three lifecycle phases.
The session concluded with many great questions from the audience. Watch the video of this interesting session.